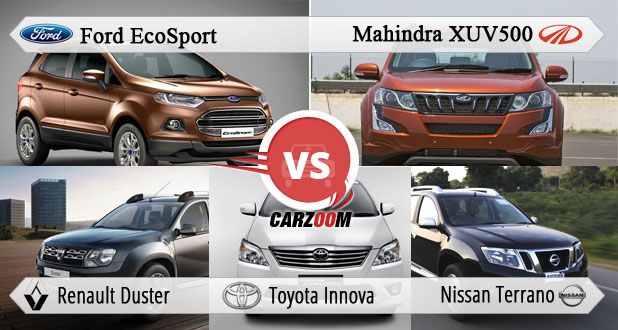 It's needless to say that demand of Sport Utility Vehicles (SUVs) is increasing day by day in Indian car market. The large and lavish cabins, higher ride height, electrifying looks, immeasurable power enclosed under their veil, the comfortable feeling, perceived safety are some of the features which attract people towards them.
Today there is no. of SUV cars available in Indian car market; some has been already launched while some are ready to make their debut soon. But when time comes to choose any one between them, buyers get confused generally. So, among these numerous options, we are here with those five SUVs which are expecting to be in competitive list this year i.e. Mahindra XUV500, Ford EcoSport, Renault Duster, Toyota Innova and Nissan Terrano. Let's compare them with each other to decide which can be taken to home.
Every car has its own characteristics and brand value. There are so many similarities as well as differences between them on the basis of price, size, features etc.
 Price:- 
 EcoSport surely hits the game here by available at lesser price than others.
The price of EcoSport starts from Rs. 6.68 lakhs and ends at 10.52 lakhs.
While the new Duster comes in range between Rs. 8.46 to 13.56 lakhs, Innova Crysta comes at 13.83 to 20.77 lakhs which is dearer of all and last but not the least Nissan Terrano share approximately same price range i.e. 9.99 lakhs to 13.84 lakhs.
The basic price of XUV500 is more than others and it hits the market at 12 lakhs but ends with 17.37 lakhs. With such high pricing Innova has redefined the MPV segment it has become mass premium vehicle from a multipurpose one. Whereas XUV500 justifies its costly range but if you want an affordable five seater SUV go for EcoSport.
Also See: Visit Our Ford EcoSport FAQ section containing all small-yet-useful info altogether for your convenience
 Brand Value:- 
When it comes to the brand value, then Mahindra strikes in our mind first as it has traveled a long journey in India and also they were the first to step in the "SUV" segment by introducing the Willys Jeep in India back in 1947.
Later around 1995, Toyota and Ford came in Indian market and established themselves as a successful brand. The Innova had come before XUV500 and proved every critics wrong who were not sure about its potential. While Toyota Innova has been a runaway hit and it is the bestselling model for Toyota in India. New model with its lavish features and elegant design will further strengthen its roots in the market and would help Toyota yielding greater numbers.
The Ford also excites the consumers every time with the creative experiments done in every new launch. But still it would be wrong to ignore the popularity of other brands like Renault and Nissan and rank them less than others, just because they came later in Indian car market (in 2005) and made their own place in heart of car buyers.
 Engine details:
 XUV500 has 4-cylinder mHawk140 CRDi diesel (2.2 l), 2179cc (1997cc for Delhi NCR region) engine with max power and torque of 140bhp and 330Nm respectively. It is also equipped with 6-speed manual transmission. This SUV gives an aggressive claimed mileage of 16 km/l.
Toyota Innova comes with only diesel version with new range of powertrains (2.4 l) GD, with 5-speed manual transmission and 2.8l GD with 6-speed automatic gearbox. The mileage of Innova stands at 15.10 km/l and 14.29 km/l respectively.
EcoSport has three version of engines i.e. 1.0 l 999cc EcoBoost petrol, 1.5 l Ti-VCT 1499cc petrol, 1.5 l DV5 1498cc diesel. The claimed mileage figures offered by these variants are 18.88 km/l (999cc), 15.8 km/l (1499cc MT), 16.5 km/l (1499cc AT) and 22.67 km/l (1498cc).
New Renault Duster is equipped with the same 1.6 liters K4M petrol and 1.5 dCI diesel engines with the mileage capacity of 13.24 km/l in petrol and up to 19.87 km/l and 20.45 km/l in diesel.
The last but not least Nissan Terrano has 1.6 litre MPFI (multi point fuel injection) petrol and1.5 liters K9K, dCI diesel engine. And it gives mileage of 13.24 km/l in petrol version while 20.45 km/l (85PS) and 19.01 km/l (110PS) of excellent mileage in diesel versions.
So, now we can easily select the best SUV between these on the behalf of engine type, size, max power, max torque, mileage etc. No doubt that Ford EcoSport and Nissan Terrano sharing the crown with their excellent given mileage but Renault Duster's mileage capacity is almost hitting this edge too.
Also See: Visit Our Renault Duster FAQ section containing all small-yet-useful info altogether for your convenience
 Space:
People usually prefer those cars in this segment which are spacious as well as comfortable.
Toyota Innova and Mahindra XUV500 are on the top here with their seven seating capacity in each. Even Innova can be used as eight seaters too (as per requirement).
While Duster, EcoSport and Terrano all are five seaters.
Dimension wise, XUV500 and Innova are larger in size than others. While the dimension ofXUV500 is 4585mm*1890mm*1785mm, the Innova has 4735mm*1830mm*1795mm. This giant proportion of both the SUVs can create trouble in city sometimes; otherwise these both cars are perfect for a complete family ride.
On the contrary, despite the less seating capacity of EcoSport (dimension: 3999mm*1765mm*1708mm), it gives a very soften and luxuriant driving experience even on city roads.
Duster's dimension is 4315mm*1822mm*1695mm, and the Terrano's overall measurement is almost same as Duster's.
Now coming to boot space, Size of boot space depends upon the dimension of a car. Larger the dimension will be, larger will be its boot space. In these SUVs, the passenger side bench type seat is foldable. In XUV500 and Innova, the two seats in the last row are also foldable and the space can be used as boot.
| | | | | | |
| --- | --- | --- | --- | --- | --- |
| | XUV500 | Innova | EcoSport | Duster | Terrano |
| Ground Clearance | 160mm | 167mm | 200mm | 210mm | 205mm |
| Boot Space(Maximum) | 930 L | 760 L | 346 L | 475 L | 475 L |
Also See: Visit Our Nissan Terrano FAQ section containing all small-yet-useful info altogether for your convenience
Exteriors and Interiors:
SUV by Mahindra gives a strong impression with its first look. This SUV provides improved approach and makes it secure and safe. It also has broad front bumper along with head lamps with side indicators in same head lamp assembly. It is also packed with S-shaped daytime running lights placed horizontally just below the two casks of new static projector head lamp. The presence of outstanding bold splash-guard on the front and rear wheel gives an aggressive look than other SUVs.
It has equal proportion of front and rear windscreen. The tail lamps with three vertical compartments divided by molded reflectors. The rear wiper, high mounted stop lamp, two stop warning indicators on the both sides, spare wheel below the boot, sharply visible bumper color sensors are the some other makeable features of this SUV.
Coming to Innova, the updated version of this SUV has come in Indian car market. This updated version includes some changes on exteriors and interiors as well. The better jagged big head lamps have bulge turn signal lamps and LED DRLs that appreciate the front fascia. The fog lamps have been modified too which is available in oval shape now and the stylish trapezoidal front grille becomes upright with three chrome slats.
The tinted windows with chrome underlining are quite broad with an additional quarter windows for rear seats that has no doors. This updated version is way beautiful than its previous version.
EcoSport exterior is much impressive and stylish too. The frontage of this car is impeccable with a broad radiator framework, also enclosed with a thick chromium strip. A large headlight cluster powered with high intensity halogen lights, LED DRLs and side turn blinkers are the other noticeable features of this awesome SUV. Overall, this SUV is flexible and gives passengers a comfortable and premium feel.
The new Renault Duster's outside look gives a sportier feel. The large horizontal two slat grille looks puzzle between a pair of hawk eye headlamps. It also has a polished body color bumper with black plastic cladding. The roof antenna, body color door handles, wing mirrors, fuel lid, wheel arches, boot lid, skid plate, vertically placed tail lamps with rainfall shaped curve, high mount stop lamp increase the list of luxuriant features of this SUV.
Meanwhile, Nissan Terrano looks different than duster. The new Terrano is said to be weighted with automatic headlights, automatic wipers, rear defogger, body color adjustable external wing mirrors etc. So, at first sight, this SUV looks interesting and impressive.
Talking about interiors, while these all SUVs share most of the important interior features, there are differences too. These SUVs are packed with multiple common luxurious interiors like power steering, power windows, speakers & audio system, CD player, steering adjustment, air conditioner etc.
Among all, Toyota Crysta is leap ahead with lush range of goodies such as big touchscreen infotainment system with DVD player, Aux-in, navigation, reverse parking camera, automatic climate control with AC vents for each row, 4.2 inch MID with full color display, sew of storage spaces, leather upholstery, wooden finish cabin, ambient lighting to name a few.
Road handling:
When comes to road handling, these all cars assure comfort zone to drive on city roads as well as on highway. These all SUVs are enclosed with Anti-Lock Braking System (ABS), airbags and various other safety aids to ensure optimum safety for the occupants.
The front wheels are packed with large ventilated Disc Brakes while the rear wheels are packed with Leading-Trailing Drum Brakes in all of these SUVs.
While in XUV500, all four wheels have independent suspension to provide preserving comfort, the EcoSport has hydraulic shocks suspension. Ford cars are well known for its excellent road handling feature and the EcoSport too doesn't let down the Ford in this.
These all SUVs give a comfortable and pleasurable road handling with the presence of different systems.
Verdict:
All we can say that every car in the comparison list is competitive in their own league/segment with some ups and downs. If you want to choose a car according to its price or want a complete value for money product than EcoSport is a better choice with its affordable range. The Ford EcoSport also has different engine options and also delivers excellent mileage.
But if you want a complete full fledge big car, with oodles of space and long list of features than there are other options too like XUV500 and Innova with their seven and even eight seating capacity. Nissan Terrano is probably the mix badge of decent looks and good ride quality with sufficient features while with the new update Duster would surely get the boost it needed in terms of volumes.