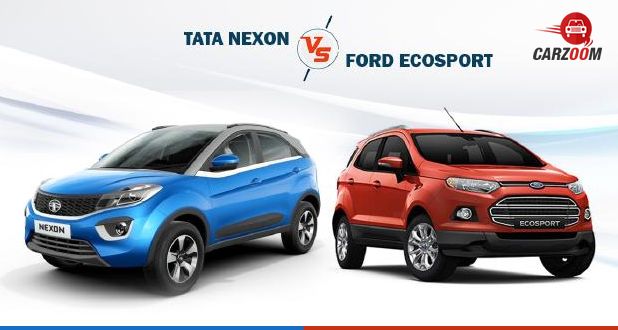 The new Nexon AMT and the Ford EcoSport Automatic give tough competition to each other and is difficult for the buyer to choose among the two. Both the cars have an automatic gearbox and are stylish in looks with being comfortable to drive as well. It would be interesting to see how these cars stack up against each other. Here is the comparison between the two SUVs.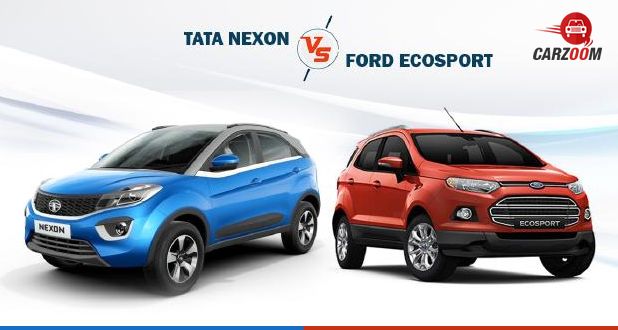 Engine
Since the EcoSport does not have an automatic gearbox on its diesel engine, we are comparing with its petrol variant. Both the engines carry a three-cylinder unit, where the Ford EcoSport AT has 1497cc displacement and the Tata Nexon AMT has 1198cc displacement. The Ford produces a maximum power of 121.3 bhp @ 6,500 Nm with 150 Nm @ 4,500 Nm of peak torque. The Nexon, on the other hand, produces 108.5 bhp @ 5,000 rpm of maximum power and 170 Nm @ 1,750-4,000 rpm of peak torque. Both the SUVs are mated to 6-speed automatic transmission gearbox.
Dimensions
The Ford EcoSport, when compared in looks, gives a more SUV like feel. It is substantially taller and longer than the Nexon. But the Nexon has a better ground clearance than EcoSport and it wins here. The Ford EcoSport AT is 3999 mm in length, 1765 mm in width and 1708 mm in height. The car's wheelbase is 2519 mm while the ground clearance is 200mm. Coming to the Tata Nexon AMT, it is 3994 mm in length, 1811 mm in width and 1607 mm in height.  Its wheelbase measures 2498 mm and the ground clearance is 209 mm, slightly larger than the EcoSport.
Price
Ford offers its Trend+ variant at 9.55 lakh INR while the Titanium+ automatic is priced at 11.20 lakh INR. On the other hand, Tata will be launching the AMT option soon in May 2018 to bring the pricing speculations to rest. Still, we expect this one to be little lesser than the EcoSport Titanium+ AT variant that is available for 11.20 lakh INR.