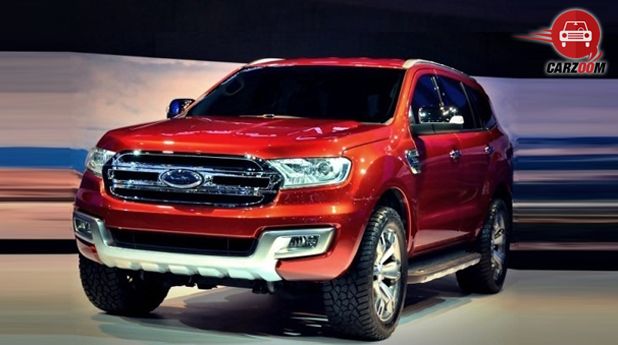 Ford Endeavour has been one of the practical SUVs of Indian automobile industry and probably one of the most affordable ones when it comes to foreign brand. It's a True blue-SUV which offers powerful engines, brawny glimpse and affordable price tag. It all began in 2003 when the original Endeavour was launched and became an instant hit as it was the most affordable premium SUV. Since then Ford has launched various updates of Endeavour which include an automatic transmission but then its arch rival Toyota also launched Fortuner automatic. The aura and class of Toyota Fortuner has kept the capable American SUV to the minimalist when it comes to high volume. As company has now brought the all new version of this muscular SUV, we tried our hand on it. Let's have a look.
Price:
As per its size, power and segment, it comes in really affordable price range.
Available within range of Rs. 23.63-28.15 lakhs (ex-showroom Delhi) makes it the best bet in the segment.
Engine details:
Powered by diesel unit only with two sizes of engine, one is a 2.2 liter while another is bigger of 3.2 liter.
The 2.2 litre develops 157bhp of max [email protected] and 385Nm of peak torque between 1600-2500rpm available with both manual and 6-speed automatic transmission while the bigger 3.2 litre 3198cc engine churns out max power of [email protected] and 470Nm of massive torque between 1750-2500rpm.
Availability of manual and auto transmission along with 2WD and 4WD system provides the SUV an exciting and appealing on road performance. However, the AT gearbox is slight slow to respond as expected but still it performs its duties pretty well.
The 2.2 litre can reach 100km from a standstill in just 11.7 seconds with the top speed of 150km/hr while the brute 3.2litre engine can do the same in just 9.7 seconds while offering the top speed of 175km/hr.
Mileage figure are satisfactory considering the power and size but definitely could be better.
Performance:
New Endeavour is based on all new ladder chassis platform which made riding dynamics a total contradictory (in a good way) of what we have seen on last gen model.
No issue from the extra power of 2.2l engine as it keeps the SUV in line with the expected performance and it is more fuel efficient than the 3.2l engine.
You need not to press hard throttle as it requires a light foot to keep the SUV moving so one should take care while reverse parking or parking it in a tight area as it might suddenly to fly even with lightest of throttle inputs.
In ride and handling department it excels in a great way despite being weighing over 2 tones while the higher ground clearance able it to wolf down the bad roads and unmarked speed bumps.
The bulkiness doesn't translates into much body roll during the corner carving except for the very sharp turns but still felt very light footed for the SUV of this size.
Another USP of new Endeavour is its steering wheel which is light, responsive and performs decently at speeds giving great amount of confidence to the driver.
Space & Dimension:
A real SUV which can fit seven adults in it with so much ease thanks to 4897mm length, 1862mm width and 1836mm of height while long wheelbase of 2850mm translates into more than decent amount of space inside.
The vast height makes ingress a two step process but once you get inside its comfortable place to be in. Front seats that come with 8-way lumbar support are really comfortable and give commanding view of the front. Moving to the second row seats which are wide enough to house three adults but with tall driver at front one might feel cramped for extra space.
Getting into the third row seats is a challenging task as ingress and egress needs great amount of flexibility and space isn't great either for adults.
Still, a spacious and muscular Ford's model with lots of legroom and headroom (for the first two rows).
Interior:
Ford has renovated the new Endeavour by offering many new and essential features in it.
Step inside and you'll be astonished to the advance level of tech goodies and premium interiors as compared to current Gen Endeavour. The top of the dash is finished with soft leather material with contrast stitching looks top notch.
The top version gets an 8 inch touchscreen infotainment system with Ford's latest Sync 2 and active noise cancellation, dual zone automatic climate control with AC vents for 2nd and 3rd row.
To make things even more premium, Ford has provided leather upholstery for all seven seats, individual lock-unlock buttons for all doors though the keyless entry system have been solely missed.
Material used in it is of high quality which is far superior to its predecessor but it still lags behind from its main rivals.
Overall it is much more much luxurious yet comfortable and practical.
Exterior:
Ford has provided a new look to this Endeavour which is making the car fresher than before. We expect SUV to be of hug size to lay massive road presence and this is what Endeavour able to do making it one of the handsome SUVs in India.
First thing which will catch your attention is height of vehicle and the front chrome grille flanked by projector headlamps with LED DRLs, large air dam with faux silver skid plates goes well with gigantic stance of the SUV.
The side profile truly shows how long is the new Endeavour, the vehicle rides on 18 inch alloy wheels which add lots of character to the SUV.
The rear shed off the tailgate mounted spare wheel seen on previous model. The C shaped tail lamps connected via large chrome strip embedded with Endeavour and faux skid plates really compliment the brawny look.
Overall, the new Endeavour look well proportionate from front, side and rear and undoubtedly it is one of the handsome SUVs in India right now.
Safety:
Ford Endeavour comes with standard features including Seven airbags, ABS with EBD while traction control system, electronic stability program, tyre pressure monitoring system, electronic differential locking, hill launch assist will make you feel safe and protected.
Verdict:
Ford has really done a great job by launching the new Endeavour which is not only affordable but powerful as well. The new Endeavour ticks all the right boxes be it luxurious and practical interior, brawny design, powerful on road and off road performance, pricing strategy, safety features makes it the value for money SUV in the segment. And, if you want more than wait for new Fortuner which is expected to hit Indian shores in 2017 but till then new Endeavour seems to be our favorite easily.