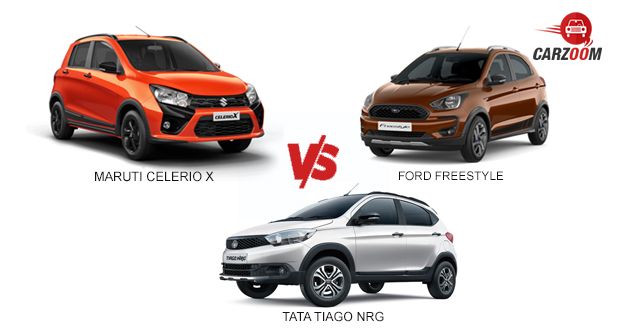 Tata Tiago NRG has now launched for the Indian market. Its primary competitors here will be Ford Freestyle and Maruti Celerio X.  With facing tough contest, it would not be easy for Tiago NRG to impress people in a market that ha it s all. Here we bring their comparison to make it easy for you to choose your dream car. It would be interesting to see if the newly launched Tiago will overtake its competitors' already established market.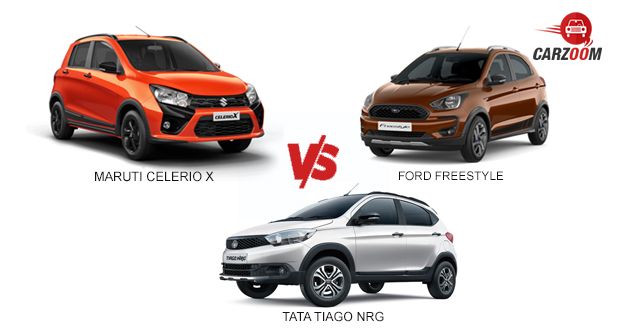 Engine
Tata Tiago NRG petrol engine has the highest displacement while that of the Ford and Celerio X have slightly lower than it. The NRG has 1199cc displacement while the Freestyle has 1194cc. For the car's power and torque, Ford Freestyle wins! Tiago NRG petrol engine delivers 85hp power and 114Nm of torque. While for the Freestyle, its petrol engine delivers 96hp power and 120Nm torque. On the diesel engine front, it gets 70hp / 140Nm for Tiago NRG and 100hp / 215Nm for Ford Freestyle. The Tiago gives a mileage of 23.84 kpl for petrol variant and 27.28 kpl for diesel variant. Apart from this, the Celerio X gets 998 cc three-cylinder inline petrol engine that produces 67 bhp of power and 90 nm of peak torque. It runs on both five-speed manual and AMT transmissions. Seeing all the car's engine power and torque, it is the Ford Freestyle that wins.
Exterior and Interior
The Tata Tiago NRG gets advanced security features while the Freestyle has premium ones. The NRG has twin airbags, ABS, rear parking sensors, 5" touchscreen infotainment system and surround-sound acoustic system by Harman. The Freestyle on the other hand has features like ESP and traction control, hill-start assist, automatic climate control, push-button start, automatic headlamps and wipers. Coming to the Celerio X, it gets orange shade, black alloy wheels, an all-black theme with white accents and orange highlights for the seats. Here the NRG seems to a better options when thinking of looks and safety.
Price
Maruti Celerio X is priced starting 4.63 lakh INR for petrol engine that goes up to 5.49 lakh INR. Tata Tiago NRG starts 5.5 lakh INR and goes up to 6.3 lakhs. Lastly, the Ford Freestyle is priced at 5.09 lakh INR for the petrol variant and 6.09 lakh INR for diesel variant. The Celerio X is the cheapest of all.