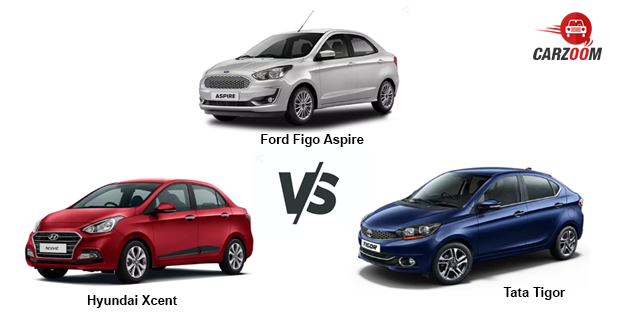 Tata Motors have launched its Tigor for India to  give tough competition to, Maruti Suzuki Dzire and Hyundai Xcent .  Ford too has upgraded and launched its Aspire and so has Hyundai with its Xcent. Here we bring a brief comparison of these cars and how challenging it is to stand in a market with tough competitions all around. With festive season coming, if you too are planning to buy a car, here is the comparison to help you choose the best among the recent launches, take a look.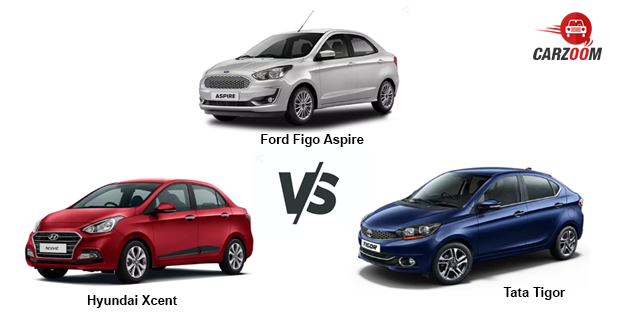 Engine and Performance
All these cars carry an engine displacement under 1200 cc. The Ford Aspire gets a 1.2 litre dragon petrol engine which produces 96 PS. While for the other cars there is 90 PS produced by the Amaze, 83 PS by the Dzire and 85PS by  Tigor produces. This makes the Aspire the best among all in terms of power. The Swift among these has the highest fuel efficiency that is at 22 kmpl. While for the others there is 20.4 kmpl for the Aspire,  20.14 kmpl the Xcent 20.14 , 19.5 kmpl  for Amaze and the Tigor is at 18 kmpl. This makes the Dzire a better choice for longer distance travelers as it gives better fuel efficiency than others.
Dimension
The Tigor, Xcent and Amaze measure 1,677mm, 1,660mm and 1,695mm, respectively. For the Dzire its 1,735mm and the Aspire is 1704 mm in dimension. The Tigor is the tallest among all and is said to have the roomiest cabin. In terms of weight the Dzire benefits as has 860kg weight, while the Tigor weighs the most at 1,130 kg. For the boot space Honda Amaze wins by 420 litres and the Aspire has the least space at 359 litres.
Price
The Tigor has been launched at 5.20 lakh INR for the petrol variant, the Maruti Suzuki Dzire is priced at 5.60 lakh INR, for the Aspire it is 5.55 lakh INR, the Xcent is priced at 5.63 lakh INR and the Amaze charges 5.80 lakh INR. The Honda  Amaze costs you the most among all.