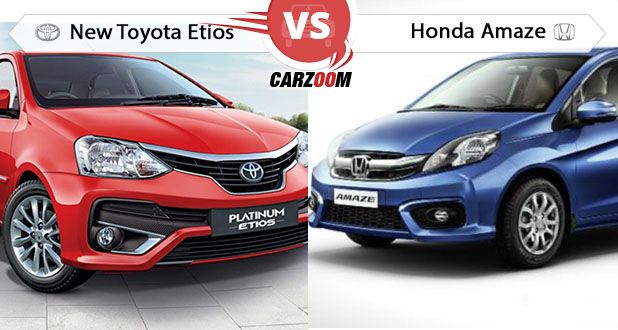 Today we are here to compare newly refreshed Toyota Platinum Etios and Honda Amaze; it cannot get better than this by comparing two Japanese giants who are fighting for supremacy in the Indian Car market. In 2014, Toyota launched its Etios and Etios Liva for the Indian car buyers and thus has a leading edge in the competition. The brand has a strong customer base when it comes to reliability but the problem arises when Etios is not a mass favorite. Etios has been a much loved choice of taxi market instead it is tailor made for complete family. Does the new update work for Etios this time? Let the time answer it.
Price:
Both the car makers are known for their excellent cars. Honda especially has ruled the car market with its ever popular Sedan, Honda City which never fails to amaze us. Honda Amaze is an entry level Sedan priced range at Rs. 5.47-8.38 lakhs while Platinum Etios is priced a little higher at Rs. 6.54-8.98 lakhs.
Engine details:
Both the cars are launched with diesel and petrol variants. The Amaze Diesel variant has a fuel tank capacity of 35 liters while Etios comes with a 45 litre capacity fuel tank.
The Amaze has a 1.5-litre 98bhp 16V i-DTEC Diesel Engine while Etios comes with a 1.4-litre 67.7bhp 8V D-4D Diesel Engine. Honda with its Amaze has shown its pedigree for building cars with powerful engines.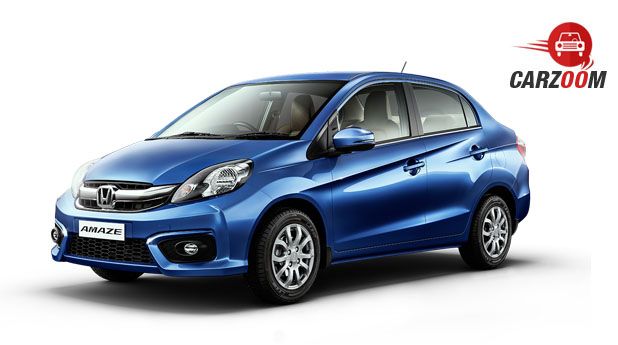 Amaze priced less than new Etios has an outstanding engine with a maximum torque of [email protected] while Etios churns out [email protected] Amaze burst with a maximum power of 98bhp @3600rpm which is higher than that of Etios's 67bhp @3800 rpm. Amaze Engine outdo new Etios on the papers. Honda Amaze diesel claims to have a mileage of 25.8 km/l which is slightly greater than Etios diesel's 23.59 km/l.
New Etios on the other hand carries powerful engine of 1.5 liter DOHC petrol developing the max output of 88.77bhp and 132Nm of torque over the Amaze's 1.2 liter i-VTEC petrol churning out the max power of 86.79bhp and 109Nm of torque. Etios petrol claims to have mileage of 16.78 km/l which is li'l less than Amaze petrol's 18.0 km/l.
Also, Honda offers both manual and auto gearbox in its Amaze's petrol trim while Toyota's Etios just has manual.
Performance:
Honda Amaze's handling is decent if not great. It doesn't feel jittery on rough Indian turfs. The steering wheel is light and the ride's height provides good visibility. The new platinum Etios has an efficient transmission and glides smoothly over potholes, but the ride height isn't well designed and some noise intrudes the cabin while driving through rough terrains. The handling is decent and the Etios is a car to envy when on the highways but it falls short while driving through twisty roads.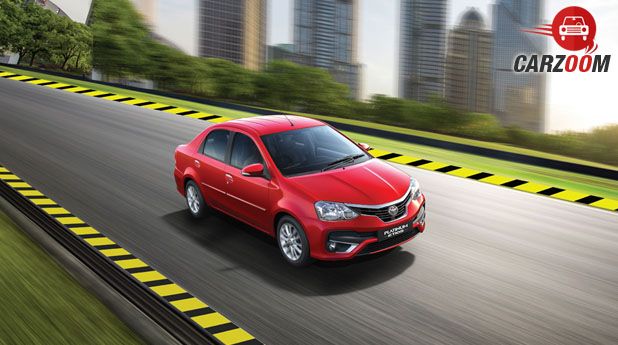 Exterior and Interior:
The Amaze now features refresh dual shade interiors and has got considerable boot space considering the size of the car and the dashboard has got piano black finish which looks really good. The Amaze comes with an average integrated music system and electrically foldable mirrors. Unlike Brio hatchback, the Amaze has got enough leg space for the second row seats. The Newest version of Etios has improved a lot and the interiors are very practically designed. The boot space is massive and comfortable. The car comes with the latest DIN 2 music system, a delight for the music lovers, the beige layout is appealing to the eyes and the car overall has a premium appearance. The only notable changes are rear armrest, new seat covers, foldable rear seats for additional space and updated instrument cluster.
The Amaze has a decent exterior design and now longer resembles Brio anymore thanks to new update. The front design and the bonnet finishing are now tweaked with twin slat front grille giving it the sporty stance. The new Etios has got an impressive design especially after getting cosmetic updation like V shaped front grille with chrome touch, jewel shaped headlamps, new front bumper with wide air dam and faux silver skid makes it sportier than ever.
The rear portion of new Etios still has that basic look and the tail lights are well designed but not eye catching.
Final Verdict: – Toyota Etios faces a tough competition from its fellow Japanese car maker Honda. Etios has price tag higher than new Honda Amaze and that doesn't help the cause of Toyota since Amaze impresses on overall basis and has got both, the looks and performance to outdo Etios in the compact Sedan Segment. But if you want a spacious and comfortable sedan then Platinum does make more sense.