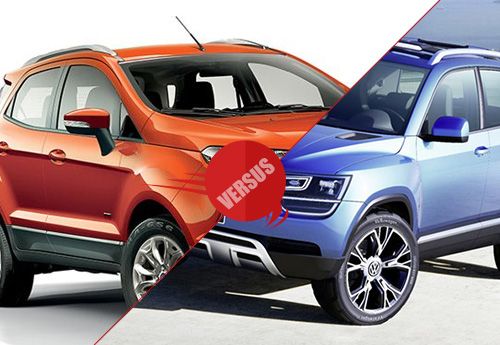 Ford has recently launched its much awaited compact, under 4 metre SUV which has been a great success with 30k orders made in the same month of launch… We all are familiar with this story, but then there came a new story, that Volkswagen is gonna launch its new compact SUV in India. Trust us, it was enough to shake the market. Need we say more about what cars are going to face the comparison this weekend? Well its the Ford EcoSport vs the Volkswagen Taigun.
It's been said innumerous times that the Taigun looks a terminator version of the Duster, more futuristic, more detailed, more aesthetic and more sporty. We all know that, but comparing it with the EcoSport, its really hard to say if it can still beat the Ford's new element of attraction in the market. The Ecosport is a tall and small but handsome car with features so sharp and edgy that it has already beaten up Duster out if the sales figures it holds currently. But then, Taigun is new, sporty and sophisticated. In the scenario, it will be enjoyable to see these two new muthas fighting for their ultimate survival in the field on basis of looks, but the Taigun with tall stance coming handy in big feel will be more relevant to go for, only of prices well against the EcoSport's mouthwatering price tags.
Internally, the EcoSport has borrowed the dash, the theme and the feature list from the fiesta and stays all excited with tonnes of features for all the creatures. Space only looks small, otherwise this car is surprising with the accommodation ability it has. On the other hand, Vw has put its international standards of neatness and features on stake to mark nothing but the top and surmounted position on the charts. And being a Duster clone, space and comfort can never be any issue. Nor will be the luxury for it being a Vw.
Engines whereas is a different ground of comparison which can change the whole scene just like that. We know that the Ford is offering two trims of engines with a 1.5 litres, 4cyl engine available in both diesel as well as petrol variants and a 1.0 litre, 4cyl petrol ecoboost engine with max power. But the Taigun will only be available as for now in a single trim turbodiesel mill of 1.0 litre, 4 cyl. But comparing anyhow, the EcoSport is ready to boom away the Taigun easily with those on paper facts. Again, EcoSport is related to Ford family, and buying a Ford is like buying pure driver's machine. And to match up with that, Vw has to put not only paper burning, but road burning ride and handle quality in their niche product. Till now, we have EcoSport as a clear smoker around here.
If only, the Taigun is priced well with best in class features we see here, it will be here to beat up the EcoSport and its dignity which it carries over with pride in the market ans selling like hot cakes, price range is around 5.5-9.5 lacs. While on the other hand, we have Taigun which is still a rookie to be set-off  loose and an expected price range of around 9-14 lacs! Will be quite unexpected and unacceptable.