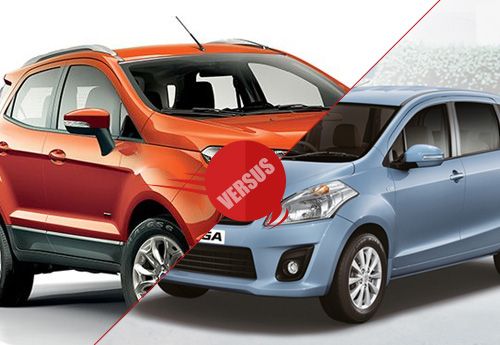 Now a day's everyone wants to look different. When we talk about fun, going to beaches, or on a long drive. We need a car on which we can rely on blindly. Which can also show a status symbol in our community, in an economical range. Keeping these things in mind company has introduced cars like Ecosports and Ertiga. They have been made completely according to our need. These are economical car for middle class family and easy to drive.
Interiors and exteriors.
The Ecosport has been made keeping SUV segment in his mind. It has proved it by its design, which is been tried to make aerodynamically. Its attacking face and modern look has cached our eye. Where as Ertiga is an MPV which has also kept aerodynamic in his mind which can be seen both side of car. The Ertiga has three rows seating which can occupy almost seven person but the Ecosport has difficulty in occupying 5 adults. But in Ertiga reaching to third row is little difficult. The last row seat can be folded to create enough space. Overall the Ertiga is very much spacious. On the other hand Ecosport had tried to give enough space by putting spare back attached to back door. It gives beauty to the vehicle and a sporty look. But the truth is that Ecosport was having no other space to put it. It has provided good ground clearance to cross any water way. It has also concentrated on giving facilities to customer like providing sync interface system designed by Microsoft. It has also a voice command system which can control your phone and music system via Bluetooth and can also call an emergency no in an accident.
Space.
When we talk about space the ford Ecosports is 5 seated where the 3 adults sitting in the back is difficult to adjust. Where as Ertiga has left Ecosport far behind in this field by occupying 7 people comfortably, and its back seat can be folded to create extra space for luggage. Ertiga is very spacious. In ford the back seat does not have enough room to stretch your legs. It makes feels very congested. Ertiga has very good advantage over here.
Engine type and Mileage
Ertiga has 1.3 Multi jet diesels and a 1.4-litre K-series petrol engine. The petrol engine generates maximum power of 93.7bhp at 6000rpm and maximum torque of about 130Nm at 4000rpm, the petrol engine has short gearing and the engine is pretty smooth too. Diesel engine generates maximum power of about 88.8bhp and 200 NM of torque.
The Ecosports 1.5 litre Diesel, a 1.5 litre Petrol and off course the 1.0 litre 999cc turbo Petrol engine.  It provides high power and torque with better fuel efficiency. It has 5 speed manual gearbox which works smoothly. The engine of Eco sport the 1.5 liter diesel delivers 91ps @3750 rpm and maximum torque of 204Nm @ 2000-2750 rpm.
Ertiga petrol engine provides an average mileage of 16.2km/l where as diesel engine provides 20.8-22.7km/l. The mileage of Ecosports is around 22km/l (diesel). So in my view in case of mileage EcoSport is far ahead of Ertiga. But in generating power Ecosports 1.5-litre Ti VCT, 4-cylinder based petrol engine also doing duty in the Ecosport SUV offers out 110bhp at 6300rpm and a peak torque of 140Nm at 4400rpm and ecoboost goes up to 123 bhp. This is really very impressive in its region.
Price and Variant
Different variants price of Maruti Suzuki Ertiga are
Ertiga LXi 5.98 lakhs – 1.4litre Petrol base version
Ertiga Vxi 6.78 lakhs – 1.4litre Petrol base version
Ertiga Zxi 7.51 lakhs – 1.4litre Petrol base version
Ertiga LDi 7.40 lakhs – 1.3litre Diesel version
Ertiga VDi 8.5 lakhs- 1.3litre Diesel version
Ertiga ZDi 8.71 lakhs – 1.3litre Diesel version
Where as
Ford Ecosport is priced at
Rs. 5.82,000 lakhs – 1.5litre Petrol base version
Rs. 6,69,000 lakhs – 1.5 litre Diesel version
Rs. 7,89,990 lakhs – 1.0 litre Ecoobost petrol version.
The Ecosport is available in following colors:
Mars Red
Diamond white
Kinetic Blue
Moondust silver
Chill Metallic
Panther Black
Sea Grey
When we go with price we see Ecosport is way ahead of Ertiga. Ecosport is an SUV+ Hatchback. Now days in India the demand of SUV is exceptionally high as you can see Renault Duster last year. With this in mind EcoSport is dominating with economic price range for middle class family.
Road handling:
The road handling quality of the Ertiga is a very stable in a straight line, but due to its greater wheelbase there is a fair bit of body roll in the corners. Ertiga uses MacPherson Strut suspension setup at the front and Torsion Beam at the rear which handles the potholes and bumps wonderfully. The person sitting at the last seat feels comfortable in very rough road. However at high speed its little uncomfortable for them.  On the other hand Ford Ecosport is very comfortable; it functions both like SUV and Hatchback. It is going to compete both the markets. Rolling of Ecosport is also very less due to its suspension used i.e. McPherson strut with coil spring and anti-roll bar suspension setup at the front and Semi-independent twist beam with twin gas and oil filled shock absorbers at the rear. The steering wheel of eco sport is light and sensitive which provide good handling characteristic. Brakes have Ventilated discs at the front and drums at the rear. The Ertiga has some problems due to its huge size that is its big turning radius and roll which can be bit problematic. The Ecosport is free from these problems and provides you a better handling property.
Safety Feature
The safety features of the Ford Ecosport are pretty impressive. It has ABS with EBD, Front, side and curtain airbags, senses the crash and auto unlock the door, rear parking sensors and one totally different concept used by Ecosport is "Emergency assist" which allows the car to call an emergency number through the Bluetooth synced phone connection in case of an emergency or an accident. Where as an Ertiga has only two airbags, Antilock Braking System (ABS) with EBD and brakes are assisted wonderfully such that it allows the car to get the right braking balance between the rear and front axle. But Ertiga has not made it height above the Ecosport in the field of safety.
Conclusion
With a price of Rs. 7.5 lakh to Rs. 8.3 lakh for petrol, the Ford EcoSport targets the Maruti Ertiga ZXI, priced at Rs. 7.98 lakh. The diesel Ford EcoSport priced at Rs. 8.62 lakh to Rs. 8.99 lakh has the Maruti Ertiga ZDI, priced at Rs. 8.71 lakh covered. So for buyers who really don't want the extra seats in the Ertiga, and are impressed by the features of the EcoSport, they must go with the ford. But if you want a big space for lot of people and luggage, Ertiga is a good choice. Also, we can find its service a lot more place then ford.
So it totally depend on buyer, Ecosport has start creating history in overseas market. On the other hand the Ertiga engines are reliable and economical.