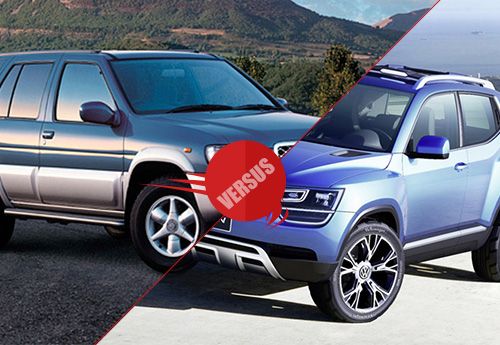 The market has seen a lot of these new and compact mini SUVs. But the good news is, market still has a lot to witness yet. And with that, we give away a freshly served comparison between two cars which has still to make their entry in the market and we bring you this comparison when most of the people out there don't even know a single bit about these cars. And why not, Their manufacturers have made sure of no leaks or loopholes.
So without wasting further words, we bring you close to the upcoming Volkswagen Taigun vs the Nissan Terrano. Let's find out how they put themselves against each other, being still on papers as yet.
So, reading the design elements around here is going to be a monotonous job only. As both the cars are similarly and roughly based on the Duster body shape and structure and that leaves nothing much to talk about. But the styling and added bits, and the way it will be done individually by the two companies is going to be an interested thing to notice, with the Vw claiming to make the car more flamboyant, rich and refreshing. But we can't even underestimate the capabilities of Nissan after designing such beautiful creations up till now. But for the case, Vw with more sharp and refined scheme of designs on paper with LED treatment and other fancy stuff, seems to be a bold Duster clone than the plain but enhanced Duster sibling, the Terrano.
Interior wise, we still have a long list to explore about both the cars but till then, we believe that Vw's rejuvenating blue cabin theme with loads of instrumentation and chroma, can take away the crown here. But the Nissan, being a sister company to the Renault is surely expected to learn from Renault's past mistakes and so, we expect a better and more refined quality of fits and finish along with features and entertainment levels rerouted with this new product. Expect huge space and intakes in both and the cars though. And lots of practicality along.
Under the hood, Nissan will carry over Duster's epitome of the 1.5 litre dCi diesel engine along with its year long reputation. While the Vw is expected to be centred with a 1.0 litre, 4cyl Turbo Diesel engine which is going to be on real test once rolled out on road, carrying some rough 110 Bhp of power within. Apart from that, none of the cars have been confirmed to get auto shifters like their godfather, the Duster. Apart from that, we really hope these two mini-grands will prove themselves even better than their inspiration on road with way better and class leading road sense, comforts and rideability. Soft yet tight on needed spots.
So, without any practical calculations, we pass you the hypothetical comparison of these two cars here, but its not gonna be all the way hypothetical as in for real life deal, out of papers. And we wish our comparison here helps you make up your mind over a better version of car even before its launch.