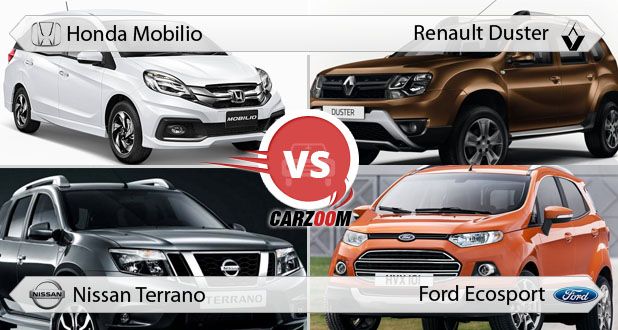 If talk about Indian car market then the thing which is being discussed most now-a-days is the grand entry of Renault Duster, the mass sales producer for Renault and one of the popular SUV in the segment. If it's Renault then expectations definitely increases and we can't deny that people were eagerly waiting for this car. And so is the comparison section which is becoming hot too. If we watch out casually then Ford EcoSport seems the only one major rival of this trendy SUV but if we think practically and as a normal Indian buyer then there are few other models too. Which despite of having different segment are being compared with this updated duster. The reason is when it comes to SUVs or MPVs then people more think of practicality instead of other factors. Here we are going to compare this muscular SUB with three popular ongoing SUVs which are being liked by almost same target audience and carry almost same price range. These three SUVs are Nissan Terrano, Ford EcoSport and Honda Mobilio MPV (just to check practicality). Have a look.
Price:
The price range matters most and Honda played a safe game here by offering its trendy MPV in much lower prices than these other three SUVs. So, if one can avail a more spacious and more muscular MPV in lesser cost then deal doesn't look so bad at the first sight..Right?
Well, Mobilio's price range is in between 7 lakhs and 12.2 lakhs in the front of much costlier Duster (8.4-13.5 lakhs) and Terrano (10.1-12.9 lakhs). But here Ford's EcoSport is giving a tough fight to new Mobilio by coming at range of 6.6-9.7 lakhs.
Also See: Visit Our Honda Mobilio FAQ section containing all small-yet-useful info altogether for your convenience
Engine details:
Let's talk about under hood power now where despite of having smaller sizes, SUVs get similar or sort of more powerful engines than our new MPV. The Mobilio is sharing its engines from Honda's ongoing sedan City which are of 1.5 liter in both petrol and diesel and responsible to develop max power, peak torque of 117bhp, 145Nm and 98bhp, 200Nm respectively.
While on the contrary, Duster and Terrano is almost identical with each other in almost every manner and both are equipped with 1.6 liter petrol and 1.5 liter of diesel engines. Even their power and torque delivery are same with each other yet slightly different than Mobilio i.e.102.5bhp, 145Nm (in petrol engines of both) while their diesel engines offer two outputs and torques that are 83.8bhp, 200Nm and 108.4bhp, 248Nm. Hence Mobilio's petrol engine seems more powerful than Duster and Terrano on paper while diesel version of both SUVs get better on paper figures regarding the same.
Now it comes to Ford's EcoSport which alike the price is giving a rub shoulder fight to Mobilio and others here as well. Like Mobilio, EcoSport is armed with 1.5 liter petrol and 1.5 liter diesel motors. Its petrol mill delivers max output of 110.4bhp and peak torque of 140Nm which despite of having similar sized engines are still less than Mobilio's figures, though. Further, the diesel mill of EcoSport is offering 89.7bhp and 204Nm which again on paper seems less than Mobilio's power. Still, EcoSport sits next to Mobilio in this section because it has a USP which is its third fuel mill in the form of 1.0 liter EcoBoost petrol engine. Despite of having a tiny size, it derives best output among here of wonderful 123bhp along with torque of 170Nm. This small EcoBoost engine has been much popular and people love its drive on road.
Not only this, Mobilio also beats Renault Duster and Nissan Terrano on the ground of fuel efficiency. It's not a hidden fact that Honda's cars are known for its better fuel economy and company has continued this tradition in its new MPV as well. While the Mobilio petrol offers claimed mileage figures of 17.3 km/l, the Duster and Terrano both are good for mere 13.24 km/l in its petrol model; even EcoSport's bigger 1.5 liter petrol mill offers 16.15 km/l of claimed figure which makes Mobilio more efficient. Similarly, in their respective diesel models, Mobilio will produce impressive figure of 24.2 km/l over the Duster's and Terrano's 19.01-20.45 km/land EcoSport's 22.7 km/l.
But one noticeable thing here is again EcoSport's tiny petrol version of 1.0 liter which again takes the cake away from Mobilio by offering 18.9 km/l of claimed mileage. Must say only this engine is leaving the Mobilio behind on every point while all others are stand right next to MPV with some ups and downs.
So, by considering the above facts and figures, we come to the conclusion that all three SUVs have a packed under hood and being the deserving competitors of even a MPV. If mileage is what you look for your car then Mobilio is best but otherwise you can pick any of the SUVs too on the base of their engine availability.
Also See: Visit Our Renault Duster FAQ section containing all small-yet-useful info altogether for your convenience
Performance:
Let's start with Honda's Mobilio which will keep reminding you of Honda Amaze while driving. Amaze is a well applauded car and scores very high in its on-road performance and that's the thing one will see in Mobilio too. However, engines have been more refined and responsive but still feel like Amaze. So, if you are amazed and satisfied by getting Amaze's performance once again then you will love Mobilio but if you are looking for a change then sorry but that is not going to happen.
Now, it's about three SUV sisters i.e. Duster, Terrano and EcoSport. All three cars are running successfully in market and have their individual group of admirers. We can't deny the fact that these three SUVs have major participation in the increasing market of SUVs in India. While Duster and Terrano provide a sporty driving dynamics, it's EcoSport which rocks with its EcoBoost engine. If to be precise then we will say that all four cars have better performance in their own way and one will have to try her/him hand on these to see which one is going to amaze her/him more.
Space & Dimension:
This is a section which clearly states Mobilio a winner among all four. The reason is its spaciousness which is far better than other three SUVs. Though, we can't blame these SUVs in this as being a compact sized SUV, less space in comparison to a MPV was obvious. Starting with seating capacity, Mobilio is a full seven seater MPV, the other three offers seating capacity for five passengers only.
Additionally, Mobilio is much longer than other three but less wide and taller too. Mobilio is 4386mm long, 1683mm wide and 1603mm tall while Duster, Terrano and EcoSport carry dimensions of 4315 x 1822 x 1695 mm, 4331 x 1822 x 1671 mm and 3999 x 1765 x 1708 mm, respectively.
Honda has implied a new philosophy called "man maximum, machine minimum" which offers a very much spacious and airy cabin at Mobilio's inside. The headroom and legroom are sufficient enough. On the contrary, as per their respective sizes and seating capacity, the three SUVs also offer a spacious inside with enough legroom and headroom for both rows but still they lacks somehow when comparing to big Mobilio.
Meanwhile, despite of having lesser length, Renault's and Nissan's SUVs offer much better wheelbase length than the Mobilio. The Duster and Terrano has wheelbase of 2673 mm over the Mobilio's 2652mm while EcoSport on the other side has 2520mm of wheelbase length.
Similarly, ground clearance of all three SUVs is better than MPV and making the cars more supportive on rough roads. The Duster and Terrano get wonderful ground clearance of205mm while Terrano gets 200mm over the Mobilio's 189mm.
Also See: Visit Our Nissan Terrano FAQ section containing all small-yet-useful info altogether for your convenience
Interior:
If talk about interior equipments, then one thing is very clear that while Honda has made its MPV for practicality, the other three companies focused on luxury. The Duster, Terrano and EcoSport all three will amaze you with its premium feel and exciting features equipments. Their inside cabin looks more sporty than Mobilio and one will definitely choose one of the SUVs over Mobilio on the base of this section. The Honda's Mobilio on the contrary gives a typical feel of its paternal cars Amaze and Brio. The interior is very simple yet decent, it could be better though. The dashboard in wood like plastic is giving a cool feeling but not as much cool as other three SUVs.
If to be precise then Mobilio is for those who look for comfortable cabin instead of sportiness while Duster, Terrano or EcoSport are for those who are in search for a rocking premium interior for show-off.
Exterior:
The same story is repeating itself like above. Mobilio is a simple, practical looking MPV which suits for a family based purpose while the here mentioned SUVs are for the youngsters who want to show that yes they have an impressive sporty car. However, it would be wrong to say that Honda didn't work at all on its classy MPV's look. Obviously, company will, as it's the first ever model by Honda in MPV segment. Therefore, along with Mobilio's regular variants, Honda has launched a sporty variant of Mobilio which no doubt is giving a tough competition of other three SUVs mentioned SUV. The interior and mechanical terms of this sport trim are same as the Mobilio's regular model but it is carrying a completely different and impressive profile at outside with many bold and new features.
So, again, if one wants a car for their family purpose and looking for practicality then go for Mobilio and if sportiness, attractive and show-off exterior profile is what you are looking for then choose any one among Duster, Terrano and EcoSport. And if, you want both, means practical family base vehicle with aggressive sporty look, then spend more money and go for Mobilio's sport RS variant.
Also See: Visit Our Ford EcoSport FAQ section containing all small-yet-useful info altogether for your convenience
Verdict:
At the starting, we were thinking that it will be a clear cut comparison with Mobilio as a winner but till the time we ended, we realized that story is different. These SUVs gave much better competition to Honda's all new MPV than we thought whether it was engines or performance or their dashing look, even EcoSport's price are much competitive in comparison to Mobilio. But one thing where these three cars can't give any fight to Mobilio is its brand value. It's needless to mention that Renault, Nissan and Ford are very new in front of well established Honda and hence it's difficult to beat a Honda car on the grounds of reliability.