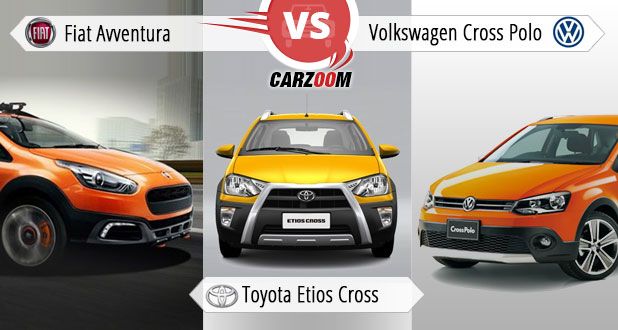 In this Second round of comparison we will be comparing Fiat Avventura with its Crossover rivals Toyota's Etios cross and Volkswagen's Cross Polo. The latter two cars have not performed better than their hatchback siblings; they just exist for a reason. Toyota has not made a SUV yet so fulfill the expectations of SUV lovers they came up with Toyota Etios LIVA based crossover which as expected not liked by the mass and same story can be said for VW cross Polo. Mechanically these cars remained same but the companies have made changes in exterior, interior and size criteria. Fiat carrying the same trend is now launched Punto EVO based crossover Avventura. So we are here to compare these three cars to find out who is better than each other.
Price:
A car buyer first sees this criterion when he is comparing cars with each other and when he knows that all cars are quite similar in almost every aspect. Let's start with newly arrived baby Avventura which will cost you between Rs. 5.99-8.17 with total of 5 variants while Toyota Etios Cross comes between Rs. 5.95-7.43 lakhs. Volkswagen cross Polo is available with one variant which is at Rs. 7.93 lakhs. All the prices are ex showroom Delhi.
So clearly this section belongs to Toyota Etios cross.
Price Scores:
| | |
| --- | --- |
| Toyota Etios Cross | 2/2 |
| Fiat Avventura | 1.5/2 |
| Volkswagen Cross Polo | 1/2 |
Engine and Performance:
Now it's time to analysis the heart of the car i.e. the engine, all the three cars are powered by the same engines that they have used in their hatchbacks. There is not even a single mechanical change made under the hood of these crossovers.
Avventura continues to get power from 1.4L FIRE petrol engine which produces 88.8BHP power and 115Nm torque while 1.3L Multijet diesel trim produces 91BHP power and 209Nm torque. Toyota Etios Cross is powered by 1.2L petrol engine which produces 79BHP power and 104Nm torque while 1.3L diesel box of Etios cross delivers 67BHp power and 170Nm torque. Last but least is Volkswagen cross Polo which is available only in Diesel option which is responsible to produce 74BHP power and 180Nm torque.
After analyzing the Specifications of all three cars Avventura is better among all at least on paper in both the engines.
In ride and handling department, all the cars behaves in a decent way but if we have to choose the best among the three than it is Volkswagen Polo class though Crossover is became heavier than the hatch but it didn't affect the performance of it. Fiat Avventura is giving a tough competition in this department to VW with its mature and firm riding experience. Good through corners and you need not to worry about the Potholes thanks to 205mm ground clearance.
Lastly, Toyota Etios cross diesel which offers balanced ride and safe handling even on imbalanced roads thanks to good McPherson suspension system. But on overall basis it cannot match the ride and handling quality of VW and same can be said for Avventura as well.
Fuel and efficiency goes with Etios cross as Volkswagen cross Polo is available in one engine option and mileage of Avventura is lower than Etios cross.
| | | |
| --- | --- | --- |
| Name | Petrol | Diesel |
| Fiat Avventura | 14.4 KPL | 20.5KPL |
| Toyota Etios Cross | 16.78 | 23.59 |
| Volkswagen Cross Polo | N/A | 22.07 |
Engine & Performance Scores:
| | |
| --- | --- |
| Volkswagen Cross Polo | 1.5/2 |
| Toyota Etios Cross | 1.25/2 |
| Fiat Avventura | 1/2 |
We are giving more marks to VW despite to unavailability of its Petrol engine due to overall performance and reliability of Volkswagen as a brand. Whereas Avventura is a new entrant which has a long road ahead of it while Etios cross is taken for granted due to its basic design technology.
Space & Dimensions:
In terms of outer space and dimensions Toyota Etios cross is beating other two cars with ease in many departments if not all. Avventura has highest ground clearance among the three and sharing similar boot capacity of 280 liters with Cross Polo. Etios Cross has least boot capacity among all of 251 liters. Avventura offers 2510mm wheelbase which is again better than the other two cars.
All the three cars has seating capacity for 5 persons but when it comes to rear seat space fitting up of three adults is a problem for Cross Polo especially. Among the three Etios Cross has ample legroom and headroom space and easily fits in 5 adults. Avventura comes second in rear bench space and at last it VW cross polo.
| | | | |
| --- | --- | --- | --- |
| Criteria | Fiat Avventura | Toyota Etios Cross | Volkswagen Cross Polo |
| Length | 3989mm | 3895mm | 3987mm |
| Width | 1706mm | 1735mm | 1698mm |
| Height | 1542mm | 1555mm | 1474mm |
| Boot Space | 280 liters | 251 liters | 280 liters |
| Ground Clearance | 200mm | 174mm | 168mm |
| Wheelbase | 2510mm | 2460mm | 2456mm |
 Space & Dimension Scores:
| | |
| --- | --- |
| Toyota Etios Cross | 2/2 |
| Fiat Avventura | 1.5/2 |
| Volkswagen Cross Polo | 1/2 |
Interiors:
In this section to analyze and to choose clear winner is a difficult task as all the three cars have their pros and cons. Avventura looks the better car among the three with features like dual tone dashboard, three gauge meter at the top of central console, ambient lighting around the cabin.
When it comes to the quality of material used and finishing of cabin Volkswagen seems to be a clear winner with its premium quality upholstery, nice fit and finishing, it is hard to find any rough areas in Cross Polo. While Toyota Etios Cross doesn't falls behind VW in terms of Quality but Etios is always cursed for unconventional dashboard design. Etios cross have features like 2 DIN audio system with bluetooth support, USB, AUX in etc, steering mounted audio controls.
Volkswagen Cross Polo on the other hand has features like three spoke steering with mounted audio controls; climate control though it's not a feature rich car but the quality used in the cabin of Cross Polo is commendable.
Overall Avventura is looks better in terms of overall ambience and feature but quality used is very average and steering should have been updated. Etios cross also have premiumness in its cabin but the unconventionality of its cabin design kills it. While VW is best in lot in quality, Cross Polo carries all black color theme which is simple yet elegant.
Interior Scores:
| | |
| --- | --- |
| Volkswagen Cross Polo | 1/1 |
| Fiat Avventura | 1.75/1 |
| Toyota Etios Cross | 0.5/1 |
Exterior:
Exterior design Avventura is a stylish and sportier one among the three but all three cars are based almost on same design i.e. a roof rail, side black cladding with car's name.
Let's Start with Avventura front which consists chrome black smoked headlamps, chrome grill and circular silver fog lamps. Side of Avventura is furnished with Body painted ORVM's, 16" alloy wheels and side black cladding with Avventura name and rear profile of Avventura is have large spare wheel with similar looking tail lights adds beauty to the looks of Avventura.
Volkswagen Cross Polo is similar like Polo hatchback, front side is same as Polo, side of Cross polo gets black cladding and sticker of cross polo and Silver painted ORVM's while rear is identical to Polo except the silver bull bar at the lower end of bumper.
When you see at the front profile of Etios cross especially at the skid plate it looks like that car has a silver French beard. Etios cross is similar to the Etios Liva except increase in the size of its which has become more muscular. Front of Etios cross carries chrome finished headlamps, replacing of indicators above fog lamps, silver cladding all round the car and combined with black rubber cladding embedded with Etios name.
Exterior Scores:
| | |
| --- | --- |
| Fiat Avventura | 1/1 |
| Volkswagen Cross Polo | 0.75/1 |
| Toyota Etios Cross | 0.5/1 |
Safety:
In terms of safety all three are at par with each other to ensure optimum safety to its passengers.
Avventura carries safety features like dual airbags (Not standard), central locking, automatic door lock, ABS, EBD, engine immobilizer, 3 point seat belt with load limiters, fire prevention system, early crash sensors, anti theft device etc. but among all these mentioned equipments all are not come as standard equipments.
Volkswagen is known for its well built quality and safety features is just adding an extra advantage to it with features like child lock, central locking, driver and passenger air bag, halogen headlamps, side-front impact beams, crash sensors, engine immobilizer with floating code etc.
Toyota Etios cross on the other hand offers air bags even on mid variants which Avventura doesn't have apart from that Etios cross carries safety features like ABS, EBD, central locking, front and side impact beams, door ajar warning, key-less entry, driver seat height adjustability, engine immobilizer and crash sensor.
Safety Scores:
| | |
| --- | --- |
| Volkswagen Cross Polo | 1.5/2 |
| Toyota Etios Cross | 1.25/2 |
| Fiat Avventura | 1/2 |
Final Verdict:
Fiat Avventura is good looking car with good dynamics the only thing which led down Avventura is its under powered engines. Whereas Volkswagen cross Polo didn't tasted much success since its launch and there is no news about any facelift version of it. Toyota Etios cross on the other hand which based on Etios Liva which recently received an update but not in the case of Etios cross which looks unconventional from outside and inside. So overall we think Fiat Avventura here is a more desirable car as it looks good from outset and interior are also fine if not good. Avventura is a great effort by Fiat which provides a great alternative against Etios cross and Cross Polo but Eco Sport proves to be slight better car in comparison to Avventura. But there is no doubt that Avventura will do good Fiat's cause as they are making significant efforts in improving their dealer and service network.
Final Scores:
| | |
| --- | --- |
| Toyota Etios Cross | 7.25/10 |
| Fiat Avventura | 7/10 |
| Volkswagen Cross Polo | 6.75/10 |