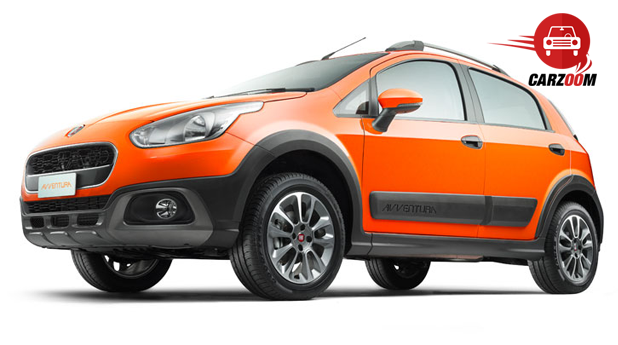 Fiat is now entered into crossover segment after Toyota and Volkswagen with this year's much anticipated Vehicle Avventura. When you will see Avventura you will shout Ohh! It looks like a Punto EVO; front and side profile of Avventura is almost similar to Punto EVO. Interior of Avventura is different or we can say they are adventurous. Avventura will take on Toyota Etios cross, Volkswagen Cross Polo and Ford Eco Sport. Our experts have already reviewed it and now it's time to analysis the Pros and Cons of Avventura in our critic review section.

High:
The key plus point about Avventura is its price which starts at very affordable price of Rs. 5.99 lakh (Ex showroom Delhi) which is less than Volkswagen Cross Polo and Ford EcoSport. Even the top variant of Avventura is less than its chief rival EcoSport.
People prefer those things which look pleasing to their eyes and Avventura stands out in this department its black smoked headlamps, roof rails, Rear Spare wheel etc are complimenting the compact size of Avventura and provides it a sporty look.
Indian roads are improving day by day but as we all know it would take years to be perfect and to get rid of those potholes and bumpiness. To tackle that a car needs ample ground clearance and in this department Avventura has excelled in brilliant way with 205mm of ground clearance.
Avventura is solidly build car especially better than the Asian standards and offers mature ride quality despite of its low power engines.
Low:
No doubt exterior wise Avventura looks positive but when tail mounted spare wheel is unrealistic not in terms of looks but the complicacy one face in opening of that spare wheel because It takes hell lot of effort and time to open.
Avventura is powered by fairly low specs of engines which lacks pick up and slightly falls behind its arch rival Ford EcoSport.
Fuel economy of Avventura stands at 14.4KPL for petrol and 20.5 KPL for diesel which is quite low as per the competition against Etios Cross, Volkswagen Cross Polo diesel and Ford EcoSport which returns over 21KPL and 16+ mileages for diesel and petrol trims.
Fiat Avventura is equipped with good and adventurous interior features but all this effort by Fiat goes in vain by the quality used in it with special mention to fabric used on seats, basic door opening handles and rough areas all around the cabin. Even the plastic used inside is also of not best quality.
Fiat claiming that they are considerably making effort to improve their after sales services but the truth is Fiat Services still lacks reliability and keep the prospect buyers of Fiat cars in doubt. Availability of its spare parts is also difficult to find.     
Fiat is offering ABS and EBD but not all variants of Avventura and absence of rear parking camera and assistance is an also low point for such good car.
Avventura is based on Punto EVO hatch which is a heavy car but Avventura gets 65 kilo addition in kerb weight. Already heavy car becomes heavier now with this increment in weight.   
Verdict:
The wanna be SUV 'Avventura' is good in patches like in price, ride and exterior design but fiat's dealer network is limited and sales service will put doubt in people's mind. Avventura is certainly better than its Crossover rival Toyota Etios Cross and Volkswagen Cross polo. Avventura will certainly prove to be a long term product for Fiat but there is a tuff road ahead for Avventura as it has to make name for itself against the Ford Eco Sport.