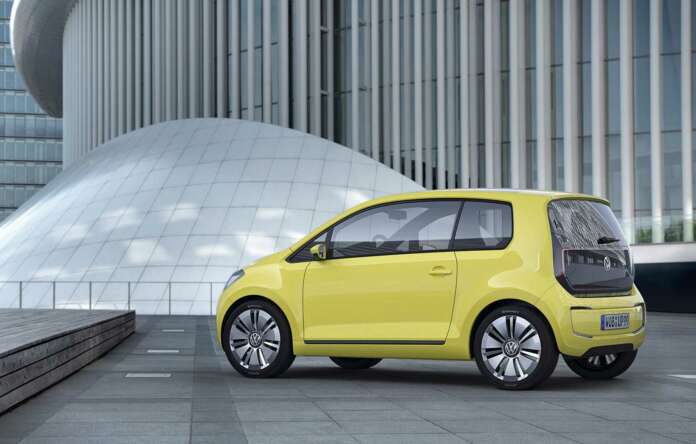 Unbelievable!! Volkswagen is about to introduce its cheapest car in India but it seems that we'll have to wait for long for this new launch. The reason is that VW Up would hit the Brazil car market first, may be in Feb 2014, after that it could be expected the car to launch in India sometime in 2015. The car is priced at Rs. 3.5 lacs and goes upto Rs. 5.5 lacs(for the top variant). The car is a hatchback, the Up! Which will be launched in india will have 4 doors while the one with 2 doors is kept only for the European markets. Well our experts have given thumbs up to this new car, so let's read find out why..?
The car is spacious cabin than the 2 door Up! The boot is also offers decent space. And has got larger wheelbase too. But you can see some cost cutting in the form of sub quality plastic not at par with the Volkswagen standards, but at such a price tag, it's acceptable. The dimensions will be similar to Polo and can comfortably seat 4. Volkswagen is known for its fashionable wheels and this car is no different, the wheels are almost 18 inch and most probably alloy made with 22 spokes on it. The front bonnet looks like Matiz or like Nano because of small length. The car doesn't seem to have any fog lamps as seen spy testing on Pune roads, infact turn indicators are also absent on ORVMs rather  small lamps on either side below the ORVMs are used for the same.
Under the hood! There will be both petrol and diesel versions of the car, while the petrol car will be driven by 1.2l 4 cyl engine with max power of 75 PS and max torque of 183 Nm whereas the diesel one is expected to come with 0.8l 2 cyl turbocharged engine would churn 51hp of power and offering 101 Nm max torque.The petrol engine might be blessed with automatic transmission too along with the 6-speed manual gearbox.That is what can be expected right now. The mileage figures aren't known right now but it has to be somewhere in between 16-20 kmpl.
Interiors: there is a unique feature in Up! It has 2 screens with one showing the car's speed, fuel level and CO2 emissions while the other will show guide u thru the navigation system and serve you as an entertainment when u can check your photos or videos on that, or utilise it as telephone or radio. That's quite interesting!! Isn't it..??? The upholstery can be combo of fabric and leather and yes it would be comfy much like your couch! The steering shall be powered electrically and same goes for the windows.
German car maker, Volkswagen has lots of hopes from this car and at the same time it is confident of stirring the hatchback market. Well that will be known only when the car comes live for public. And then we can possibly let you know how well did the car stir the small- car market or got stirred!! Stay updated with us!! Till then drive safely and follow traffic rules!!