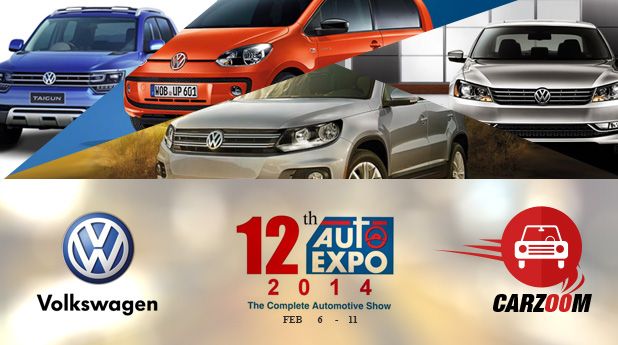 As we informed earlier, Volkswagen is fully prepared to make a blast in upcoming Auto Expo with its long line-up of models. Needless to say that 2013 had been a good year of the company coz its many models and variants as well made their debut in the car market including the Polo TSI which has been the most successful-one among all the VW models.
Here, we bring the detailed description of those VW cars which are going to be revealed by the company in this Auto Expo. If reports are to be believed, then VW is preparing to steal the show completely by unveiling its five models. These are:
Price:
VW's this compact SUV has been unveiled at the 2012 Sau Paulo Motor Show in Brazil in the concept form and now all set to hit the Indian car market. The tentative price of this SUV is 9-14 lakhs.
Engine:
This concept car could be equipped with 1.0 liter, 3-cylinder turbo-petrol engine developing 108bhp and 175Nm. Also, this SUV could get a 1.4 liter, 3-cylinder diesel fuel unit.
Main rivals in India:
Mahindra Quanto, Renault Duster and Ford EcoSport etc
Price:
It is said to be the VW's smallest car in India which is expected to have the price range between 4-6 lakhs.
Engine:
The expected mechanical powers of this hatchback are 2-cylinder turbocharged diesel engine (51bhp, 100Nm) and 1.2 liter, 4-cylinder petrol mill engine (75bhp and 183Nm).
Main rivals in India:
Maruti Suzuki Ritz and Hyundai Grand i10 etc
Price:
One more VW SUV named as Tiguan is going to make its debut in India with the expected price range of 20-22 lakhs, much expensive than it's another SUV Taigun. It is also called as Taigun's elder brother.
Engine:
As reported, it could share the engines of VW Jetta which is armed with the 1.4 liter TSI petrol engine and the 2.0 liter TDI diesel engine churning out the max output of 120bhp, 200Nm and 138bhp, 320Nm respectively.
Main rivals in India:
Honda CR-V, Renault Koleos and Toyota Fortuner etc
4. Volkswagen New Passat 2014 (sedan)
Price:
Another model of VW is the facelift version of its ongoing sedan Passat which is taking a new 2014 form. The price range is not disclosed yet but expected to have the same price range like the ongoing model with slightly ups and downs. The ongoing Passat costs between 22.06-27.26 lakhs.
Engine:
It is likely to equip with 1.4 liter TSI and 2.0 liter TDI diesel engines mated with manual and automatic transmission gearbox as well. The main changes could be in its interior and exterior features, it might get few more luxury equipments with this facelift model.
Main rivals in India:
Skoda Superb, VW Jetta and Hyundai Accord etc
5. Volkswagen 2013 WRC-winning sports car
The last but not least expected model by the company is its sports car which has won the WRC (World Rally Championship) 2013. Rumors are that company might showcase this awesome performing car at the Auto Expo 2014.
Though, the other details regarding price, engines and equipments as well are not disclosed yet.