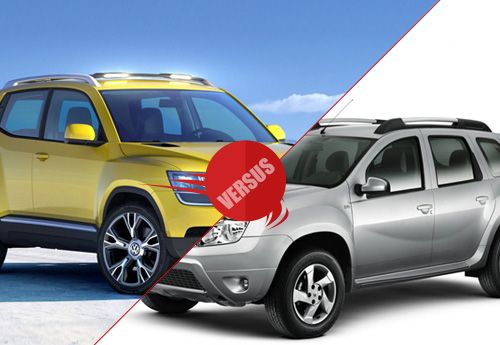 Compact SUVs being the chart-toppers and new trend in Indian luxury buy are nothing new. And with almost every company trying to roast their cookies to perfection, how could we ever forget pioneers to be left behind. That brings us to our subject this week of comparison between two cars. The one is actually a milestone and a benchmark in the compact SUV segment, The Renault Duster and the other is an upcoming and much awaited rival to the Duster, The Volkswagen Taigun.
We will begin with the duke of the segment, the Duster with looks not to kill but still decent enough to match your stature for sure. The chubby and curvy design is all appreciated with its huge and bold stance by the customers so far and makes its presence felt on the road for sure. While on the other hand, the VwTaigun is also expected to be designed on a similar body frame with added grace to it as the spy pics suggest. It would be grilled, badged and chromatized just as the new Jetta and that surely makes it a eye-soother in the segment for sure. And the Duster body design won't be mend ofcourse with added steel and plastic bits underneath the body to make it look more richly. Therefore, a Jetta+Duster blend would be quite interesting to see and gets our hand-up beating Duster in the looks department.
Interiors of the Taigun are still like a fancy dream, and not yet have been told about much, but sources suggest that Vw is on serious plans to add Blue theme chroma around the cabin of the car but the goodies and features are still in the box, safe, but there are a lot! And we believe its going to be all the way better than what Duster has as loose plastics and fit-n-finish and a lot more to be expected as its a VW! standard features like ORVMs with turn indicators and auto 'box will be missed though, as per the spying suggests.
About the engines, we have clearance only for the diesel ones in the Taigun, so petrol stands out of the mark for both with a 1.0 litre, 3cyl turbodiesel engine producing 110 Bhp and 175 Nm over Duster's 1.5 litre dCi, K9K diesel engine producing 108.5 Bhp and 248 Bhp.
Taigun is more powerful, quick and efficient on papers over the Duster's remarkable engine on road. But the real test will be thrown once the car is released ofcourse.
And after all the guns being shot, we believe that the Taigun will be a sure shot from the Volkswagen family against and over the Renault Duster at a cost of around 9-14 lacs, quoted for the Taigun, similar to that of the Duster. Taigun is a clear on-paper winner here. And stay along for more cover news in.derails.