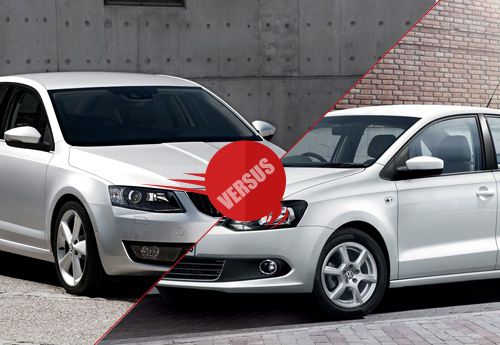 Conventionality is always known to be challenged by modernity or inspired invention. Taking this trend forward we have a conventional sedan i.e. Volkswagen new Vento being compared to the more stylish, luxurious and probably one of the Skoda's best car in the market. Skoda Octavia is classical example of European brand and styling loaded with various luxurious features like panoramic sunroof, bi-xenon headlights etc. On the other side Volkswagen new Vento is a simple and conventional looking sedan which is a decent on and off road performer, it can be termed as a Baby Jetta. So we are going to compare conventionality with luxuriousness to let you know who is better and more preferable or best suited for you.
Price:
The New Vento much is available in the price range of 7.44 – 10.94 Lakhs. While Skoda Octavia starts from 13.95 lakhs whereas top model of Vento costs less than Octavia clearly underlines the un-affordability of Octavia for an average Indian household even though it happens to be affordable in Skoda range.
Engine:
New Vento is available in both diesel and petrol with its 1.6L MPI and 1.2L TSI petrol engines. 1.6L petrol engine delivers 103.5bhp of power and a torque of 153 Nm at the ease of 3800 rpm coupled to 5 speed manual transmission and 1.2L TSI delivers same amount of power but higher torque of [email protected] rpm, it is mated to a 7 speed DSG automatic transmission.
1.6L MPI engine is offering fuel-efficiency of 15.04 km/l for the manual transmission and 16.93 km/l for the automatic transmission. The 1.6L diesel engine has been replaced by the 1.5L TDI diesel engine which produces 103.5bhp of power and an amazing torque of 250 Nm from 1500 rpm to 2500 rpm. It offers better fuel-efficiency figures of 21.21 km/l under (ARAI) test conditions.
The new Octavia is available in both petrol and diesel engines and 3 variants namely Ambiente, Elegance and Active. The 1.4L petrol engine is responsible to 138bhp [email protected] and 250Nm torque mated to a 6 speed manual gearbox, while 1.8L TSI petrol engine generates 177.5BHP [email protected] and peak torque of 250Nm, coupled to 7 speed automatic transmission.
Diesel 2.0 TDi active variant offers 141bhp power and 320Nm of massive torque, Elegance is available in both the versions i.e. diesel and petrol with 2.0 TDi engine which offers 141bhp of power. All the trims are available with manual as well as with automatic transmissions.
Engine wise Octavia seems the viable option. 
Brand:
Skoda is clearly the winner is this round as Volkswagen whose existence may be quite unknown to quite a few as the company was just founded in 2007 in India. Skoda stands in different class moreover a status symbol for buyers which they not find in Volkswagen.
Volkswagen sales are dropping in the market since 2012. Whereas, Skoda has also seen a fall in its sales, but it keeps up with the performance and been a symbol of class.
Exteriors
Volkswagen has definitely tried to perfect their new Vento with sharper indicators embedded in smarter dual bezel headlights which not only soothing to the eyes it also help them in adverse climates. Character lines of this car and the body-colored rear view mirrors blend effortlessly and give a muscular character to Vento. Areas most prone to scratches feature a black base for added protection. The beauty sporty new 15"alloy wheels, revamped grille and redesigned bumpers are the last straw and with this the car seems get heads turning on its way.
The exteriors of both the cars seem quite similar in the wheel department.
The new Skoda Octavia is the first car in the Skoda series which holds the new brand logo 'Laurin and Klement' proudly embedded to the front bumper and the stylish Grill. The base model has halogen headlights while the top variant boasts the bi-xenon headlamps with daytime LED lights and Full LED tail lamps. The side profile of the car is almost similar to the old Octavia. So it's safe to say that both cars are impossible to ignore, however Octavia just fixates us.
Interiors:
New Vento offers the ease of audio controls, call answering and Bluetooth control. The RCD 220/320 music system with 4 speakers, integrated USB, AUX-IN and SD card slot takes the journey in Vento to another level. Both cars have space for everything from bottle holders to a place for your goggles.
However space vise Skoda is unbeatable with its 590 liters of space that too when the rear seats are not folded against not so bad 480 liters boot space of new Vento.
Skoda Octavia offers a revised music system and new display screen with touch.  Adaptive cruise control optional keyless entry, automatic door and ignition system, panoramic sunroof, dual zone air conditioners, CD/MP3 with Infrared remote controller, appealing wood finish and impressive leather upholstery and parking assist make driving an out of the world experience. The new Octavia has 6 airbags; other safety features which this car will have are parking sensors with sound, automatic lane guidance, emergency city braking system and ABS with EBD.
On The Road:
On the road however new Vento is very comfortable and easy to handle with excellent drivability. It is for sure that Octavia proves superior and gives Vento a run for its money. Though there is initial turbo lag in low rpm but overall it performs in a decent manner.
Final Verdict:
The new Vento is not at all a bad car in comparison to Skoda Octavia, if one wants balanced ride with decent looks, fine interiors and most importantly comforts your pocket than Volkswagen new Vento is the right choice. If someone is fan of luxury interiors with fun ride and eye catching looks than Octavia is best suited for him. Apart from that Skoda Octavia gets NCAP 5 star ratings for safety with various and better features than new Vento.