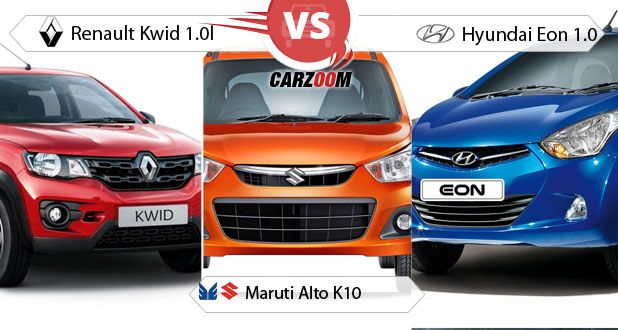 Budget hatchbacks are quite popular in India and it reached to greater heights in the last year or so all thanks to Renault Kwid. The car was launched in September last year and climbed the ladder of success instantly owing to unique design, spacious cabin and many first in class features. The Kwid seems to be the only tough contender for the decade old king Maruti Alto as the former already acquired 1.65 lakh bookings so far with sales volume stand close to 1 lakh units. Following the huge success of Kwid which took brand to no.6 spot, the brand is now looking to grab the 5 percent market share in India.
In order to achieve that, Renault has launched a powerful version of Kwid christened as Kwid 1.0. With bigger engine, it will compete against the well established players like Maruti Suzuki Alto and Hyundai Eon 1.0. Will new Kwid model be able to repeat the success of 799cc version? Here is how it stacks up against Maruti Alto and Hyundai Eon 1.0.
Price:
Kwid 1.0l is available in top spec two variants- RXT and RXT (O), priced at Rs. 3.82 lakh and 3.92 lakh (ex-showroom Delhi) respectively. Comparatively, it falls in between the two competitors Maruti Alto K10 and Hyundai Eon as former is priced between Rs. 3.26 to 4.11 lakhs whereas latter is available in two variants priced at Rs. 4.40 and 4.50 lakhs (ex-showroom Delhi) respectively.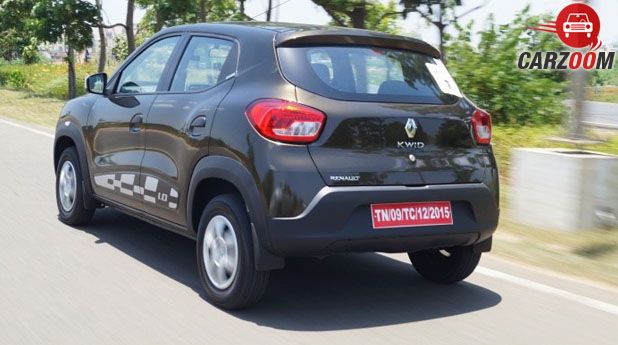 Engine:
All three cars are powered by three cylinder engines; Kwid 1.0l gets 999cc motor while Eon and Alto K10 comes with 998cc mills. Hyundai Eon is most powerful of the lot with 69bhp and 94Nm with redline closing at 6200rpm. Alto and Kwid delivers identical power at 68bhp while with 91Nm torque Kwid edges out Alto K10 by just 1Nm. Kwid is lighter of the rest cars and hence got the highest power weight ratio of 97bhp/tonne making it more fun to drive.
Mileage and Transmission:
In terms of mileage, Kwid 1.0 comes out with flying colors and delivers an impressive ARAI rated mileage of 23.01 Kmpl but Alto K10 remains the best with 24 Kmpl while Eon stands last with 20.kmpl. All of them get 5-speed manual transmission as standard but Alto K10 has an upper edge as it is also available with AMT (Automated manual transmission) aka AGS (Auto gear shift) gearbox.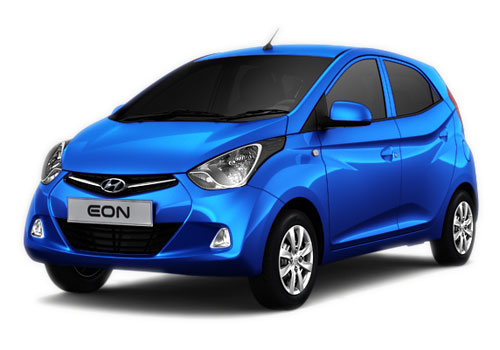 Space and Dimensions:
Dimension wise, Kwid 1.0 remains unchanged to the less powered engine so it measure 3679mm in length, 1579mm in width, 1478mm in height and rides on identical wheelbase of 2422mm which translates into spacious cabin against the competition. Hyundai Eon 1.0 is longer and taller car as compared to smaller engine powered variants but it fall short of Kwid in terms of length, width and wheelbase. Hyundai Eon might be second to Kwid in almost every aspect except height because it is the tallest car in the comparo. Even in practicality, Kwid scores more with 300 liters of boot space followed by Eon with 215 liters and Alto K10 stands way behind with 177 liters. Same goes for ground clearance.
| | | | |
| --- | --- | --- | --- |
| Basis | Renault Kwid 1.0 | Hyundai Eon 1.0 | Maruti Alto K10 |
| Length (mm) | 3679 | 3515 | 3545 |
| Width (mm) | 1579 | 1550 | 1515 |
| Height (mm) | 1478 | 1510 | 1475 |
| Wheelbase (mm) | 2422 | 2380 | 2360 |
| Boot space (Liters) | 300 | 215 | 177 |
| Ground clearance (mm) | 180 | 170 | 160 |
Exterior:
The 1.0l Kwid flaunts the same design compared to the current model albeit minor tweaks in the form of chequered side strips on the side with 1.0 badging, full wheel covers for the wheels and silver shade ORVMs. Besides, it carries the same SUV-ish stance, aggressive front grille with jewel shaped headlights, muscular front bumper with round fog lamps. Kwid is the most stylish car among the three complemented by practicality and space.
Maruti Suzuki Alto K10, the bestselling car in the segment looks sharper and proportionate as compared to the last Gen model. The raised eyebrow shaped headlamps, black accented large bumpers and sleek front grille goes well with contemporary design of the car. Side profile has deep crease that run across the car while rear has vertically slated tail lights.
Hyundai Eon flaunts tall boy stance flanked by aggressive front fascia that includes sweptback headlamps, cheeky chrome line on the hexagonal front grille with logo in the middle and large air intakes. The side profile of Eon is probably the best part about its design as it look sporty thanks to flared wheel arches, multi spoke alloy wheels and a deep crease below the wide glass area. The rear bumper is beefy while taillights are place vertically. Hyundai Eon is oldest of trio as it was launched in 2013 and hence looks simple against the competition. It will get the facelift version by early next year which could change the course of the game completely for Hyundai.
Interior:
In terms of feel and quality of the cabin, neither of other two cars can match Hyundai Eon. As for the features Kwid outshines Eon and Alto K10 with several first in class goodies like 7 inch touchscreen system with Navigation, USB, Aux-in support, Digital instrument cluster with gear shift indicator and other useful information. Other features include three spoke steering wheel, front power windows, air conditioning with heater, keyless entry and go with central locking and 12V power socket.
The others two cars look Spartan when it comes to design and features. Alto K10 has dual tone cabin with piano black central console that houses a 2 DIN audio system with USB, Aux-in connectivity. It also get optional driver side airbag, three spoke steering wheel with silver accents, three round analog dials equipped central console etc.
Despite the best quality, the cabin and interior design of Hyundai Eon looks dated and simple. The steering wheel is of all plastic, instrument cluster just got one analog meter, central console with silver trim and stereo control with a 2 DIN music system with IPod and USB connectivity. Other noteworthy features on board are central locking, AC, internally adjustable ORVMs, keyless entry, front power windows.
Safety and sales service:
Kwid 1.0l comes with optional drive side airbag only despite getting zero in recently conducted crash tests. However the situation is similar for rivals as well. Hyundai and Maruti are way ahead of Renault when it comes to sales service and network reach but it's the low ownership cost that turns the table for the French car maker.
Verdict:
Kwid already has inspired unique design, modern interior design and alluring features for the first time car buyers. With the addition of bigger engine it will surely lure more buyers as it now becomes more attractive package. If you want extra convenience then just wait for its AMT avatar which is slated to launch during the upcoming festive season. Ever since the launch of Kwid, Alto K10 is getting sleepless nights and there has been considerable amount of drop in sales volumes of apex predator of the segment. Hyundai Eon, on the other hand stands at the last spot but things could change as the facelift version is arriving next year.