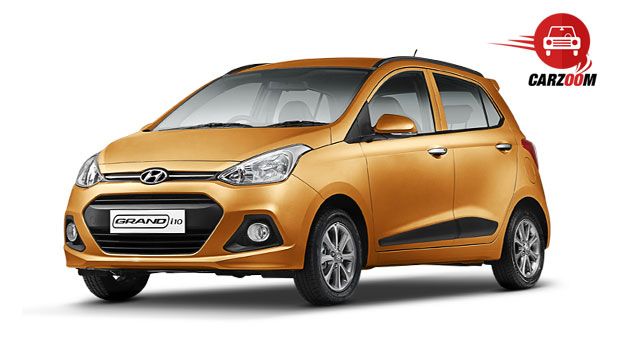 Grand i10 has been the most successful car of Hyundai so far and not only pleasing its customers since the launch but the brand Hyundai as well. It has given the company impressive figures of sale and also rewarded as the ICOTY (Indian Car of the Year) of 2014. And now, to enjoy the success of Hyundai Grand i10 and also to appeal its customers on a step-up level, Hyundai is again planning something new by providing the automatic transmission in its diesel trim as well. This new AT diesel Grand i10 might launch in the mid of 2014.
Price:
The price of Hyundai's Grand i10 diesel AT is expected to be around 1 lakh more than its ongoing petrol AT trims and hence it is expected to carry the price tag of 6.7-7.5 lakhs (tentative price).
Engine details:
The Grand i10 is powered by both diesel and petrol trims in which petrol engine already has a 5-speed manual and 4-speed automatic transmission. Contrary, the ongoing Grand i10 also gets a 1.1 liter U2 CRDi diesel unit developing the max power of 70.03bhp and peak torque of 160Nm which is geared-up with 5-speed manual gearbox yet.
And now, the same diesel engine is going to be paired up with a 4-speed automatic transmission too to make the car's awesome performance even more comfortable.
Space & Dimension:
Other than the equipment of AT variant under diesel hood, no reportedly changes have been done in this classy hatch Grand i10. It will continue with the same dimension of 3765mm x 1660mm x 1520mm along with wheelbase of 2425mm.
Interior & Exterior:
Hyundai has provided a long line-up of requisite and comfort features in its ongoing hatch Grand i10 and that entire range will be available as it is in this new diesel AT variant too.
Verdict:
Clearly, Hyundai is on cloud nine with the success of its classy hatchback and want to get more exciting sales to make its reputation and image strong in Indian car market. The arming of AT in diesel trim is just a step-ahead in this queue which is undoubtedly a clever-one and will also be beneficial for customers.