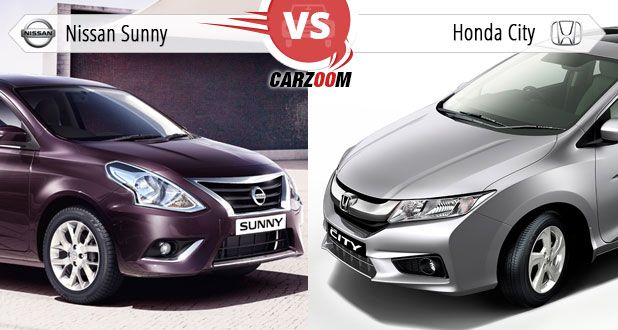 While Nissan was busy to enjoy the success of its wonderful SUV Terrano, it's another car of sedan category got a tough rival in industry. This rival we are talking about here is popular launch of India, the facelift Honda City with additionally diesel variant and many luxury features. This new model has made its debut as a fourth generation Honda City on 7th January 2014.
Though, no need to mention that Sunny is far behind than City in terms of success and popularity but still Nissan doesn't want to sit behind and hence has launched the new refreshed version of its sedan Sunny on 3rd July 2014. But, while Honda City is ruling among Indian hearts since its very first launch, Sunny will have to work hard more to achieve this position. Here we bring the brief specs comparison between these two sedans, how they are different from each other.
Price:
By having price tag between 6.99-9.80 lakhs, Nissan's Sunny offers a very competitive range though. On the contrary, the all new City have quite more price range of 7.19-10.99 lakhs.
Engine details:
Both the sedans consist of diesel as well as petrol unit. While 1.5 liter, K9K diesel engine is powered in Sunny's diesel variant by churning out the power of 84.8bhp and torque of 200Nm, 1.5 liter i-DTEC diesel engine marks its presence in Honda City and develops the max power and torque of 99bhp and 200Nm, respectively. The diesel engine of all new City is much lighter and strengthener than the Sunny's diesel engine.
While on the contrary, Sunny's petrol variant is same 1.5 liter unit produces max output of 97.6bhp (in manual) & 99.6bhp (in CVT) and peak torque of 134Nm and City is also continuing with the same 1497cc, 1.5 liter petrol engine like its predecessor and developing better power and torque of 117bhp and 145Nm respectively.
Also, facelift City's petrol is mated with 5-speed manual as well as automatic while diesel variant gets only 6-speed manual transmission gearbox. Similarly, updated Sunny geared up with both manual and auto transmission in its petrol and only with manual in diesel.
The ARAI certified mileage of these cars is:
City diesel: 26.0 km/l
Sunny diesel: 22.71 km/l
City petrol MT: 17.8 km/l
Sunny petrol MT: 16.95 km/l
City petrol AT: 18 km/l
Sunny petrol AT: 17.97 km/l
Space & Dimension:
After hiking a little in height and wheelbase length, the new and overall dimension of luxuriant City is 4440mm x 1695mm x 1495mm with the wheelbase, clear height and boot space of 2600mm, 165mm and 510 liters, respectively.
Meanwhile, the new updated Sunny is carrying similar 4425mm of length, 1695mm of width and 1505mm of height along with the wheelbase of 2600mm, clear height of 165mm and car boot of 490mm like its earlier version.
Interiors & Exteriors:
While Nissan provides a plenty of luxury features in its new 2014 car, Honda has also designed this new model with many new premium equipments. In India, people admires the beauty of Honda City, it is the most popular sedan of country. And when any car goes through updation process then expectation definitely increases. The all new City gets a bulk of premium features including stylish sunroof, modified bumpers, headlamps and tail lamps, AC vents at rear seats, reverse camera at rear bottom and many more.
As far as Nissan's facelift luxury sedan Sunny is concerned, it is also embellished with requisite and premium features which include central console in piano-black glossy finish, 5.1-inch display, bluetooth-enabled premium audio, AC with heater, electronic steering wheel, power windows and electric power steering with Tilt Function etc.
Road handling:
The reports of road handling of ongoing City is not hidden from anyone, it provides such a smooth n comfortable ride and handling that users just don't want to stop riding it. We expect the same excellent performance and handling in this new facelift model too.
Though, the Nissan Sunny also performs well on road but not as much well as Honda City. The reason could be its less powerful engine than Honda City. This new updated sedan Sunny is luxury car but it can't beat the most wonderful performer of India i.e. Honda City.
Verdict:
We chose Honda City among these two, the reasons are common like
Honda City Pros:
Badge of Honda, a reliable n trustworthy brand of India
Honda City's popularity in India
Powerful engines with better output
Better fuel economy in both fuel mills
Spacious
Honda City Cons:
Nissan Sunny Pros:
Affordable than Honda City
Slightly enrich in interior features
Nissan Sunny Cons:
A very new brand in India in comparison to Honda
Nissan Sunny seems less powerful than City (performance wise)
Fuel efficiency could be better