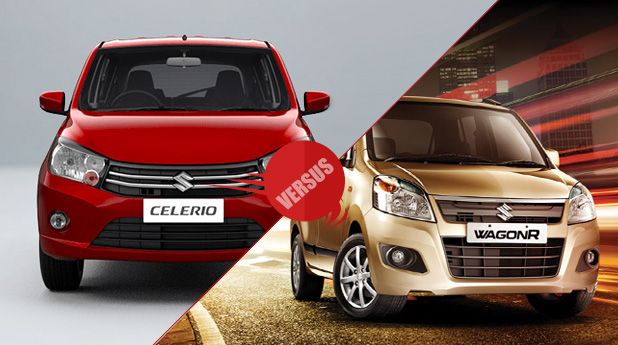 Needless to say, Maruti Suzuki is known as the most reliable and trustworthy brand when specially it comes to hatchbacks i.e. small cars. This company has presented many stupendous models to Indian car market and has become somehow the synonyms of cars for daily purpose; people love to drive a Maruti's car. And when it comes to compare the two same segment models of same brands, it obviously becomes a little bit complicated.
Here we are talking about company's two hatchback models, Wagon-R and newly launched Celerio. While the Wagon-R was already available to complete the need of common people on the grounds of price and performance, company has gifted one more with almost same price range as well as performance in the form of Celerio. Let's have a look not only their differences but similarities as well.
Price:
Affordable hatchbacks make it easy even for common people to own a car with less budget and Maruti's these both models help them in same manner.
As mentioned above, these both hatchbacks share the almost same price tags which are 3.5 lakhs to 4.3 lakhs (Wagon-R) while 3.7 lakhs to 4.7 lakhs (Celerio).
Engine details:
As per their mechanical powers are concerned, both the cars are adorned by a 998cc, 1.0 liter K10B petrol engine churning out the equal max power of 67.1bhp and 90Nm of peak torque. Additionally, Wagon-R is also available in CNG mode which also makes it fuel efficient but diesel fuel is missing in both the hatchbacks.
Transmission wise, Celerio definitely scores more by getting not only manual gearbox but automatic as well. While the all-new Celerio is mated with a 5-speed manual as well as automatic transmission gearbox, the Wagon-R just has 5-speed manual. Not only this, Celerio's this automatic transmission is being termed as new concept AMT (automated manual transmission) which assists in providing better drivability on road and makes Celerio better than Wagon-R in terms of road handling.
Coming to its fuel economy, despite sharing same engines and output, Celerio performs well in terms of fuel efficiency. With this new model, company has improved the fuel economy of Celerio than Wagon-R. The petrol version of Maruti's older hatchback Wagon-R offers mileage figures of 20.5 km/l while the new Celerio returns 23.1 km/l.
All mileage figures mentioned above are ARAI Certified.
Performance:
Well, Wagon-R has already proved itself in terms of road handling and comfort driving and now its turn of Celerio to prove the same. Wagon-R is a user friendly car which tends to go smoother not only on highways but in city roads as well. Similarly, Celerio's improved technology ensures us to fulfill our expectation comparatively on a larger as well as better scale.
Space & Dimension:
Both are five seaters hatchback but differ in their overall dimension. The Wagon-R is 3539mm in length, 1495mm in width and 1670mm in height along with the wheelbase of 2400mm and clear height of 165mm.
While on the contrary, the new Celeriois longer, wider but less taller than Wagon-R and carries the overall dimension of 3600mm x 1600mm x 1560mm along with the slightly longerwheelbase of 2425mm and same clear height of 165mm.
Exterior & Interior:
In this section, Maruti's new hatchback beats the older-one by a big leap. The reason is Wagon-R's outdated design which definitely gives a chance to normal looking Celerio to score more. Maruti Wagon-R's glimpse looks like a square box having a bonnet in front and its unwanted extra height make it much less trendier than any other same segment model. However, Celerio is okay; not so much classy and trendy but comparatively far better than Wagon-R but also much similar than Maruti's other hatchback like Alto etc.
At inside the cabin, the more length of Celerio provides it more space in comparison to Wagon-R. Being a new model, Celerio also offers many new comfort features which are missing in old Wagon-R like 5-drink holders, central lock (for 5 doors), audio controls on steering wheels etc.
Safety:
Safety wise, both the models have availability of standard features like child proof rear door locks etc while anti-lock braking system (ABS) and airbags are present only as optional features. Also, immobilizer is available in new Celerio but missing in Wagon-R.
Verdict:
Maruti Suzuki Celerio Pros:
Better mileage
Much refined and refreshed design than Wagon-R
New model, thus comparatively more feature equipments and use of improved technology
Maruti Suzuki Wagon-R Pros:
Appealing on-road performance
Maruti Suzuki Wagon-R Cons: