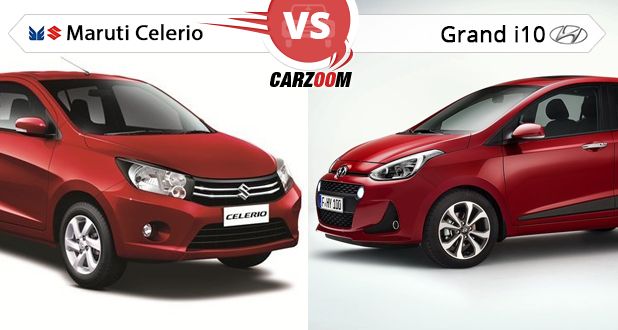 Small hatchbacks are said to be one of the most loved car categories in India and we have been rewarded by many such spectacular models by various companies. When we get two or more cars in the same segment then comparison among them becomes very obvious. All the prospect buyers first tend to research about the product with every possible option available to them that suits their needs and preferences and then they decide which one they want to buy.
By considering the same in mind, here we have brought the comparison between two of the most highly praised cars in the hatchback category. On the one side, there is 2017 Hyundai Grand i10 which has been the top seller for the South Korean car maker and running successfully in the country. On the other side, there is Maruti Suzuki's Celerio that has made a blast since its launch in 2014 Auto Expo and company is still receiving outstanding numbers in terms of sales. Now, to further strengthen that, the company, later on, launched the diesel variant too of the hatchback which has been discontinued due to poor response. To up the ante, Hyundai has launched facelifted Grand i10 in India with subtle cosmetic changes and a new diesel engine. Let's see what similarities or dissimilarities these two wonderful cars have.
Price:
Both these hatchbacks are for common people who want to own a premium hatchback but don't have much budget to spend and also want daily purpose vehicle. Needless to say, Maruti has done a great job here by offering its all-new Celerio with the price tag of just 4.1 lakhs for its base variant while 5.97 lakhs for the top-end (diesel).
On the Contrary, the Hyundai's new hatchback is slightly costlier than Celerio and carries the price range between 4.58 lakhs to 7.32 lakhs. Clearly, Celerio gains one point over Grand i10 here.
Also See: Visit Our Maruti Suzuki Celerio FAQ section containing all small-yet-useful info altogether for your convenience
Engine details:
Coming to their mechanical powers, the Grand i10 is equipped with a 1.2 liter Kappa dual VTVT petrol engine and churns out the max output of 81bhp n 113.7Nm while its another unit is all new diesel fuel which is a 1.2 liter CRDi diesel unit developing the max power and peak torque of 74bhp and 190Nm, respectively.
While on the contrary, the new Celerio gets a 1.0 litreK-Next petrol engine churning out the max power and torque of 66.1bhp and 90Nm respectively while diesel trim has been discontinued.
To ensure a well-balanced handling on road, both the companies offer both manual as well as automatic transmission gearboxes in Celerio and Grand i10 as well. But still, Celerio gets one extra point by having 5-speed manual/automatic transmission while the Grand i10 (petrol) is mated with a 5-speed manual and 4-speed automatic. Also, Maruti has introduced this automatic transmission as AMT (automated manual transmission) to provide a better drive experience which is said to be the first in the automobile industry at the time of launch.  
As per their fuel economy is concerned, Maruti Suzuki always scores more than others. Same applies with its new Celerio which is offering impressive mileage figures of 23.1 km/l while the Grand i10 petrol returns 18.9 km/l of mileage. Additionally, the diesel Grand i10 offers 24.9km/l of mileage while Celerio diesel has been discontinued so there's no point comparing its fuel efficiency.
All mileage figures mentioned above are ARAI Certified.
Performance:
The Grand i10 hatchback performs very well on the road and the ICOTY (Indian Car of the Year) 2014 award it got justifies why we are saying this. This award is given on the basis of price, fuel efficiency, modifications, performance, road handling and safety etc. The difference between the hatchbacks is their power trains which certainly have a great impact on their performance level as well. Let's start with the NVH level which is at its best in Grand i10; you can hardly hear anything while you driving the car or at idle. On the other hand, Celerio has poor NVH levels and vibrates even if you start the engine.
Both cars are city cruisers; they are easy to manoeuvre in the city and even in tight parking spots. But on highways, Grand i10 rides way better than Celerio as it becomes a bit bouncy and noisy at higher speeds. The Celerio two and three cylinder doesn't run as silky as Hyundai's four-cylinder power house. Hence, it's no need now to say anything more about this trendy Grand i10.
On the contrary, Maruti's hatchback Celerio which has few strong points on its side such as the AMT gearbox which ensures its balanced handling on road and the reliability. Maruti's excellent after sale services of which can definitely be the reason for Celerio's more score. Apart from these, Maruti Celerio is light, agile and it really revs happy to drive under 4000rpm. The cornering carving ability is pretty good on Celerio but lacks great braking performance like Grand i10. Overall the strongest point about Celerio is an AMT, fuel efficiency, low and mid range drivability and Maruti's brand name.
Also See: Visit Our Hyundai Grand i10 FAQ section containing all small-yet-useful info altogether for your convenience
Space & Dimension:
Dimension wise, Grand i10 is longer and wider than the Celerio but share identical wheelbase and ground clearance. Both these are five seaters hatchback, out of which Hyundai's hatchback carries the overall dimension of 3765mm x 1660mm x 1520mm while Maruti's hatchback has 3600mm x 1600mm x 1560mm, along with the same wheelbase of 2425mm and ground clearance of 165mm. Though, Grand i10 has larger boot space of 256 litres over the 235 litres of Celerio.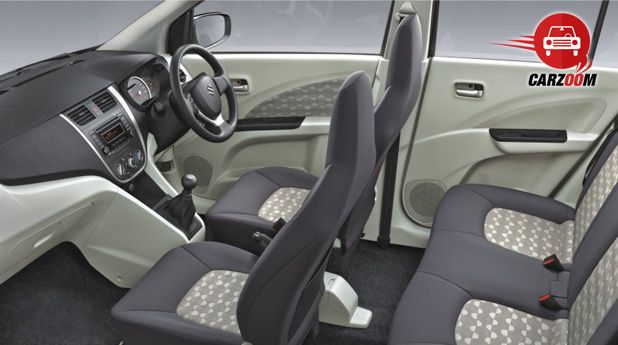 Exterior & Interior:
At outside glimpse, while Grand i10 looks trendy and modern but isn't as trendy. Maruti designed this new hatchback with old design; it just looks like the copy of company's any other ongoing hatchback like Alto 800, K10 especially from the rear. Even when they launched it in diesel trim not a single change has been made in the design which is shocking and disappointing. The only difference to differentiate diesel from petrol is the DDis badge at the rear.
Grand i10 is not the trendiest model but definitely a trendier one than Celerio. Hence, exterior wise, grand i10 gets one positive point. New Grand i10 looks fresh and carries a design to attract young generation. When you parked both vehicles next to each other Celerio looks way simple with Yesteryears rear design while Grand i10 looks complete and chic.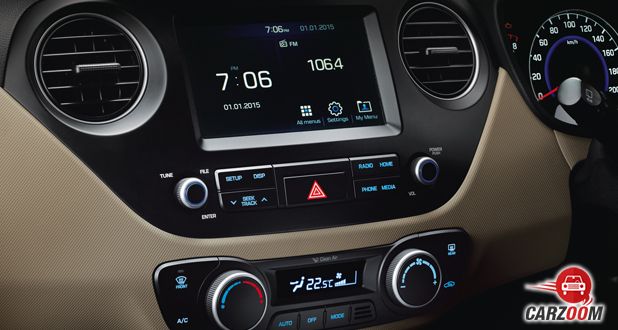 Now let's come to their interiors, both models have a bulk of necessary and comfort features, both has tried to give its best in terms of necessity and comfort. But again, the Hyundai is slightly better than Maruti's not only in terms of features and equipment but the fit and finish of cabin is way superior to Celerio's.  In terms of features, it beats Celerio easily with 7-inch touchscreen infotainment system with Android auto and apple car play, electrically retraceable OVRMs, smart key, push start button, rear parking sensors and rear AC vents.
Safety:                                                                                       
Safety wise, Hyundai Scores one point more over Celerio as it gets a driver side airbag as standard across the range while passenger airbag is available on Sportz (O) trim. On the contrary, Celerio gets airbag as optional equipment.
Verdict:
Maruti Suzuki Celerio Pros:
Affordable than Grand i10
Impressive mileages of both the trims
Peppy engine for city commute
Maruti's excellent after-sale services
Maruti Suzuki Celerio Cons:
Looks outdated in front of Hyundai's Trendy hatchback
Poor NVH levels
Feels underpowered on highways
Hyundai's Grand i10 Pros:
Looks cool and refreshed than Celerio
Better Performance
Well packaged product over Celerio
Best in class build and fit-finish quality
Hyundai's Grand i10 Cons:
Costlier than Celerio
Dual front airbags should be made available as standard