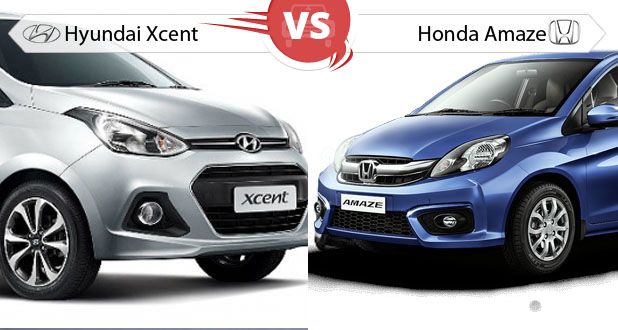 When there is already a long list of sedans by reliable brands in Indian car market, one more trustworthy car manufacturer has entered in this demanding segment. Here we are talking about the brand Hyundai successful compact sedan Xcent which is based on its popular hatchback Grand i10.
The Xcent had made its debut with an affordable price range and seems to give a tight fight to its rivals. In the queue of main competitors of Xcent, Honda Amaze comes on the top in list which recently went through a facelift and here we bring a detailed comparison between these two trendy models.
Price:
When it comes to the price of both cars, no major difference seems here but still Hyundai's sedan beats the other by having slightly lesser price. While the Xcent petrol carries the price tags between Rs.5.35-7.87 lakhs, Amaze petrol is available between 5.29-8.19 lakhs.
Contrary, diesel variants of both the sedan are costlier where Xcent carries the price range of 6.28-8.07 lakhs, the Amaze's price is 6.41-8.19 lakhs.
Also See: Visit Our Honda Amaze FAQ section containing all small-yet-useful info altogether for your convenience
Engine details:
Under the hood, both the models get petrol and diesel fuel units. While the petrol engine in both sedans is of 1.2 liter, there technology differs. The Hyundai Xcent is powered by 1.2 liter Kappa Dual VTVT petrol unit churning out the max power and torque of 81.86bhp & 114Nm respectively while the Honda Amaze gets its family line-up of 1.2 liter i-VTEC SOHC petrol developing comparatively more power but less torque of 86.8bhp & 109Nmrespectively.
Contrary, the diesel engine of Honda's Amaze is the main USP of this car and even the Xcent couldn't beat it in this terms.
The Amaze is equipped by a powerful 1.5 liter i-DTEC DOHC diesel engine which is responsible to produce the max power of 98.6bhp and impressive torque of 200Nm. On the other side, the Xcent is sharing the small diesel fuel of company's ongoing hatchback Grand i10, technology has been improved though. It is 1.1 liter U2 CRDi diesel churning out the max output of 71.01bhp and 180Nm.
Transmission wise, Xcent and Amaze both is paired up with manual as well as automatic transmission. The difference is the availability of new 5-speed CVT in Honda's sedan while 4-speed AT in Hyundai's. Additionally, the manual transmission carries 5 forward & 1 reverse gearbox (5-speed) in both the cars.
Till now, the Amaze was a boss in the fuel economy but Xcent is giving a tough fight to this trendy sedan now. Though Amaze diesel is still more fuel efficient than Xcent diesel, but the petrol Amaze slightly lacks down. While the Xcent petrol offers 19.1 km/l (MT) & 16.9 km/l (AT), the Amaze petrol provides 18.1 km/l of mileage. Meanwhile, Amaze diesel offers better fuel efficiency of 25.8 km/l over the 24.4 km/l of Xcent's.
The mileage figures are ARAI certified.
Also See: Visit Our Hyundai Xcent  FAQ section containing all small-yet-useful info altogether for your convenience
Performance:
Can't say more about Hyundai's Xcent yet but Honda Amaze has become the lovable one of its customers, specially its diesel trim. The customers of Amaze are thrilled by its on-road performance and smooth, comfortable drivability. Needless to say that Xcent will have to work hard to get the place of Amaze. Though, it is a noticeable fact here that the platform on which Xcent is based is being used in ongoing hatchback Grand i10 and performing not just well but ruling somehow in same segment. Hence, to think Xcent as a less competitor or less performer will not be good enough.
Space & Dimension:
While both the cars offer seating capacity for five, their dimensions differ. The Xcent is a li'l bit longer and taller than Amaze but less wide comparatively. The Xcent carries the overall dimension of 3995mm x 1660mm x 1520mm while the Amaze has 3990mm x 1680mm x 1505mm of dimension.
Also, the clear height is 165mm which is equal in both cars. Though, Xcent has longer wheelbase and car boot of 2425mm and 407 liters over the 2405mm and 400 liters of Amaze.
Interior:
At inside the cabin, Hyundai has done a great job by designing few first-in-segment features in its Xcent sedan which includes rear Ac vents, push button start-stop system, advanced 2-DIN music system with 1GB of internal memory, cooled glove box etc. The Xcent also has auto climatronic AC and rear AC vents while Amaze has automatic climate control but misses out on latter. Though, Amaze gets an update and also loaded with some new features but Xcent scores more here due to the quality of materials and finishing.
Exterior:
When we look at the outside glimpse of both the cars, it seems clear that Amaze becomes even better and modern after this update as compared to Xcent. While Hyundai's model seems like carrying an outdated look, the Amaze looks stunning in front of it. Though, Xcent has been designed with much sharpness and refining but it just unable to go over the Honda's refreshed sedan.
Safety:
Safety wise, the Amaze seems little safest than Xcent by having features like ABS with EBD, dual front SRS airbags, immobilizer as standard. Also, the Xcent too gets many safety devices including ABS (EBD is missing), dual airbags (SRS is missing), rear defogger etc.
Verdict:
Hyundai Xcent Pros:
Slightly more affordable than Amaze.
Its petrol trim has better fuel efficiency than Amaze's.
Comparatively rich in interior and comfort features.
Hyundai Xcent Cons:
Diesel unit is not as much powerful as Amaze's.
Best suited for 2 adults not three
Some of the key features are absent
Honda Amaze Pros:
Muscular diesel engine with better fuel efficiency.
Refined and attractive outside glimpse.
Slightly rich in terms of safety.
Honda's strong brand value in India.
Honda Amaze Cons:
Few interior features are missing comparatively
NVH levels still needs improvement