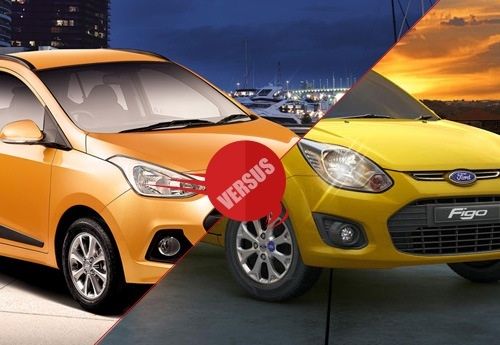 And the war has just got more aggressive between the hatchbacks with the launch of another hatchback from the South Korean car maker, Hyundai, the i10 Grand. With Ford Figo, a popular choice among Indians, let's compare the i10 Grand and conclude the winner.
Cost:
The cost of i10 Grand varies from Rs. 4.25 lakhs to 6.29 lakhs whereas in case of Figo it ranges between Rs. 3.86 lakhs to 5.99 lakhs, thus the Figo is cheaper than i10 Grand.
Mileage and Engine:
The i10 grand is available in both petrol with 1.2 l Kappa dual VTVT petrol engine and diesel version with 2nd gen CRDi 1.1 L U2 engine with ARAI mileage of 18.9 km/l and 24 km/l respectively. The Ford Figo is also available in both the petrol with 16V DOHC engine and diesel version with 8V SOHC engine offering mileage of 15.6 km/l and 20 km/l respectively which is definitely less than i10 Grand.
Max Power and Torque:
The petrol version of i10 grand provides max power of 81.8bhp @6000 rpm and max torque of 113.75Nm @4000 rpm, while the petrol fuelled Figo provides max 70bhp @6250 rpm power and max torque of 102 Nm @4000 rpm. Now coming to the diesel versions, in case of i10 grand the figures are 70bhp @4000 rpm and 159.8Nm @1500-2500 rpm respectively, whereas in Figo they are 68.05 @4000 rpm and [email protected] 2000 rpm respectively. Thus i10 grand wins in terms of power in both the fuel types' engine.
Transmission, Acceleration and max speed:
I10 grand offers 5 speed manual transmission in both its petrol and diesel engines mentioned above and exactly same goes for Figo as well. Though, 4-speed automatic gearbox is also available there in petrol mill of Grand i10. The fuel tank capacity in Figo is 45 l is just 2 L more than i10 grand. The top speed achievable in i10 grand for diesel version is 157 km/h and time taken to accelerate from 0-100 km/h is 15.6 seconds. And while in Figo the figures are 175 km/h and 16 seconds. So Figo is just 0.4 sec slower in terms of acceleration but has top speed greater than i10 grand.
Boot Capacity:
Boot capacity of 284 in Figo leads i10 grand by 28L.
Special Features:
I10 grand has rear a/c vents which are absent in Figo. Rear parking assists with audio buzzer which is again missing in Figo. However Figo has advantage of remote fuel lid opener and remote tail gate opener. Dual color textured upholstery and dashboard of i10 grand are more attractive to those in Figo. Power steering has tilt steering option are present in both the cars with an exception that in Figo it is hydraulically powered. Audio controls and Bluetooth hands-free mounted on steering in both the cars. Safety features like dual airbags, ABS, keyless entry and central locking are present in both the cars. Figo has body colored door handles while in i10 grand it is just chrome and no body- color painted on it.
Entertainment section:
Both have integrated audio system with mp3/radio player.
Looks:
Grand i10 seems to be standing a little higher than Figo but Figo definitely misses out the rear spoiler and side moldings like in i10 grand.
Verdict:
Grand i10 leads in mileage, special feature like rear a/c vents, rear parking assist with audio buzzer, better performance, what if you have to pay a few bucks extra for this car than Figo, believe me it's worth it.