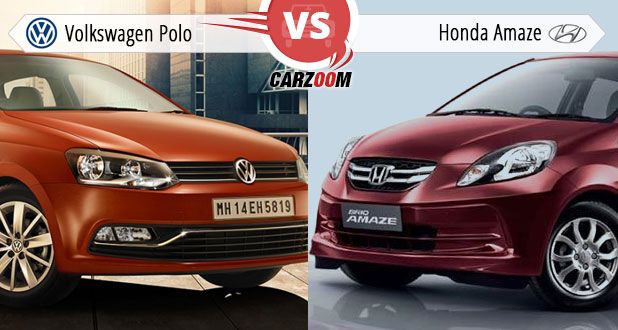 The decade old face off of a hatchback v/s sedan presents itself once again!. This time only to break the popular notion of sedan cars, being faster and costly with Honda Amaze and Volkswagen Polo.
Price:
Honda Amaze is placed at a price range staring from 4.99 lakhs for E-variant to 7.49 lakhs for VX-variant which is a dream come true for all the sedan lovers and also the eye catcher to many. However the new VW Polo also giving a tough fight here and is placed at a same price of 4.99 lakhs which goes up to 7.99 lakhs.
Brand:
Honda clearly gets thumbs up in this area as being founded in 1995 in India; it is both famous and preferred in India compared to Volkswagen whose existence may be quite unknown to quite a few as the company was just founded in 2007 in India. Also the Volkswagen sales are dropping in the market since 2012.
Exteriors:
Polo portrays a sporty built to its car with its typical hatchback look and it is surviving on the pillars of few exciting features like the front fog lights embedded in the front bumper which is not only stylish but increase visibility as well, alloy wheels and the heat reducing glass windows all the rest features like Volkswagen symbol as trunk opener, indicators, etc are not much the breath takers. On the other hand Honda Amaze takes your breath away with its chrome front grills, alloy wheels, ORVM turn indicators, micro antenna, rear- combi lamps and fog lamps. It completely justifies a sedan look and is hard to miss on the road. All in all Polo is a turn off in the exteriors also when comparing to a sedan which flaunts style, a hatchback clearly falls and Polo has not made this fall a comparable one even with the new Polo.
Interiors:
New Polo boasts features like Climatronic air conditioning, electronic multi-function display that supplies information on average fuel consumption, range, journey distance, odometer, actual time and outside temperature. With this updation, new Polo has been refined and offering an appealing interior equipments. But yet again Amaze offers heat absorbing windshield, slightly more leg and boot space.  Amaze also offers a new cushioning of the rear seats that scream comfort. It has immobilizer and anti-theft system which are available in New Polo as well. Both Amaze and Polo are both 5 seaters and hold common features like bottle holders, rear armrest Bluetooth enabled inbuilt sound system with AUX and USB ports tilt steering, electrically controlled mirrors and air bags. Hence Polo clearly scores on the interiors.
Engine:
Polo really scores good here due to its newly added 1.5 liter diesel mill which is not only very much refined but also offers max output and torque of 88.7bhp and 230Nm respectively. But it doesn't mean Honda Amaze is behind than Polo, its diesel engine is also of 1.5 liter which derives max power of 98.6bhp and 200Nm of peak torque. The engines of both cars are mated to a 5-speed manual gearbox.
Contrary, other engine in Polo is its 1.2 liter MPI petrol similar as predecessor and responsible to churn out 73.9bhp, 110 Nm while Amaze on the other side also carries same sized 1.2 liter petrol deriving max power of 86.7bhp and torque of 109Nm. As far as their transmission is concerned, Amaze petrol scores more by having 5-speed manual and 5-speed automatic gearboxes over the Polo petrol's only 5-speed manual gearbox.
Honda Amaze is known for its wonderful efficiency and it offers claimed mileage figures of 25.8 km/l in diesel while 15.5-18.0 km/l in its petrol trim which is far better than the Polo's 20.14 km/l in diesel and 16.47 km/l in petrol.
On The Road:
On the road however even though Amaze gives you one of the lowest turning radius of 4.5 m yet a hatchback is always easy to be handled in traffic .Both cars provide ABS+EBD system. Polo however is the ultimate ruler when it comes to speeding in comparison with Amaze, it speeds 0-100kph in 10.85sec, a record is out of comparison lines. It must also be noted that Polo is not as comfortable as amaze in bumps and sudden stoppages.
Verdict:
If you are one of those speedy sports and are ready to comprise on the mileage and comfort aspect then Polo is just the "Tarzan" for you as it will help you steer past the traffic as easily as it will let you fly on the highway. However if its style, comfort and mileage that you want and are ready to overlook the speed aspect Honda Amaze is just the car for you.