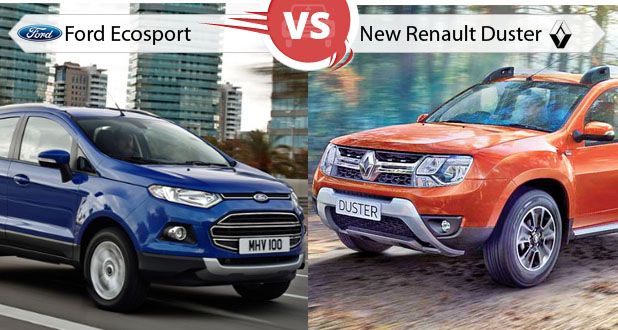 Ford launched its newest version of SUV EcoSport on 7th October 2015, the SUV has recently hit 2, 00,000 sales mark in India which is enough to tell the success story of the vehicle. In latest update it was speculated to shed off the spare rear wheel but proving everyone wrong it is being held by the carmaker in the SUV, though Euro Spec variant has been launched without the tailgate mounted spare wheel.
With price tags lesser than Duster, EcoSport has been giving a tough competition to the crowd favorite Renault Duster since its advent. While the entry level petrol version of Duster costs Rs. 8.46 lakhs and entry level diesel version costs Rs. 9.26 lakhs whereas EcoSport is priced at as low as 6.68 lakhs for the petrol and Rs. 7.28 lakh for the entry level diesel. This is like a loot offer for some, Ford certainly has an edge, and this line surely lures many.
To tackle the rising graph of EcoSport and to boost the sales, Renault has launched the facelift version of Duster SUV in the country. While Renault Duster had won the 'best SUV of the year 2012' tag but latterly launched Ford EcoSport has impressed the customers since its launch with its features, a terrific competition lies ahead and the law 'survival of the fittest' holds true always.
Also See: Visit Our Ford EcoSport FAQ section containing all small-yet-useful info altogether for your convenience
With the petrol 1.6 liter 16V K4M (5-speed manual) engine it gives 1598cc of displacement, and peak power of 105bhp, the diesel versions of Duster with 1.5 dCi HP (5-speed manual) and 1.5 dCi THP (6-speed manual) gives respective peak powers of 83.8bhp and 108.4bhp.
For EcoSport, 1.0 liter EcoBoost petrol version produces peak power of 123.2bhp, 1.5 liter Ti-VCT petrol trim develops 110.4bhp of max power and the diesel version 1.5 liter TDCi now generates max power of 98.6bhp.
It would be quite interesting to compare the features of the automobiles of two big brand names to get a better idea about the differences.  With length of 4315mm Duster is comparatively difficult to maneuver in city as EcoSport is exactly 316mm less. Ground clearance of EcoSport is 200mm but Duster leads here with 5mm, those 5mm giving more comfort on speed breakers. The boot space in EcoSport is 346 liters (which is expandable up to 705 liters) but Duster again has an advantage here with 475 liters of boot space. The fuel tank capacity of Duster is 50 liters and turning radius of 5.2m while in Ford EcoSport it is 52 liters and 5.3m.
Coming to mileage, one of the most important deciding factors the future of this competition; the diesel version of Duster gives 20.45 km/l while EcoSport gives around 22.67 km/l in diesel and 18.88 km/l in petrol.
EcoSport Special Attractions:
With rear parking sensor and visual display, parking will be fun, with the keyless start button there is hassle free starting up and get a feel of a Boss when you only have to command and the SYNC obeys. Sync powered by Microsoft in combo with the voice control feature will make attending and receiving calls on board and getting your text messages read out aloud by it while you are driving.
Also See: Visit Our Renault Duster FAQ section containing all small-yet-useful info altogether for your convenience
Duster Special Attractions:
Exteriors are now much improved one while the brakes remain very powerful because of the hydraulically operated diagonal split dual circuit braking; the front brakes are ventilated disc type and rear are drum type. The steering is hydraulic powered with tilt steering option giving a smooth steering experience. And the interiors have black upholstery, MediaNAV infotainment system and with the keyless entry things have become highly technological. Counting on the exteriors, new Duster is little more stylish and seductive than Eco Sport. But with extra mileage, price and cost being the prominent factors in deciding a car, both ways Ford has an edge over Duster.