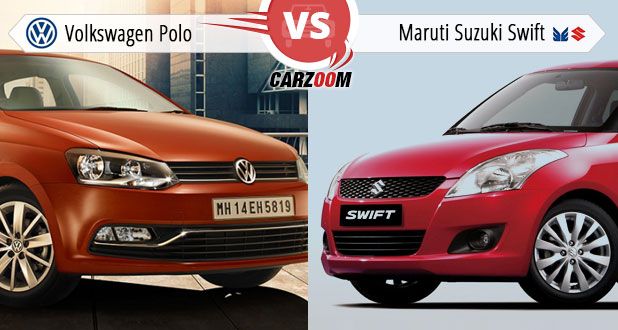 So, it was the month when most of the car manufactures wants to cash in the ongoing festive season. Maruti launched the refreshed version of successful hatchback car Swift. We are here to compare refreshed Maruti with Volkswagen's powerhouse 'Polo'.  Swift has, and had been a pioneer in premium hatchback segment for the country ever since it was first introduced to the nation. Still, a facial job can do wonders in enhancing the sales and popularity of a particular car. And in this case, we really have to find out if this facial upgrade helps Maruti anyhow to upgrade its sales reports also. That too against the Volkswagen's wonder car Polo etc. Wait a minute! What better way to find out than comparing the German shepherd to our Indian bred giant? So a result it takes us to a comparison between these two cars, one of which is a very successful market tamer, the Maruti Swift and other is actually an elusive dark horse of the auto jagat, the Volkswagen Polo i.e. Volkswagen Polo Vs Refreshed Maruti Swift. Let's find out in depth…
Prices:
In the pricing department, there should be no doubt that a company based in India would offer a better deal over the one based overseas.
And here as well, with price offered in a range of 4.42-6.95 lakhs by Maruti for the refreshed Swift over Polo's bit expensive prices of around 4.99-7.37 lakhs, we surely believe Swift to be a better deal in terms of economy and which makes it the winner for the section also.
Engine and Performance:  
Both the cars are very distinctive in engine employment. Where Polo employs a more powerful diesel engine, Swift has a better petrol mill. The Refreshed Swift on a whole offers two set of engines that are; a 1.2 litre light weight K-series VVT petrol engine with figures of 83.1bhp power reduced in order to get more fuel efficiency and 115Nm and a 1.3 litre DDiS diesel engine with figures 74bhp and 190Nm, whereas on the other hand, Polo also offers a 1.2 litre TSI petrol engine with sums of 74bhp and 110Nm and TDI diesel mill of 1.5 litre with crunches of 89bhp and 230Nm.
Very minutely, we believe Maruti offers one of the most sought after engines to the nation through this car, but Volkswagen with its German gene and international standards of refinement, seems better in engine abilities than the Maruti's.
Transmission wise, both the cars would be clearly comparable with equally imputed 5-speed MT system. Volkswagen's seems better and smoother though.
Apart from these, in the area of fuel efficiency, Maruti again offers a better deal per litre of the fuel sipped with a mileage of around 20.4 KPL from petrol and 25.2 KPL through diesel, over Polo's 16.47 KPL through petrol and 20.14 KPL through diesel. Fuel efficiency of refreshed Swift has been improved by 10% for diesel and 9.37% for petrol.
That makes Polo a better deal on an overall performance and engine segment, only if you are OK with a bit low efficiency and high running cost.
Dimensions:  
In dimensions, the Polo measures at around 3971 x 1682 x 1469 mm while the Swift does at around 3850 x 1695 x 1530 mm. Apart from the main dimensional figures, Polo offers a longer wheelbase than the Swift at around 2469 mm while the Swift offers it to be 2430 mm only.
But then, Swift takes away the measurement crown back with high ground clearance of 170 mm over Polo's only 165 mm standard. So in dimensions, both the cars are almost comparable, but still, with sleeker profile and a longer wheelbase proportion, Polo pops the cherry here.
Drivability and Safety:
Both the cars are par excellence in driving dynamics and handling. Still, with German precision in its genes, Polo seems more suited a car for more optimum road presence in total stability and ease. Doesn't mean refreshed Swift is less stable, with almost best in class controls and handling, but a bit fair amount of body roll is there in it.
Polo even offers a cleaner and crisper response with every blip of throttle pushed, Swift as well does the job well, but can't beat out the Volkswagen engineering in this part.
In safety department, both cars again come loaded with comparable equipments like ABS+EBD, Dual SRS airbags, Anti theft system, ELR seat belts etc. in addition to Polo's rigid body impact beams, immobilizer, pinch guard mirrors etc as some of the very small yet very effective safety precursors.
Interiors and Exteriors:
Swift had been around for a decade almost, and it had changed a lot in this time period, but still with those Mini Cooper inspired current look, it feels somehow a point where Swift needs a totally refreshed designing. No doubt the chubby and curvy body of the car is a benchmark with that sporty and "love me" attitude maintained through those swept back large lamps, redesigned little grille, curvy bumpers, stance and character lines all across the car, silver accent fog lamps, new multi spoke alloy wheels and body colored ORVM's are now electrically adjustable.
But still, with a car like Polo against it with new front grille, refurbished front and rear bumpers with new and richly added chrome belt running across the front bumper over the air dam, double barrel headlamp cluster with black finish and cornering lights etc. Maruti seems a bit uneasy in looks with more mature and blended looks of Polo to be the dominant in the segment.
Internally as well, over refreshed Swift's normal all black theme with silver accents, inputs have now been improved like more premium seats, engine start stop button, automatic climate control, speed sensing audio system with bluetooth connectivity, steering mounted controls and 60:40 rear seat spilt make refreshed swift stand with new Polo shoulder to shoulder. Polo is also based on modern interior scheme like dual tone interiors, MID, Climate Control ( in Swift as well), flat bottom 3-spoke wheel, multi functional central console, Aluminum finish and trims inside, voice command system with Bluetooth connectivity etc.
That certainly makes competition tuff for Polo as refreshed Swift is internally beautiful than before.
Pros and cons
Refreshed Maruti Suzuki Swift Pros:
Price
Ownership value
Brilliant fuel efficiency specially of Diesel trim
Efficient and economical with performance
Excellent after sales service
Refreshed Maruti Suzuki Swift Cons:
Dated exterior look
More Interior features could be added
Diesel engine has high NVH levels
Looks almost similar to outgoing model
Rear legroom Space is an issue
Volkswagen Polo Pros:
Refinement
German quality and standards
Drivability
Sleek styling and looks
Features and functionality.
Volkswagen Polo Cons:
Expensive
High ownership cost
Space
Limited dealer network
Final Conclusion:
Based on the whole comparison, we believe that with newness in its appeal, Polo is still a great choice over refreshed Swift despite of getting a facelift version new Swift still looks identical to its previous GEN model. The only thing has improved significantly is fuel efficiency by 10%. If you pocket friendly typically Indian, go for refreshed Swift without a second thought because it will keep you in budget with almost similar but a little less functions. But if you want a fun element in your driving Polo is an ultimate choice over refreshed Swift without a doubt.