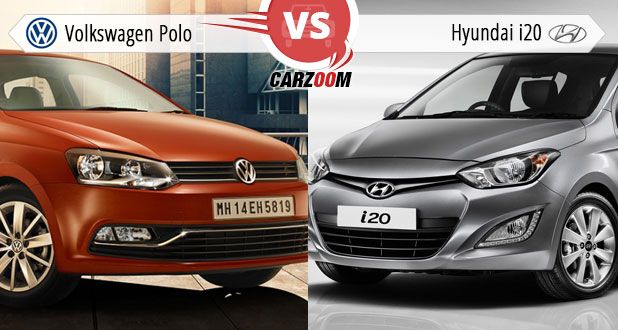 In our second edition of measuring the worth of Polo against the big giants in India, we have a car which has certainly changed the game for a class of premium hatchbacks in India, one of the most features filled and futuristic hatchbacks we have today, the Hyundai i20. So, we today are going to compare the Polo against the Hyundai's game changer i20 in our comparison of Volkswagen Polo Vs Hyundai i20. Let's get going…
Price 
In pricing, both the cars are on a very close call with Hyundai offering a range of 7 variants at a price range of 4.81-7.77 lakhs while the Polo offers its 6 variants at a range of 4.99-7.37 lakhs.
Polo offers high initial rates while i20 ends on a higher note, but still, i20 sounds more affordable in all aspects of ownership and pricings which makes it a winner for this segment.
Engine and Performance
Under the hood, where Polo offers a set of two engines i.e. 1.2 litre TSI petrol with figures of 74bhp and 110Nm and a 1.5 litre TDI diesel engine with figures of 89bhp and 230Nm. While the Hyundai offers a total of three curious engines like a 1.2 litre VTVT Kappa petrol engine boasting 82.9bhp and 113.7Nm, 1.4 litre CRDi diesel engine which burps out 88.8bhp and 220Nm and a sporty 1.4 litre petrol engine which is the most powerful and playful of all with finger crunching figures of 98.6bhp and 136.3Nm. While in comparison, Hyundai offers great power and figures, but better refinements on an overall level. Still, Polo lacks in playful abilities and that's exactly where Hyundai conquers it.
Apart from that, Polo comes with a single 5-speed MT system while the Hyundai has to offer a 5-speed MT as well as AT system for the range of its cars, while the top end Sportz edition comes equipped with a 4-Speed AT system. A very big plus point for Hyundai.
Finally, being undisputed in all the sections of this segment, Hyundai once again beats up the Polo with better efficiency as well giving a claimed mileage of 18.5 KPL through petrol, 21.9 KPL through diesel and 15 KPL through the Sportz. While Polo delivers a standard and low economy of around 16.47 KPL through petrol and 20.14 KPL through diesel fuel.
Which makes i20 as our ultimate winner of this particular segment.
Dimensions
Dimensionally, Polo measures at 3971 x 1682 x 1469 mm while i20 measures at 3940 x 1710 x 1505 mm. Even after being lengthier in counts than i20, it offers low wheelbase than it at around 2469 mm when i20 offers a good 2525 mm.
Both cars share ground clearance to be at 165 mm though and remain closely comparable in the segment. Still, Hyundai gets our vote for executing outer space successfully to internal spaciousness.
Drivability and Safety
In driving appeal, we would surely mention that the fun you can have in Polo, you cannot have in i20. Though i20 is a very sophisticated car but when it comes to high speed cruising and cornering, i20 literally gives up to the Polo which applies its German auto science to the case to offer better handling, drivability and control over the roads.
But then coming back to safety department, we see a big hail of victory from i20 which offers a host of big safety features like 6 Airbags (maximum in class), Clutch lock system, speed sensitive auto door locking system, reverse park assist, ABS+EBD, engine immobilizer etc. over Polo's standard features like immobilizer, ELR seat belts, 2 Airbags, ABS+EBD etc.
Which makes the comparison to lend on a tie in this segment with both cars being 1 point similar to the other due to Polo's strong primary safety features rigid body and impact beams.
Interiors and Exteriors
Polo has been refreshed just now, and it now offers new front grille, refurbished front and rear bumpers with new and richly added chrome belt running across the front bumper over the air dam, double barrel headlamp cluster with black finish and cornering lights etc. But then, against Hyundai's i20 which poses very strongly, sportily and suavely with its killer fluidic look theme, sleek profile, glossy grille and spoilers feels just about the right competitor to the Polo which certainly makes the comparison a lot hotter here.
Inside as well, when Polo gets refreshed to things like dual tone interiors, MID, Climate Control (in Swift as well), flat bottom 3-spoke wheel, multi functional central console, Aluminum finish and trims inside, voice command system with Bluetooth connectivity etc.i20 already teaches lessons to other cars of its segment in incorporations of interior features with a host of classy features like beige and black internal layout, blue lighting theme, sunroof option, fully automatic climate control system, clear air cluster ionizer, MID, USB, AUX-in, Bluetooth, steering mounted audio controls etc.
With this and a lot of space inside with excellent level of passengers comfort, i20 gets our ultimate vote for being a more able hatchback of the segment.
Pros and Cons
Volkswagen Polo Pros:
Drivability
Refinement
German quality and standards
Sleek styling and looks
 Volkswagen Polo Cons:
Less features in comparison
High running cost
Low powered engines
Hyundai i20 Pros:
Styling
Value for money
Features
Overall package
Class
Hyundai i20 Cons:
Drivability
Soft suspensions
Ground clearance
A bit pricey
Final Conclusion:
On a concluding note, we think i20 still has the charm it had since the day it was introduced, but Hyundai has to work a bit on the driving dynamics, else the car is just the right choice for the segment over the Polo.