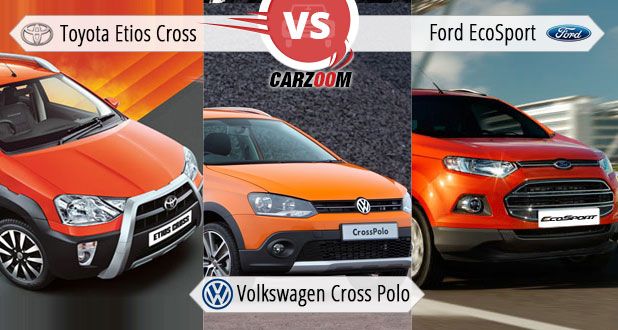 In Indian Automobile Industry, a concept of bringing big yet compact vehicles which includes Cross Country and compact SUVs has took birth and it is now very competitive and innovative at the same time for the companies being focused on a more sporty styling and stance to give away to the market, even if it's based on their popular hatchback's platform, but they are still growing towards a new kind of species to be developed in the Industry. And such an example or a renovating innovative Cross Country Hatch is the Toyota Etios Cross, VW Cross Polo or Hyundai i20 Active which has hit the market in recent times.
Ford launched a mildly updated version of its SUV in order to keep it fresh against the fast growing competition which includes crossovers and compact SUVs like Maruti Vitara Brezza, Duster, Mahindra TUV300 and Hyundai Creta. Ford has also slashed the prices of EcoSport to cater the popularity of Vitara Brezza. After having it reviewed all around and put it in our real big battle against its Rivals of the section. It's now turn to put it against Toyota Etios Cross and Volkswagen Cross Polo based on our market trending benchmarks like-
Price affordability
Look of the car
Powerful engine & fuel efficiency
Brand image & After-sale services
Let's see how these cars perform against the Toyota Etios Cross.
Also See: Visit Our Toyota Etios Cross FAQ section containing all small-yet-useful info altogether for your convenience
Toyota Etios Cross vs Ford EcoSport
Price affordability
In pricing and affordability terms, Toyota here seems friendlier then Ford's a bit high pricing in comparison.
Where Ford EcoSport's 10 fully fledged and vivacious trims cost in a range of 6.68-9.75 lakhs.
On the other hand, Toyota offers three trims of Etios Cross at a much lower and competitive range of 6.39-8.04 lakhs. Prices are ex-showroom Delhi.
Toyota might be more affordable here, but EcoSport being an urban SUV still seems comparatively more soothing and hence we pick EcoSport to be our choice for the package it gives at such scrumptious pricing.
Looks of the car
In the cosmetic department, both the cars are charming in their own way but EcoSport takes away the cake with its more proportionate design.
Toyota Etios cross is the rugged version of Liva Hatch and to make it look sportier Toyota offered it with plastic claddings, sporty front and rear bumpers and garnished headlights.
Still, Ford EcoSport with its more focused, urban and sophisticatedly sporty design wins our heart here.
Even in the space department, EcoSport is surprisingly more spacious and filled with ultra modern cab-in elements.
Where the Etios Cross is modern and sporty too with Piano-Black theme and considerably better interiors than before.
Still, EcoSport with more suave and oomph effect will be our choice amongst both in this segment as well.
Powerful engine and fuel-efficiency
Under the hood, Etios Cross isn't much sporty as it seems with decently capable three engine trims i.e. 1.2 litre DOHC petrol engine, a 1.5 litre petrol engine and a 1.4 litreD-4D diesel unit which are smooth, efficient and refined for a long life with constant progression and linear power delivery.
On the other hand, Ford EcoSport uses a 1.0 litre EcoBoost petrol engine, a 1.5 litre TiVCT petrol engine and a single 1.5 litre TDCi diesel engine. All of them are not just great performers but packed with enough power and efficiency hand in hand with more refined low grunt capabilities for smoother and better ride every time you hit them hard or even when you cruise them slow.
Apart from that, Ford even tops in smoothness and lag free rides with an optional 6-speed Power shifter AT system over Etios Cross's 5-speed MT in all its variants.
And lastly, in efficiency levels, EcoSport again defeats the petrol trim of Etios Cross with better mileage of 18.88 KPL against Etios's 16.78 KPL. While Etios Cross gets better mileage in diesel variant, but that too, marginally with 23.59 KPL over EcoSport's 22.67 KPL.
But that still makes EcoSport a far better deal over its small and decent counterpart, the Etios Cross.
Brand image and after-sales service
In an overall market image, Toyota is more precise with its Quality Revolution across the country, with better product delivery, comparatively better after-sales experience and nice value even on resale terms.
On contrary, Ford is famous for its expensive service and spares costing, still offer decent value for products with more focused abilities, and had been constant with its leveled image in India throughout.
And hence choosing any of the two brands will be quite valuable, but Toyota for its better customer responses will be our ultimate choice for a more warm experience.
Final verdict
For better engine, performance, style and quality on an overall level, we choose EcoSport to be a cleaner car than Etios Cross in this particular section of this comparison.
Also See: Visit Our Ford EcoSport FAQ section containing all small-yet-useful info altogether for your convenience
Ford EcoSport vs Volkswagen Cross Polo
Price affordability
Well, in pricing department here, Ford has done some homework and prices its EcoSport quite similar to the Volkswagen Cross Polo.
As we know, Ford has priced EcoSport at a range of 6.68-9.75 lakhs.
Available in just two variants Cross Polo costs at Rs. 8.98 lakh and Rs. 9.09 lakh in the market.
This makes EcoSport, a better and affordable deal amongst both considering the range of variants on offer.
Looks of the car
In looks department, Cross Polo, despite with German benchmarks and standards of built and styling, 'Cross ' grille, bumpers, front and rear with chrome and silver accents, Black side cladding and molded covers for wheel arches and rocker panel, Silver roof rails, and more classy skid plates looks simple in front of Sporty and classy EcoSport etc.
Even from the inside, Ford feels high in quality and overall entertainment, comfort and instrumentation.
EcoSport manages to offer better space and seating comforts for its passengers where the Cross Polo might disappoint you a bit.
This again makes EcoSport as our pick here.
Powerful engine and fuel-efficiency
If and only if we feel Volkswagen to be a bit disappointing here, than it's only going to be because of its limited variant ability of the Cross Polo.
With an only 1.2 litre 3-Cyl diesel engine Cross Polo feels more powerful against Toyota's diesel engine for a sportier, optimum and balanced German standard punch every time you push that paddle.
While Ford offers a set of three engines to choose from for a better option range with a 1.0 litre EcoBoost petrol engine, a 1.5 litre TiVCT petrol engine and a single 1.5 litre TDCi diesel engine which all are quite performers, and the diesel engine seems at par against Cross Polo's capable one.
Even in the mileage counts, Volkswagen's diesel and petrol delivers 16.4 KPL and 20.14 respectively against EcoSport's diesel and petrol which does 22.27 KPL.
Still with more options to choose from and better petrol engines, and better efficiency and refinement we choose EcoSport to be our pick here.
Brand image and after-sales service
Volkswagen is renowned for its legacy and international standards and hence holds a very good overall image in the market. Still, in India, it still not that valuable for its resale value, after-sales cost of service, which usually seems high.
On same place, Ford offers the same international value, technology refinement at an even better market image with better resale value and after-sales service experience.
Hence, we pick Toyota for a better experience and hold over Indian Automobile Industry than its rival brand here.
Also See: Visit Our Volkswagen Cross Polo FAQ section containing all small-yet-useful info altogether for your convenience
Final verdict
We pick Ford EcoSport for its better brand value, after-sales service, range of engines, refinement and decent style couches.