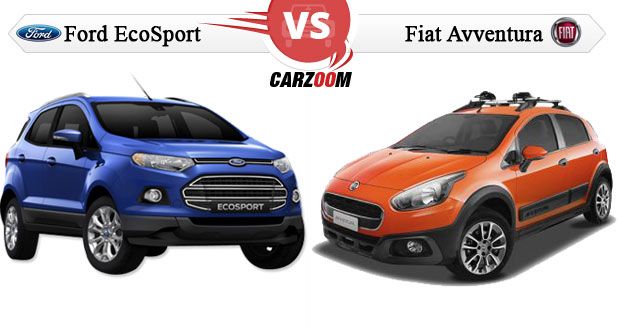 Fiat launched Avventura in a bid to tackle the staggering growth of Ford EcoSport but sadly it didn't able to cross even four digit numbers a month as compared to 4000 units a month of EcoSport. Fiat has not enjoyed much commercial success in India due to its incompatible products, company launched Punto's refresh version called as Punto EVO which is praised by many due to its competitive price and handling ability. Avventura is also a Punto EVO based crossover which looks an extended version of the hatchback with some changes on side and rear. Fiat also introduced Abarth Avventura which is powered by powerful T-Jet engine but here we are going to compare just the standard version of Avventura with EcoSport.
Price:
In pricing department Fiat seems to analysis the market trend and the competition around so they put Avventura in aggressive position in terms of price. Avventura is available between 6.81-8.84 lakhs bracket which certainly have edge over Ford Eco Sport which range between 6.69-9.75 lakhs.
Both initial and top variant prices of Avventura are much lower than that of Ford Eco Sport, so Avventura is our pick here.
Engine:
Fiat Avventura and Ford Eco Sport both are available in petrol and Diesel engines; Ford EcoSport comes in 4 different power figures and 11 variants while Avventura is available in 5 variants including diesel and two petrol trims.
Avventura 1.4 FIRE petrol engine delivers 88.8BHP power and 115Nm torque while 1.3L Diesel engine of Avventura returns 92BHP power and 209Nm torque, both the engines are mated to a five speed manual transmission No automatic option is available right now and not in near future as well. Fiat India will soon launch the Abarth version of Avventura in the country which comes with a powerful engine in its class.
Ford Eco Sport on the other delivers different power figures varies from 109BHP and 123BHP for petrol and 140Nm, 170Nm peak torque respectively. While for diesel it is now re-tuned to produce better power and torque figures of 98.6BHp with 205Nm torque. Ford Eco sport is certainly outshining Avventura in almost every department with its powerful specs.
Avventura is available only with 5 speed manual transmission while Eco sport is available in both Manual as well as automatic transmission.
In fuel efficiency department Ford Eco Sport beats Avventura comprehensively in both petrol and Diesel trim with the mileage figures of 16.1KPL, 18.8KPL and 22.67KPL respectively while Avventura with the figures of 14.4KPL for petrol and 20.5KPL for Diesel clearly lags behind from Eco sport.
Dimensions:
In this department Ford EcoSport outscores Avventura with the Dimensions of 3999mm length, 1765mm width and 1708mm height in comparison to Avventura's 3989mm length, 1706mm wide and 1542mm height. The only thing Avventura has more is 205mm ground clearance than against 200mm of EcoSport.
Both the cars have seating ability for 5 persons but rear seat has been a problem for both the cars which only fits in 2 adults easily rather than three people. EcoSport rear space for three is spoiled by the A/c vent in the middle while Avventura's story is not quite different from EcoSport. EcoSport offers 346 liters of boot space which is 66 liters more than that of Avventura.
Drivability and Safety:
Now it's time to analysis the most important aspect of a car that is Ride and handling, both the cars are good in this department but when it comes who is better than Avventura outscores EcoSport by slightest margin.
Fiat Avventura offers more mature ride quality than EcoSport and make you feel more sophisticated in high speeds and cruising, while Ford Eco sport lacks that maturity. You can reach three digit speeds on potholes roads in Avventura with ease while on EcoSport up to 100km mark ride quality is just flat, a typical European standard.
In handling department both the cars are at par excellence in handling department, In Eco Sport you can take sharp turn even on moderate high speeds and it behave in stable manner during high speeds,  same can be said for Avventura as well but Avventura gearbox is more smooth than that of EcoSport.
But when come to safety both the cars are good in their own way. Ford Eco Sport with safety features like 6 Airbags, ABS, EBD, ESC, TCS, emergency brake warning, ESP, hill control assist, automatic headlamps and emergency assistance call facility is in the different league altogether while Avventura comes with features like dual Airbags, automatic door lock, crash sensor, central locking, 3 point seat belts with load limiters, fire prevention system and anti theft device.
Interiors and Exteriors:
Avventura is relatively fresh in the market so they know what competition they are facing in the market as compared to EcoSport. Avventura's interiors are bit different from EcoSport but being different doesn't always mean good. Avventura consist interior features like dual tone black grey soft touch scheme for the dashboard which looks dirty and dull at times, central console has unique gizmos like tilt meter, compass etc and accolade by red ambient lighting which is the only good part about Avventura's cabin. The down part is fabric used for the seats which looks basic, steering should have been redesigned, evident cost cutting in the cabin in the form of basic keyhole and simple door handles.
On the other side, Ford EcoSport looks more premium and futuristic than Avventura. Seats are more premium and firm, Dashboard is filled with all black color theme which looks more catchy at least to me and central console is funky and well finished. Ford EcoSport is better in cabin ambience than Avventura.
Fiat Avventura is based on recently launched Punto EVO design; front and side profile is similar to Punto EVO with the features like eye drop black headlights, circular front fog lamps, side gets 16" alloy wheels, rubber cladding with Avventura name, Body painted ORVM's with indicators and black door handles. Rear profile has spare wheel with wheel cover which is main problem in Avventura not we are not talking about that it spoils the looks and all but it is very hard to open and takes time to open makes the rear door heavy.
Ford EcoSport looks like a conventional SUV with its bulky design and well built quality. Front profile of Eco Sport carries chrome headlights and fog lamps with three chrome line grill at bonnet and wide air dam gives eco sport an aggressive look, Side profile looks more muscular than Avventura and its bigger size compliment it. Rear side of EcoSport is wider than Avventura obviously due to its bigger size, elegant tail lights looks sharp against the conventional looking tail lamps of Avventura.
Rear side of Eco Sport also equipped with 16" spare alloy wheel which is way easy to open than Avventura's and it is lighter in weight as well. To sum up, we think in interior department Eco Sport has an edge due to its proper finishing and premiumness, but in the exterior department their hard to choose a clear winner as both the cars are good in their own distinctive way.
Pros and Cons:
Fiat Avventura-
Pros:
Competitive Price
205mm of ground clearance
Sleek exterior design
Less initial ownership cost
Cons:
Absence of reverse parking sensors
Increased kerb weight than its standard sibling
Low fuel efficiency
After sales service is hit or a miss
Ford Eco Sport-
Pros:
Well build car with catchy exterior design
Availability of automatic transmission
Elegant cabin ambience  
Multiplicity of engines
Cons:
Ride quality not plush a Duster  
Space for 5th  Occupant could be a problem
Needs a facelift as competition getting tuff