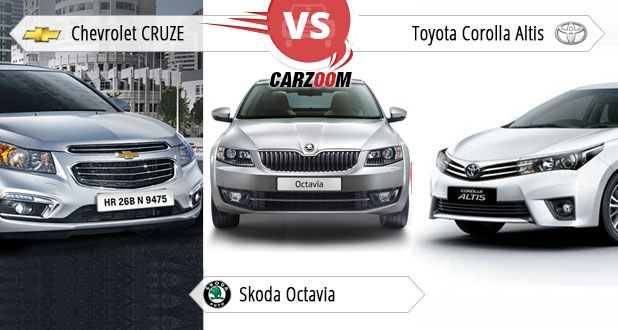 And here we are back again with one of the most demanding comparisons of D-class segment saloons of Indian automobile industry. However, due to the increased popularity of other segments like SUV (sports utility vehicle) and entry level sedans etc in India, this D-Class segment is facing tough phase but still worldwide it's running very successfully and even in India it has a particular group of admirers who still love to drive it cheerfully. And for those loving buyers, we are here with the comparison of one of the top leading cars of this D-Class i.e. popular Toyota Corolla Altis, Chevrolet Cruze and Skoda Octavia. As these all three cars have tasted a feel of success by now and then, it was necessary to look out the today's scenario. Everyone wants to know who is the best among three, which one should buy and why. And to get the answers of these questions, let's begin the race.
Also See: Visit Our Toyota Corolla Altis FAQ section containing all small-yet-useful info altogether for your convenience
Price:
Starting with Toyota Corolla Altis which is available in market with the price tags of 13.06-17.73 lakhs with the petrol trims while on the other side, its diesel version ranges between 14.22-16 lakhs. On the other hand, Skoda offers its trendy Octavia in petrol trim at the range of 16.07-20.21 lakhs which seems much expensive than Toyota's sedan and in diesel trim it costs at 17.88-21.74 lakhs, a figure yet again not only more than Altis diesel but more than Chevy Cruze as well. Further, our last but definitely not the least Chevrolet Cruze comes only with diesel mill and carries price tag of 13.95-16.95 lakhs. So, on the grounds of pocket affordability, Toyota's classy Altis wins over Skoda Octavia in petrol segment as there is no petrol trim in Chevrolet Cruze while in diesel version, both Altis and Cruze have a rub-shoulder fight while Octavia again is out of race due to its high price range. Scores
| | |
| --- | --- |
| Toyota Corolla Altis | 1/2 |
| Skoda Octavia | 0.5/2 |
| Chevrolet Cruze | 2/2 |
Engine details:
Under the hood, while we get diesel mill in all three, petrol is available with only two, Altis and Octavia. Though, missing of petrol unit from Cruze doesn't bother that much as diesel one is most demanding now-a-days among the Indian customers. On documents, Corolla Altis is powered by 1.8 liter 4-cyl 16V petrol engine breathes through138bhp and 173Nm of max power and torque respectively and mated to both manual (6-speed) and auto (7-speed) gearboxes while diesel trim on the other side is of 1.4 liter having 4-cylinder inline and developing max output of 87bhp approx and peak torque of205Nm, the engine is mated to just a 6-speed manual transmission while auto gearbox is highly missing as its available in its other same segment rivals.
Also See : Visit Our  Skoda Octavia FAQ section containing all small-yet-useful info altogether for your convenience
Skoda Octavia is equipped with three types of engine, out of which two is petrol and last is diesel. The petrol trims are of 1.4 liter and 1.8 liter which produces 138bhp and 177.5bhp of max power respectively while torque of 250Nm is similar in both. Diesel trim of this trendy car is of powerful 2.0 liter that develops 141bhp and 320Nm of max power and torque respectively which seems better than Toyota's sedan. What Skoda has done great is the availability of manual and auto gearbox in its both petrol and diesel trims. While 1.4 liter petrol is geared up with 6-speed manual, the 1.8 liter petrol is with 7-speed auto. The powerful 2.0 liter diesel is mated to 6-speed manual and also getting 6-speed auto gearbox as an option. Further, Chevy Cruze on the last gets just a diesel trim but with impressive output. Cruze is powered by a 1.8 liter 4-cyl diesel engine good for churning out the max power of 163.7bhp of max power and 380Nm of peak torque; best on-paper figures among three. It gets both 6-speed manual and automatic transmission as options. As far as their fuel economy is concerned, Corolla Altis diesel gives best mileage figures on paper but practically we found Octavia diesel better, Cruze is comparatively least fuel efficient though. Meanwhile, Octavia petrol gives better mileage figures than Toyota's model.
On-road mileage (approx)-
City km/l
Highway km/l
Toyota Corolla Altis
diesel
18.4
21.2
petrol
9.6
14.2
Skoda Octavia
diesel
17.3
19.3
petrol
13.5
16.6
Chevrolet Cruze
diesel
14.2
17.9
Hence as per above mentioned facts, we found having a tough fight between Skoda Octavia diesel and Chevy Cruze diesel while Toyota Corolla Altis diesel fails to impress us with its least powerful engine. Contrary, in terms of petrol, while Cruze is out of race due to not having petrol mill in it, Octavia again proves itself better than Corolla Altis but still, Altis petrol is good as well if compared to Altis diesel. Scores
| | |
| --- | --- |
| Toyota Corolla Altis | 1/2 |
| Skoda Octavia | 2/2 |
| Chevrolet Cruze | 1/2 |
Performance:
On road, Toyota has improved the technology of all-new Corolla Altis which is really appreciable. As we know that Toyota's models are known for its comfortable drive and Corolla Altis doesn't disappoint here. The new Corolla is setup to ride comfortably and it does this job very well. On the rough and even worse roads, it gives a bumps-free drive without slowing down the car. The CVT gearbox of petrol trim is nice and feels connecting and resulting in delivering of all its power by the engine, though we highly miss auto gearbox in its diesel trim. The overall ride of Corolla Altis is elegant and decent and fast which thrills when going out on the road. But still, when one needs more power than its 138bhp in petrol and 87bhp in diesel disappoints comparatively. As it's a well known fact that torque is the secret of acceleration and torque is a diesel's specialty and Chevrolet's trendy Cruze justifies it very well by having the impressive 380Nm of torque in it. This figure makes it one of the best drivable cars in segment and provides a cheerful decent riding on road. However, Cruze is not the quickest car in segment but still gives a feel of satisfaction. It has reduced turbo lag and refined engine which make it far better drivable car and engine does feel quite. The availability of auto gearbox makes it up to date and helps the people who are a bit lazy. Though it is little slow to react especially in city which can be a problem, model with manual transmission is excellent to drive.
Also See : Visit Our  Chevrolet Cruze FAQ section containing all small-yet-useful info altogether for your convenience
Skoda Octavia offers a powerful petrol engine with impressive torque in comparison to the rival and does perform well on road. It offers a decent ride and better handling and also provides a premium feel. While contrary, diesel engine also is a muscular one and offers an exciting power and torque figures. It also provides a premium, thrilling drivability, though engine makes a little noise too. But overall, it's a very nice engine and will not disappoint you. Scores
| | |
| --- | --- |
| Toyota Corolla Altis | 1.5/1 |
| Skoda Octavia | 1.5/1 |
| Chevrolet Cruze | 1/1 |
Space & Dimension:
Coming inside the cabin and we feel a high level of premiumness with lots of space including wonderful storage capacity. You must be thinking, which among these cars are we talking about? Well, it's none other than queen of luxury here, the Skoda Octavia. Its designing, finishing, top-notch material quality, well-proportioned dimension makes this car surely a best in segment. Skoda Octavia is the longest, widest here and carries length of 4659mm, width of 1814mm and height of 1476mm. While on the contrary, Corolla Altis is 4620mm long, 1775mm wide, 1475mm tall and Cruze has length, width and height of 4597mm, 1788mm and 1477mm respectively. With the updation, Toyota has improved the wheelbase of its Corolla Altis by 100mm and now its2700mm of new wheelbase length is best in class. The Skoda Octavia and Chevy Cruze get wheelbase of 2688mm and 2685mm respectively. Toyota also has improved the rear legroom of its updated Corolla Altis but Octavia already gets more than sufficient legroom and headroom which is wonderful especially in case of chauffeur driving. Coming to storage capacity and Skoda here seems again to take the cake away by offering a wonderful trunk size boot of 590 liters in its classy Octavia while 470 liters (Corolla Altis) and 450 liters (Cruze) are the car boot figures of other two rivals which seem tiny in front of Octavia. Scores
| | |
| --- | --- |
| Toyota Corolla Altis | 0.75/1 |
| Skoda Octavia | 1/1 |
| Chevrolet Cruze | 0.5/1 |
Exterior:
It is not hidden that Toyota is known for its solid built quality and same can be feel here in Corolla Altis. If compared to Skoda Octavia, then lack of equipments can be felt but still Toyota has equipped some upper segment features like LED headlamps, DRL lights as optional etc which are making the car refreshed and modern than ever or at least before. Contrary, as mentioned above, Octavia gets a top-notch premium feel which is surely somehow lacks in other two models. At outside profile, while Octavia already gets a striking glance, Corolla Altis also has been refined by a big leap and looking classier than ever. However, there is no updation in Cruze and hence it's outside stance comparatively looking outdated now. And hence, for Altis's freshness and Octavia's premiumness, we give equal scores to these two. Scores
| | |
| --- | --- |
| Toyota Corolla Altis | 1/1 |
| Skoda Octavia | 0.5/1 |
| Chevrolet Cruze | 0.75/1 |
Interior:
As we discussed above, Toyota usually makes its models for practicality and this is the reason we feel lacks of interior features in it sometimes but when we drive it, an ultimate comfort feeling comes. However, by following the demand of market, Toyota tried to make it sedan trendier by designing many exciting features in it with this newly held renovation. These features include 8-way adjustable power driver seat, navigation system, reverse camera, increased vertical adjustment of seats, rear reclining seat, newly designed 7.0 LCD touch screen music system with Bluetooth & SD card, new piano black instrument panel cluster, cruise control (only in petrol model) etc. Further, Octavia also has plenty no. of required features at inside cabin which somehow can be missed in Altis including 12-way electrically adjustable driver seat, Rear seat centre armrest, Climatronic – automatic air conditioning with electronic regulation of cabin temperature, Dual-zone Climatronic, Rear air conditioning vents under front seats, Electrically adjustable & foldable external mirrors, cruise control (in both petrol & diesel models) etc. And if talking about Cruze, then it also gets many trendy features but still can't match with the features list of Octavia and modern-refreshed-features of Corolla Altis. Cruze gets important features like 7 inch Mylink infotainment system with SIRI eyes free, internet radio, rear seat armrest, Electronic Auto Air Conditioning System, Rear Glass Defogger 6-Way Power Adjustable Driver Seat, power holding & heated outside mirrors, cruise control etc. Though, we strongly felt that Cruze should get a bold-modernized updation now. Scores
| | |
| --- | --- |
| Toyota Corolla Altis | 1.5/2 |
| Skoda Octavia | 2/2 |
| Chevrolet Cruze | 1.5/2 |
Safety:
On paper, all three cars have almost similar safety devices with some up & downs but practically we can trust Toyota's model with close eyes, saying as per our experience. Safety features like airbags, ABS and immobilizer are available in all three cars but electronic brake-force distribution (EBD) and brake assist etc are missing from Cruze and available in other two. Skoda here again by justifying its premium badge and high price range offers some more features in its Octavia like Side airbags at front, Curtain airbags at front and rear along with Dual front airbags, ESC (Electronic Stability Control), ASR (Anti Slip Regulation), MSR (Motor Speed Regulation), EDL (Electronic Differential Lock) etc. Scores
| | |
| --- | --- |
| Toyota Corolla Altis | 1/1 |
| Skoda Octavia | 1/1 |
| Chevrolet Cruze | 1/1 |
Final Verdict:
And here we are done. As you see, Skoda's Octavia is giving a neck to neck competition to newly re-launched, popular Toyota Corolla Altis in almost every segment and was even better at some places then the question is where does it actually lack? Well, the answer is not with the buying but with the issues which rise post buying. Yes, here we are talking about after sale services and where Toyota is just the best while Skoda and Chevrolet on the contrary disappoints on a big scale and this is probably the major reason behind Skoda's not-much-great brand image in India as it deserves. And here, just for the after-sale services, we give one score more to our beloved Toyota. Final Scores
| | |
| --- | --- |
| Toyota Corolla Altis | 8/12 |
| Skoda Octavia | 8.5/12 |
| Chevrolet Cruze | 7.75/12 |