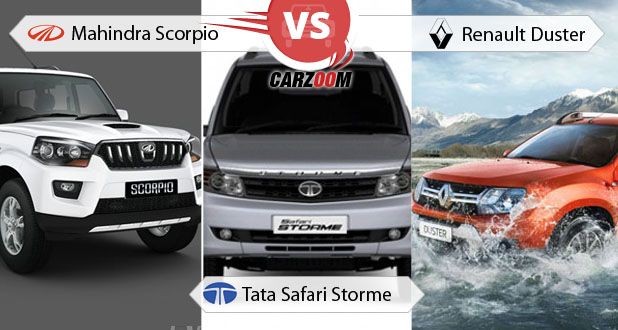 Today we are here with the comparison between the three dazzling cars i.e. Mahindra Scorpio, Renault's most successful car Duster and Tata Safari Strome. Mahindra launched Scorpio with some add-ons and new design in 2014; the changes are welcomed by some while got criticism as well. The Scorpio has been the mass' favorite car for a while now while Duster too sells in good numbers. Tata Safari has been struggling to find buyers despite being a potent product. Now, Renault has launched Duster facelift with some revisions to add some spice to it. Today, we will be comparing all three cars on different criteria to let you know which car is better among the three.
Price:
As far as price goes, both Duster and Scorpio are similarly priced while Safari Strome is tad higher than the other two. Base variant of Mahindra Scorpio starts at 9.67 lakhs while the new duster is available at Rs. 8.46 lakhs and Safari Strome starts at 10.37 lakhs. The Price of top end variant of Scorpio cost at Rs. 14.61 lakhs which is almost more than lakh higher than Duster's 13.57 lakhs. On the contrary, Tata Safari Strome top variant costs at skyrocketing price of Rs. 15.21 lakhs.
Price scores:
Renault Duster- 1.75/2
New GEN Scorpio- 1.5/2
Tata Safari Strome-  1/2
Engine & Performance:
When we compare all the three cars in terms of numbers Safari Strome stands top with 2.2L VARICOR 400 diesel engine developing 154BHP of max power and massive 400Nm torque, New GEN Scorpio is equipped with three different engines one is 2.5L m2CIDR diesel engine which produces 75BHP power and 200nm torque along with a 2.2l mhawk engine that develops 120bhp and 280Nm. For Delhi-NCR region only, it is equipped with 1.99l engine that churns the out same figures as 2.2l mhawk engine.
Renault Duster is also powered by range of engines including both petrol and diesel. The 1.6l K4M petrol mill is good for 102.5bhp and 148Nm of torque while diesel department is taken care single engine with two states of tunes- A 1.5l DCi develops 83.8bhp of power and 200Nm of torque while the same engine on higher versions belts out power of 110bhp and 248Nm of high torque.
In terms of transmission, Tata Safari Strome is paired with a 5 and 6 Speed manual transmission while Scorpio is available with a 6-speed automatic gearbox alongside 5-speed manual transmission.
Renault Duster comes with 6-speed manual with petrol mill and 5-speed manual with the diesel but it is also available with a 6-Speed Easy R AMT gearbox now with the 1.5l dCi diesel mill.
Fuel efficiency wise Duster is way ahead than New Scorpio and Safari with 20.45KMPL mileage while new Mahindra Scorpio gives 15.37KMPL mileage and Safari with just 14.1 KMPL.
Ride and Handling wise, there is hard to choose a clear winner as all the three cars are significantly classy when it comes to ride and handling. Mahindra Scorpio has much better ride quality but up to 2000rpm there is evident lag but once it passes through that mark it just smooth, same case with Renault Duster as well there will be lag till 2200 rpm and beyond that mark you will enjoy the silky ride of Duster.
Tata safari Strome is best safari till date, you will enjoy excellent ride quality even on low rpm which is significant and Ride gets even better on higher speeds. Handling of GEN Scorpio and Safari Strome is magnificent despite of their heavy body roll; Duster on the hand not far behind, steering wheel of Duster is light and responsive. Duster despite of its less numbers performs really well in the department, and stays very firm even on higher speeds.
Engine & Performance Scores:
Tata Safari Strome- 1.75/2
Renault Duster- 1.5/2
Mahindra New Scorpio- 1/2
Space & Dimensions:
Dimensionally, Tata Safari Strome is the lengthiest and widest car among the three with 4655mm length, 1965mm wide and 1922mm tall. Mahindra Scorpio is the tallest car among all with measurement of 4456mm length, 1820mm wide and 1995mm height which better than its rival cars and ongoing model.
Cabin Space wise Duster has only 5 person seating capacity while Safari has 7 people seating capacity but last row seats are best suited for children rather than Adults, while in new GEN Scorpio there is a seating capacity for 7 to 9 persons and there is choice of seat arrangement between front facing and captain seats.
All the three cars will provide you sufficient headroom and legroom space. In Ground clearance Department Duster tops the chart with excellent 210mm ground clearance followed 200mm of Safari Strome and standing last among them is new GEN Scorpio with 180mm ground clearance which is not bad for SUV but it is less than what its rival cars are offering.
Space & Dimensions Scores:
Tata Safari Strome-  2/2
New GEN Mahindra Scorpio-  1.5/2
Renault Duster-  1/2
Interiors-
Starting with the Mahindra's new Scorpio which gets renovation especially in terms of features and Color scheme, new Scorpio gets black grey dashboard with gizmos like 6" touchscreen with MFD display; steering wheel is now sportier with cruise control button. Seats are decorated with blue grey eye soothing color scheme with grey armrests. New Scorpio gets some features like automatic air control, voice recognition, in built navigation, intelli parking function and chrome furnished A/C vents. Interiors of new GEN Scorpio look much better than the ongoing Scorpio.
Now let's talk about the Tata Safari Strome, its cabin looks decent and equipped with good quality upholstery, two tone dashboard with faux wood inserts compliments the design, gear knob is surrounded by faux wood inserts, seats are covered with premium leather fabric which is soft and comfortable, Steering wheel also looks good with leather fabric around it. Safari Strome interiors have improved significantly over previous Safari version. But in terms of Features it didn't even come near to new Duster and Scorpio as it misses out on various features which are present on both these cars.
Renault Duster boasts of a two tone black grey color finish is luxurious, cabin is airy and spacious, black-grey dashboard is excellent accompanied by piano finish steering wheel with shiny logo at the centre graces the cabin. The premium quality material flanked by features like an advanced 7 inch MediaNAV touchscreen infotainment system with navigation and reverse parking display, automatic climate control, anti-pinch windows, height adjustable front seat etc just puts icing on the cake.
Interior Scores-
New GEN Scorpio- 1/1
Renault Duster- 0.75/1
Tata Safari Strome-  0.5/1
Exterior:
Mahindra new Scorpio's new design is better than Safari and Duster, new Scorpio gets a complete makeover especially from front and rear. Front gets new head lamps, bonnet scoop, revised fog lamps and new grille. Side is almost same with engine name badging on both the side and 17" wheels. Rear gets two color appliqué and modified tail lights which will get mix response from the people. New colors are offered for new Scorpio which is Molten Red and Regal Blue which are pleasing.
In terms of outer appearance, Renault's new Duster looks quite similar like the current model except some minor tweaks such as it receives new single slat grille, new dual barrel smoked finished headlamps and revised front bumper. Side remains same while rear gets waterfall shaped LED tail lamps, silver skied plates and revised bumpers that add to spice of overall design of the SUV.
Tata Safari Strome has basic design among except the shiny LED head lights. Previous GEN Safari's design was more prolific than the current one. Front side is equipped with Tata safari Strome chrome finished badge and fine air dam along with chromed fog lights placed inset to save it from any damage. Side is furnished with metal ORVM's with indicators, big wheels and body colored door handles. Rear side of current Safari looks awful with simple tail lights and one plus point for rear is that it gets lighter with removal of big spare wheel, but overall design is too simple for SUV.
Exterior Scores:
Mahindra new GEN Scorpio- 1/1
Renault Duster- 1/1
Tata Safari Strome-  0.5/1
Safety:
On safety terms all the three cars carries an equal amount of configuration and features. First let's start with newly arrived Scorpio which is built on Modular ladder frame chassis, new Scorpio carries features like ABS, dual Airbags, defoggers and engine immobilizer. It carries some special safety features like Speed sensing locks, panic braking function, high beam headlamps with cornering function etc.
Tata Safari on the other hand has some standard features which are absent from the standard list of other two cars like ABS, EBD, child safety locks, seat belt reminder, side impact beams etc. It carries some special features also like auto lock of doors after 20 km/hr, unlocking of doors and blinking of hazardous lights during crash or accident; it comes with function of cut off the fuel supply during crash.
Renault Duster is loaded with safety features like ABS, EBD, hill start assist, dual airbags, emergency brakes, reverse parking camera with display, impact sensing door lock-unlock; stability control, cruise control, 3 pointer seat belts, defoggers and rapid deceleration system.
To sum up, Safari and Scorpio has size advantage, features wise every car has its own plus and negative points which will vary according to individual preferences.
Safety Scores:
New GEN Mahindra Scorpio-  2/2
Tata Safari Strome- 1.5/2
Renault Duster- 1/2 
Final Verdict-
Pros and Cons:
Mahindra New GEN Scorpio–
Pros=
Refreshed Interior and Exterior design
Spacious cabin
Good engine performance
Cons=
Limited 2nd row space
Rear side is missing the wow factor
Tata Safari Strome–
Pros=
Excellent ride and Handling
Diesel motor's performance is good
Spacious cabin
Cons=
Price is bit higher
Absence of some of the necessary feature which were present in previous gen Safari.
Tata's after sales services
Renault Duster
Pros-
Outstanding fuel efficiency
Ride quality is very smooth
Brilliant ground clearance
Adequate performance of Diesel engine
Cons=
5 seating capacity unlike its rivals
Cost cutting is evident in Cabin
Rear legroom is bit less for tall persons
Final Scores:
Mahindra New GEN Scorpio- 8/10
Tata Safari Strome- 7.25/10
Renault Duster- 7/10