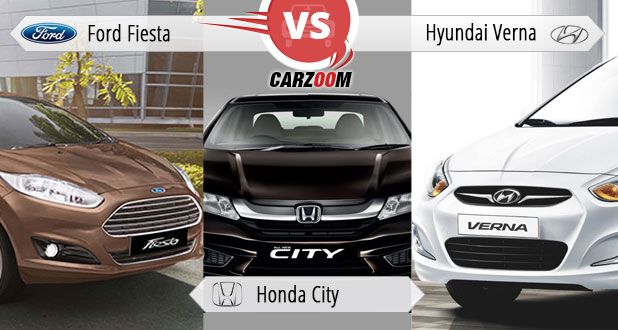 This is going to be exciting actually as the new Hyundai Verna launched in the market in new Avatar as 4S fluidic Verna with new style highs, filled with features and tweaked suspension. And hence, seeing it perform against market rivals would be a very interesting thing as well. So that's why, keeping your interests in mind, we today bring you a super comparison between the new Fiesta and its actual market rivals, the much appreciated new Honda City, and the much stylish and people's favorite market sedan, Hyundai Verna.
Based on some of the market trending criterion like-
Price affordability
Looks of the car
Powerful engine and fuel efficiency
Brand image and after-sales service
We are here going to put New Verna against two fierce rivals to see if it actually carries enough freshness to give them a cut-throat competition or its actually going to be other way around!
Note- only the diesel variants are up for competition because Ford Fiesta is available with a diesel engine option.
Hyundai Verna vs Ford Fiesta:-
Price affordability
Beating Honda City in the affordability quotient, Ford Fiesta once again proves itself affordable in class over Verna as well.
With all the three trims costing around 7.69-9.29 lakhs over Verna's price range of around 8.94-12.19 lakhs, Fiesta seems an economical deal for ones looking for a decent looking and interestingly featured car.
Looks of the car:
Ford Fiesta looks fresh with new grille, lamp clusters, bumpers and front profile etc look appealing than before after got updated in 2014.
But still, Verna's Fluidic cues overpower the boxy and bulky looking body of the Fiesta with added features like Projector Headlamps , L shaped LED strips around fog lamps, new rear tail lights, distinctly flowing character lines, sporty stance etc.
Inside as well, just like the City, Verna again defeats the Fiesta with much better interiors, functions, space and slightly high quality and complimented by some features, like 2DIN audio system with 1GB storage and bluetooth connectivity, blue illumination lights, wood grain finish central console etc.
Certainly, Fluidic Verna feels more charming over Fiesta to customers and to us as well. So we pick Verna as our choice here.
Powerful engine and fuel efficiency
The New Verna offers same two diesel engine trims as before i.e. a 1.4 litre CRDi and a 1.6 litre CRDi VGT engines, both of which are not just quite as compared to Fiesta's 1.5 litre TDCi engine, but they are also more responsive, quick and robust against it.
While the Fiesta engine is also not low-keyed with awesome figures and refinement, but compared with Verna's, it surely seems a lot less punchy and powerless.
While the Ford only offers a 5-speed MT system, Hyundai offers not just a noiseless and smoother 6-speed MT, but an optional 4-speed H-matic AT system as well for the ones who likes to take it more effortlessly even in the diesel engines.
Also, the new Verna certainly challenges blazingly against Fiesta in efficiency terms as well with the MT version delivering a class equivalent mileage of 24.8 KPL against Fiesta's 23.5 KPL. While the AT version does the job with an efficiency of 19 KPL.
All this makes Verna a more competent choice for us.
Brand image and after-sales service
In customer satisfaction area, Hyundai certainly does a very commendable job with better after-sales service, customer satisfaction and resale count.
While the Ford again, feels more expensive and costly not just in running cost but also in terms of its resale value which doesn't really return much value.
And which certainly makes Hyundai a more preferred choice here as well.
Final Conclusion-
Once again, being a more suited sedan, new Verna overpowers Fiesta completely with better offering if only you are willing enough to spend that much. Otherwise we don't even deny that we liked the Fiesta as well but still new Verna does impress us more anyways in almost every department be it exterior, interior, safety, features though Fiesta has a slight edge in drivability section over new Verna.
Hyundai Verna vs Honda City
Price affordability:
Pricing wise, we must say that you can't actually deny that Honda has offered the New city at better pricings according to its class and features count.
Which actually makes it cheaper in price against the Hyundai Verna which costs around 8.95-12.19 lakhs for all the diesel variants.
Honda City comes affordable with a price range of 8.75-11.53 lakhs for five diesel trims available. This makes it our pick for the pricing segment.
Looks of the car:
When Hyundai Verna was first launched it was just a simple car which didn't get much attention from the buyers and many facelifts and limited editions were launched but didn't raise any interest in the buyers. So, Hyundai decided to change the look of the completely by introducing fluidic design technology and it looked class apart with brilliant front and rear side.
In the recent update Hyundai Verna now looks more youthful and aggressive thanks to Hyundai Sonata inspired two slat front grille, new fog lamps design with LED strips, Projector headlamps and slightly tweaked bonnet which makes it classy and eye soothing than ever. New Verna looks futuristic than Honda city for sure.
On the other hand Honda City with its tallboy new looks, H design scheme, new charismatic avatar, solid wing face chrome grille, nice fender works and chiseled body with certainly appealing character lines looks a class apart.   
Apart from that, even from the inside, both the cars are almost equal to each other, the City looks rocking with black and beige theme, optional leather trim Upholstery, 5" LCD touch infotainment and other distinctive features make it a class apart. But City sports more features than Verna like Cruise control, smart key, rear parking camera along with in-built music system compatible to USB, FM, CD, AUX, MP3, Bluetooth, 5-inch monitor, Pinch guard, blue ascents and 8 speakers. While the more sophisticated features comprises of sunroof, push button start and touch panel for AC helps City outshines Verna and become benchmark in itself.
Apart from that, it even feels more comfortable to be in with extended wheel base for better inner space and comforts. City even outclass Verna with better rear space especially knee rrom and headroom space.
Powerful engine and fuel efficiency:
Under the hood, the City features the famous and well balanced 1.5 litre i-DTEC engine which not just offers great, smooth and refined performance, but also is packed with power and efficiency counts.
Hyundai Verna boasts a tough 1.4 litre and 1.6L CRDi engines which does the duty well in total refinement and blend of power and performance, it looks more powerful than Honda's at least on paper.
Apart from that, both cars are mated to smooth and effortless gearing experience where the Verna has a 5-speed and 6-speed MT system, the Honda City on the other hand has a more mature and quicker 6-speed MT system for the diesel cars .
In efficiency terms as well, even after being spoilt with enormous figures, City does the dieting well with an overall efficiency of 26 KPL according to ARAI compliance.
While the Hyundai delivers a still decent 24.8 KPL.
As far as drivability and outright performance is concerned city has better suspension and steering response than Verna but both the cars are no way close to segment benchmarks like Linea, Fiesta and Vento. Hyundai Engineers have stiffened up the suspension in this update but if we have to choose between the two we still pick City as our choice.
Brand image and after-sales service
In this department, we would not mind again being biased and declaring Hyundai as a pioneer with more famed a brand amongst the customers.
Apart from that, it also offers very reliable after-sales service in addition to a great value for the product on resale due to its long term reliable product built.
Honda on the other hand is decent too it offers utter reliable after sale service and has a great image among the customers and offer term reliability as well but Hyundai has better reach than Honda that's the only reason we prefer Hyundai over Honda in this segment that doesn't mean Honda is bad at all.
Final Conclusion-
Finally, with almost superiority in all sections over the new Verna, we pick City to be our choice of a more focused Sedan here. Though few might like New Verna's design and decent features and engine count but Hyundai's upgrade is more cosmetic which left out the concerns we had with previous GEN Verna. Hyundai Verna is a benchmark when it comes to features and comforts. But after introduction of 4GEN city it gives cut throat competition to Verna in almost every department now whether it's comfort, features and safety. You don't buy a sedan everyday right? So Go for City then.