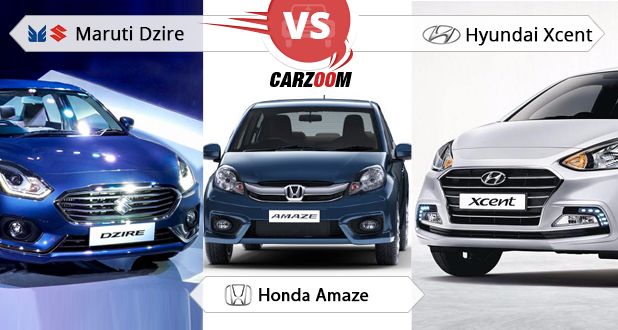 There was a time when Maruti's Suzuki Dzire was the boss of compact sedan segment and to break the reliable & popular image made by this trendy car was really tough for any other same segment vehicles but then two more car manufacturers took this risk and brought Dzire's rivals in market.
Firstly, it was Honda's compact sedan Amaze which later followed by Hyundai Xcent. To up the ante and sales volumes, Maruti has now launched new Dzire with more refined design and more features. In Indian automobile industry, there are three majorly appreciated and high demanding compact sedans and all three have their own pros & cons. But what if we have to choose one among these three? Considering the same we bring you the most wanted comparison between three trendy entry level sedan beauties i.e. Hyundai Xcent, Honda Amaze and Maruti Suzuki Dzire.
Price:
Let's begin the race and see who is better with others and how. First, it come the affordability factor, one of the most important sections as per the middle class customers- mostly where these trendy cars belong to.
The dominator among the three is Maruti's Dzire which carries price tags of petrol trim within brackets of Rs.5.45-8.41 lakhs while diesel trim within Rs.5.99-8.40 lakhs.
Popular Honda Amaze on the other hand seems slightly costlier than Dzire by having price range of Rs. 5.65-8.5 lakhs in petrol and Rs.6.75-8.53 lakhs in diesel.
The third one Hyundai Xcent which is highly appreciated sedan among the Indian buyers and gives a rub-shoulder fight to its rivals and available within cost margins of Rs. 5.38-7.52 lakhs in petrol and Rs. 6.28-8.42 lakhs in diesel.
Hence, while being the most expensive among three, Maruti's classy Dzire is not out of price race but Amaze and Xcent are carrying similar range with some ups & downs. The petrol version seems more affordable in Maruti's sedan.
Also See: Visit Our Hyundai Xcent FAQ section containing all small-yet-useful info altogether for your convenience
Price Scores
| | |
| --- | --- |
| Maruti Dzire | 1/1 |
| Honda Amaze | 0.5/1 |
| Hyundai Xcent | 0.75/1 |
Engine & performance:
And here comes the section where actual story of differentiation begins. However, all three compact sedans are powered by both petrol and diesel fuel mills but every mill tells their different tales. Let's pick petrol units first.
On paper, Maruti equips 1.2 liter petrol engine in its Dzire which develops max power and torque of 85.8bhp and 114Nm and mated to 5-speed manual along with 4-speed automatic transmission gearboxes.
While Honda Amaze on the other hand also gets 1.2 liter petrol mill breathes through slightly better power of 86.7bhp but lesser torque of 109Nm. However, Honda does a good job by mating the Amaze's petrol engine to 5-speed transmission in both manual and newly introduced CVT (Continuously variable transmission) version.
Hyundai Xcent at the last doesn't seem different as well and powers by a 1.2 liter petrol again. This similar sized engine of Xcent is responsible to develop the max power and peak torque of 81.8bhp and 113.7Nm respectively and geared up with a 5-speed manual and 4-speed auto gearbox like the Dzire.
The claimed mileage here is 17.36-20.14 km/l in Xcent, 17.8-18.1 km/l in Amaze and around up to 22.0 km/l in Dzire.
While Maruti's Dzire is already popular for its fun loving drivability on road, Amaze doesn't sit quite behind here but Xcent is better among all with its newly used technology and refinement levels. Still, on the grounds of petrol mills, we give equal scores to all three here.
Now it's turn to talk about most demanding fuel in four wheelers i.e. diesel fuel. The Dzire here is armed with a 1.3 liter diesel mill developing 73.9bhp of max power and 190Nm of peak torque. Like the oldness of Dzire, its diesel mill also seems old on road. The fair bit of turbo lag at the time of starting the engine makes the car bit heavy but once the motor warms up, one can feel it's real entertaining nature. However, this diesel engine of Dzire is noisy and vibration can be felt at the time of driving.
The Amaze by Honda gets biggest and most powerful diesel engine here and hence offers an appealing on-road performance. It is equipped with 1.5 liter mill good to churn out the 98.6bhp of power and 200Nm of torque. The impressive torque of Amaze provides it a handling in flow and a decent drivability. What lacks here is the refinement of engine; it's even noisier and creates more vibration than Dzire which is one of the major drawbacks of Honda's this exciting sedan.
The Xcent on the contrary creates a new milestone with its highly refined engine which not only performs well but a smooth and completely noiseless feel is there. Hyundai's this car gets however smallest engine in the race also with least developed power and torque which is 1.2 liter deriving 74bhp and 190Nm of max power and torque. But still, as mentioned above, it is the most refined engine among three, there is no turbo lag which provides it a hustle free driving even on city roads. Also there is no noise but only a smoothing ride on road.
All the three cars gets only 5-speed manual transmission in their respective diesel trims while automatic is missing from all.
While on the highways, Amaze despite of having the biggest engine manages to develop figures of 25.8 km/l which is good over the 24.4 km/l of Xcent while fall short against 28.4 km/l of Dzire.
And hence, because of Xcent's refinement and advanced technology in diesel mill and also due to its impressive fuel economy, we give one more score to it while the other two trendy beauties come on second in a combined form.
Engine & performance Scores
| | |
| --- | --- |
| Maruti Dzire | 1.5/2 |
| Honda Amaze | 1/2 |
| Hyundai Xcent | 1.75/2 |
Space & Dimension:
Dimension wise, Maruti's Dzire is the longest and widest among three and carries length, width and height of 3995mm, 1735mm and 1515mm respectively over its other two rivalry dimension of 3990mm x 1680mm x 1505mm (Honda Amaze) and3995mm x 1660mm x 1520mm (Hyundai Xcent).
Let's come to the practicality now, when we see the boot space of these models, Swift Dzire despite having more dimension fails to provide a satisfactory boot figures here. The car boot of Swift Dzire is just 316 liters which is much-much less than comparative huge size of boots of 400 liters in Amaze and 407 liters in Xcent.
Seems like Dzire has put decent figures on paper but fails to use it smartly in practical ways. When we see the wheelbase length of these cars then again Maruti's sedan surprises us by having longest wheelbase of 2430mm over the 2425mm of Xcent and 2405mm of Amaze. But yet again, by entering inside this Dzire, this longest wheelbase seems of no use here coz the legroom at its rear seats highly disappoints and could be better for sure; even the headroom is bit less comparatively.
Contrary, Xcent does provide a sufficient legroom, thigh support as well as headroom which is really appreciable. But what amazes us is the Honda's Amaze, this car despite of having least length of wheelbase still offers the best-in-segment legroom, headroom and thigh support.
The ground clearance is better in Maruti's sedan which is of 170mm over the Hyundai's and Honda's similar 165mm figures. This ground clearance of Swift Dzire gives it a better hurdle free driving on the city roads.
Space & Dimension Scores
| | |
| --- | --- |
| Maruti Dzire | 1/1 |
| Honda Amaze | 0.5/1 |
| Hyundai Xcent | 1/1 |
Interior
When we enter into inside cabin of these cars, every car maker tries to make its respective model better than others. Amaze gets proper positioning of steering and driver seat which is also available in a well proportioned way in other two cars though. As far as car's premium-touch is concerned, Hyundai Xcent woos us by providing a top-notch material quality with premium feel which is highly missing in Honda's sedan. Honda Amaze's inside cabin seems to get better with this update and able to remove the quirky cabin tag as well.
Maruti Swift Dzire on the contrary gets a well proportioned cabin at inside which gives an appealing look as well. It's simple yet commanding.
Talking about the interior equipments, here again Hyundai takes the cake away by offering long listing modern features in its sedan Xcent. The top end variant of this trendy beauty is designed with features like auto climate control, rear parking sensors, rear view camera, music system along with 1GB hard drive, Bluetooth, USB, AUX-in, four speakers (2 at front & 2 at rear) & CD player, cooled glove-box, keyless entry, rear air con vents, charging point for the rear passengers and electric folding mirrors, central locking, rear defogger etc.
Though, it doesn't mean that Honda and Maruti lacks on major scale here. Honda provides trendy features like rear defogger, central locking, keyless entry, power foldable ORVMs, 1DIN music system with MP3, USB & Aux-In, front & rear speakers, day/night inside rear view mirror etc. while on the other side, Maruti designs the Dzire with auto AC, 7.0 inch touchscreen infotainment system with android auto, Apple car play, automatic climate control with rear ac vents, central locking, keyless entry, rear window defogger. Still overall, Xcent and Dzire stands shoulder to shoulder as they both have almost similar interior features and hence we give more scores here to Hyundai Xcent.
Also See: Visit Our Honda Amaze FAQ section containing all small-yet-useful info altogether for your convenience
Interior Scores
| | |
| --- | --- |
| Maruti Dzire | 1/1 |
| Honda Amaze | 0.5/1 |
| Hyundai Xcent | 1/1 |
Exterior
Basically, the concept of compact sedan doesn't impress us much in terms of styling as it seems more like the stretched version of hatchbacks and same applies here. Still, it's our responsibility to choose the best among three as per their designs and hence here we go. While Maruti Swift Dzire does impress us much with its new front design and curves at outside and compromising boot as well, the Hyundai's Xcent doesn't create much difference either. Hyundai tried to design its compact sedan better than Dzire by giving it a sharp lines and shapely designed curves.
If we have to choose one among these three then our vote here goes to Maruti's smartly designed new Dzire. It not only gets sleek and sharp curves and lines but also gets a striking on-road presence which surely impresses us. So, as we said, this section of concept sedan overall doesn't get much attention of ours, hence we are ending it here by declaring the Honda Amaze winner in this particular section.
Exterior Scores
| | |
| --- | --- |
| Maruti Dzire | 1/1 |
| Honda Amaze | 0.5/1 |
| Hyundai Xcent | 1/1 |
Safety
On the grounds of safety, Maruti Swift Dzire gets driver & passenger airbags, ABS (anti-lock braking system) with EBD (electronic brake-force distribution), brake assist, rear door child locks, immobilizer, security alarm system etc. while Hyundai Xcent is designed with safety features like immobilizer, driver & passenger airbags, ABS (anti-lock braking system), though features like EBD, brake assist are missing from this car. And lastly, Honda Amaze gets immobilizer, ABS with EBD, front dual airbags and it will get dual airbags as standard across variants.
And hence, by having slightly more safety devices on paper, we give equal scores to both Dzire and Amaze but Xcent somehow lacks here.
Safety Scores
| | |
| --- | --- |
| Maruti Dzire | 1/1 |
| Honda Amaze | 1/1 |
| Hyundai Xcent | 1/1 |
Also See: Visit Our Maruti Swift Dzire FAQ section containing all small-yet-useful info altogether for your convenience
Final Verdict
Maruti, Honda and Hyundai, all three are one of the reputed brands of India and quite the only brands who provide cars in this segment of compact sedan. If talk about after-sale services then Maruti is best of all but still Honda is good enough too, the Hyundai is also offering decent enough service to its customers but it slightly lags behind as compared to other two. But still, on the grounds of product, Xcent and Amaze have tight fight here and Xcent just because of its refined engine and more features wins by a less margin than Amaze.
Final Scores
| | |
| --- | --- |
| Maruti Dzire | 6.5/7 |
| Honda Amaze | 4/7 |
| Hyundai Xcent | 6.5/7 |