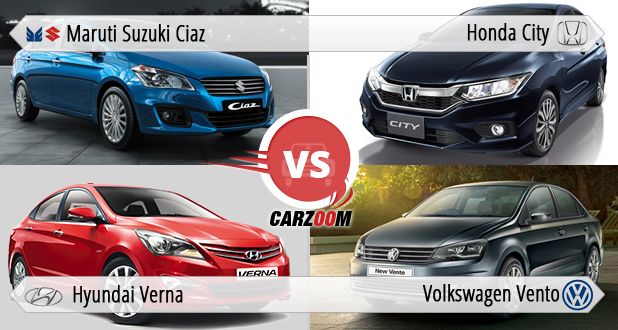 When you have to choose a winner among the best than it is certainly one of the most difficult tasks that one has to face and same is happening with us in this comparison. We are going to compare four cars in this comparison- the segment ruler Maruti Ciaz, new sensation Honda City, Cunning Hyundai Verna and the Solid Volkswagen new Vento. In 2014, India's most reliable car maker Maruti Suzuki has launched Ciaz which just crossed 50,000 units milestone in less than eight months. In early 2015, Hyundai came up with its new Fluidic Verna 4S getting lots of cosmetic changes both outside and inside. And now, Honda has launched new City sedan which looks the more comprehensive and premium than the last one, sports number of cosmetic changes, and added features.
Comparing Honda City, new Volkswagen Vento, new fluidic Verna 4S and Ciaz is certainly a difficult task because all of them are classy in their respective way. Honda city is one of the most sold cars since its introduction and Maruti Suzuki is not far behind. With so much stiff competition, Can Vento makes its way to the top three with this update? Let's find out.
Also See: Visit Our Volkswagen Vento FAQ section containing all small-yet-useful info altogether for your convenience
Price:                                                                                                                     
A car user most of the time sees the price tag of the car before buying it if it comforts their pocket than they make the decision to buy a car or not. Maruti seems to get that point, as a result, Maruti placed Ciaz at very affordable and less price than the Honda city, Verna and VW new Vento.
The initial price of all the cars is quite similar around 7.5 lakhs. Maruti Ciaz is rightly placed at 7.73-10.52 lakhs while Honda city ranges between 8.5-13.5 lakhs, Hyundai Fluidic Verna comes between 7.9-13.1lakhs, last but not least New Vento which comes at a price range of 8.2-13.6 lakhs. Ciaz has an edge over its competitors in the pricing segment.
To begin with, Hyundai Fluidic Verna which is available in diesel and petrol trims, its petrol carries the price tag of 7.9-10.94 lakh while its diesel variants are costlier them of all which cost between 9.2-13.1 lakh.
Honda's stylish Sedan City costs 8.53-13.53 in petrol while its diesel variants carry the price tag of 10.75-13.57 lakh is priced higher than Verna's diesel variants.
Volkswagen Vento facelift, The third model which is marking its presence in this comparison with the price tag of Rs. 8.2-12.2 lakh in petrol and 9.5-13.6 lakh in diesel.  Vento's diesel initial price is the highest of the lot.
Lastly, Maruti's sensation Ciaz seems more affordable than its rivals; Ciaz Petrol comes at the price of Rs. 7.73-10.5 lakh while its diesel variants cost you at Rs. 7.8-9.5 lakhs.
After overall analysis, Maruti Suzuki Ciaz is more affordable in both the departments.
 Engine and Performance:  
Maruti Ciaz is weakest on paper among all in terms of power in both petrol and Diesel engines. With the maximum power of 91.1BHP which is lowest among all while the torque of 200nm makes it a chart-topper among its rival cars. While the leader they of all is Volkswagen Vento in petrol but with slight lesser torque than Ciaz and 1.6L Hyundai 4S Fluidic Verna in Diesel trim. All the cars are equipped with 5-speed manual transmissions in petrol section, but fluidic Verna is also offering 6-speed manual gearbox. The Maruti Suzuki Ciaz and Verna come equipped with a 4speed AT transmission while Vento is available with 7-speed DSG automatic gearbox.
On Fuel efficiency front, the segment is being ruled by Honda city in diesel trim until Maruti Ciaz has arrived which is giving 28.09 KPL mileage thanks, SHVS hybrid technology against City's 25.6 KPL, while Verna offering 24.8 KPL and 23.9 KPL which is whisker lower than the two mentioned above and lowest of the lot is new Vento with 21.50 KPL. So in the Diesel section, Ciaz is the clear winner beating the long time Ruler Honda City.
In petrol, section story is not so different Ciaz here also ruling the section with 20.73 KPL mileages for a manual transmission and 19.12 KPL for automatic gearbox car against 2ndranked New Vento with 18.19 and Honda city with 17.8 KPL which is fractionally better than Hyundai Verna's 17.4 KMPL? Overall Maruti Ciaz is the most fuel friendly car among the competitors.
Ciaz is weakest in terms of engine specifications among all but ride and performance is concerned we expect a better result from Ciaz. In terms of Ride and handling Volkswagen Vento is the ultimate winner in this section followed by Honda City and Hyundai 4S fluidic Verna and Maruti Suzuki Ciaz.
As far as Hyundai Fluidic Verna is concerned its ride quality and performance is being quite good as well but when we compare it with the likes of Vento and Honda City it still looks a bit stiff especially against Vento, Fiesta and Rapid.
Also See: Visit Our Honda City FAQ section containing all small-yet-useful info altogether for your convenience
Service quality of Maruti is considered as best among the country with Hyundai ranked 2ndafter it, Honda with third and Volkswagen comes last among the four competitors.
You can look how these cars looks on paper in an easy way- 
Petrol
Automakers
Maruti Suzuki Ciaz
Honda city
Hyundai Verna
Volkswagen Vento
Displacement
1.4L
1.5L
1.4/1.6L
1.6L/ 1.2L TSI
Cubic capacity  (CC)
1373
1497
1396/1591
1598/1197
Power (BHP)
91.1
117.3
104/119
103.5
Torque (nm)
130
145
138/158
153/175
Fuel economy (ARAI)
20.73 KPL(MT), 19.12 KPL (AT)
17.8
17.4/ 17.0
16.09/18.19
Transmission
5 MT/ 4AT
5MT
5 MT/ 4AT
5 MT/7 AT
Diesel
Automakers
Maruti Suzuki Ciaz
Honda city
Hyundai Verna
Volkswagen Vento
Displacement
1.3L
1.5L
1.4/1.6L
1.5L
Cubic capacity(CC)
1248
1498
1396/1582
1498
Power (BHP)
91.1
98.6
89/119.4
103.5
Torque (nm)
200
200
240/260
250
Fuel economy (ARAI)
28.09
25.6
24.8/23.9
20.64 MT,

21.50 AT

Transmission
5 MT
6MT
6 MT/ 4AT
5 MT/7AT
Also See: Visit Our Hyundai Verna FAQ section containing all small-yet-useful info altogether for your convenience
Interior:
In this section, it's hard to choose a clear winner as all the cars come fully loaded with the long list of excellent features. First, let's talk about Maruti Ciaz as you enter the car you will find yourself in a premium car. The centre console of the top variant has 'smart play' infotainment system which supports features like SD card, USB, I-pod connectivity, Bluetooth connectivity for hands-free calling, smartphone connectivity, voice recognition, navigation, rear view camera info display and much more.
Seats are comfortable build with a right quality material you can feel premium touch, the dual colour dashboard looks amazing, door handles with chrome finish, three-spoke leather wrapped steering wheel is very easy to grip and move. Rear A/C vents, Armrests at front and rear, you will find loads of storing space in Ciaz like phone pocket at front side passenger gate, spacious glove box.
Honda city, on the other hand, is glamorised by all black theme on dashboard and touchscreen infotainment system with three dials on instrument cluster which changes colour while you drive with a light foot. You will get four charging points 2-each at front and rear, Rear A/C vents which keep you cool.
Hyundai Verna which looks excellent from outside is even better from inside, new Verna possesses long list of features like electrically folding side mirrors, V-shaped dash that includes MP3 and climate controller. On infotainment front, Verna gets a touchscreen unit with 4 speakers+ 2 tweeters which can be controlled via remote.
With other features like reverse parking camera, automatic climate control, speed dependent auto volume control and many more features make it an ultimate car.
Last but least New Vento the German giant, Vento's interiors are of typical German standard simple yet classy which is well complimented by excellent fit and finish.
New Vento now gets the new walnut beige theme for the highline variant and Cloud Titanschwarz interior theme for Trendline and Comfortline variants, new flat bottom multi-function steering wheel with audio, MID and voice control buttons. The Central console is finished with the silver matt finish and sports features such as automatic a/c control, the same old GEN music system which supports USB connectivity.
Volkswagen has added some new features to Vento such as Cruise control, cooled glove box, dead pedal, electronically retractable ORVMs, just to add extra spice to the facelift. Leatherette Seats are comfortable which will provide you good thigh and shoulder support.
Overall Ciaz, Verna and City stands shoulder to shoulder with each other, Volkswagen Vento falls behind a little bit despite being newest of all. Volkswagen should have added more features to Vento.
Also See: Visit Our Maruti Ciaz FAQ section containing all small-yet-useful info altogether for your convenience
Exterior:
Among all Hyundai Fluidic 4S Verna looks far better after the new update as it gives a sporty look, especially the front fascia which now flaunts new projector headlamps, revised trendy bonnet, two slat front grille, fog lamps with L-shaped LED strips. High waistline at the side of the car looks impressive, chrome door handles adding more glance to the sportiness of Verna. A rear side gets Merc CLA inspired tail lights and reflectors which look sporty and refreshing.
Maruti Ciaz is an innovative effort by Maruti to stable them in the Segment; the overall design looks good from the front as well as from Rear. Front get smoked headlamps, large bonnet with 4 slat grille carrying Maruti logo at the centre and beneath it, there is air intake segment. The side of the car is also impressive with features like chrome door handles and 16-inch alloy wheels. At the rear, you may find it is similar to Honda city especially the rear lights.
New Honda city is not far behind by any means from Verna and Ciaz as it carries eye-catching foretaste. Honda City is a well build the car with H badge at front and thick chrome grille looks pretty. Honda city's design has been improved, LED headlights with LED DRLs looks classy and LED taillights looks eye buttering. The side of the car also looks close to perfect with sidelines and big alloy wheels. Other features like shark fin antenna, electric sunroof etc makes City sensational than ever.
Volkswagen is known for its very well build quality which we can see in Vento facelift as well. Since its launch not many changes have been brought to its exterior design, it looks like a big brother of Polo. In the latest update, Vento receives a number of cosmetic changes such as new Bonnet with a downward line, three slat chrome grille, double barrel headlamps with blackened effect, redesigned front bumper with integrated fog lamps that now houses cornering function. Coming to the sides, new Vento now gets OVRMs with LED blinkers, new alloy wheels, chrome touch on door handles. While rear now has revised tail lights with LED effect, chrome treatment on the boot lid and chrome tip muffler. Overall, new Vento looks the best Vento till date carries the simple and moderate styling cues while the new addition adds premiumness to it.
Space and Dimensions:
In an overall measurement, Ciaz is ahead of them of all. Ciaz is 4490mm in length which is 50mm more than Honda city, around 100mm more than Verna and Vento. With the width of 1730mm Ciaz is 35 wider than Honda, 31mm and 30mm wider than Vento and Hyundai Verna.
With the Height of 1485mm Ciaz is 19mm taller than Vento and 10mm taller than Verna but it falls just a 10mm short than Honda city.
As far as wheelbase is concerned again Ciaz is longest them of all with 2650mm wheelbase 50mm more than the 2nd best Honda city, Verna is at third position with 2570mm wheelbase while new Vento lies at the last spot with a 2553mm wheelbase, approx 100 mm less than the Ciaz.
Ciaz offers boot storage of 510 litres which is equivalent to Honda city's 510 L and way better than Vento's 494L and Verna's 460L respectively.
Verdict:
After a facelift, Volkswagen looks better but not the best in terms of styling and features but still, it continues to be a quite well-packaged car. Its real power lies in its engines, great refinement level and solid build quality. With added features, the German car maker tried to cover up its weakness but still, it misses out on the touchscreen system, reverse parking camera etc.
Hyundai Fluidic 4S Verna now looks more elegant with lots of equipment, improved engine refinement but still, it lacks the punch and fun of Segment benchmarks. Honda City seems to be more practical of the lot with eye-catching styling, long list of features, equipment, safety etc.