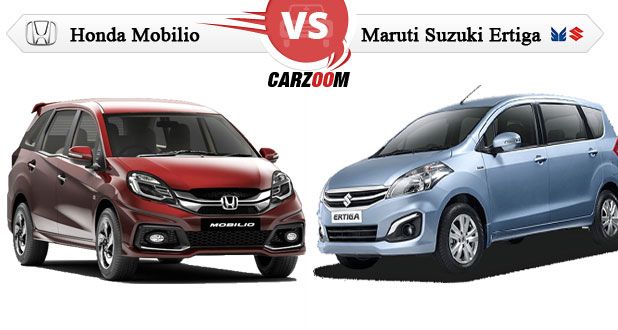 Indian automobile industry is being delighted as one of the bestseller in the MPV segment has hit the floor again with redesigned exterior and new engine technology. However, it's not a new thing that a facelift version has been launched in the market, but here it is, because this new car is manufactured under the badge of one of the most reliable brands of India i.e. Maruti.
Yes, here we are talking about one of the most awaited launch of the year, the Stylish and bold Ertiga facelift. Maruti Suzuki Ertiga has been selling well since its launch in 2012 but in recent times the sales of MPV saw a steep fall. So in a bid to rocket fuel the sales again, Maruti introduced the updated version of Ertiga that comes with host of changes and new features.
When a bestselling car is getting revamped then it's obvious that comparison market become hot too especially when there is already another car in same segment by another trustworthy brand which is Honda's Mobilio- a classy and one of the best MPV model till now in the Indian car market. Let's have a look on the brief specs comparison of these two models.
Price:
The price range of Honda's all new classy MPV seems very competitive. It is available within range of 6.79 lakhs to 11.78 lakhs. Maruti's Ertiga, on the other side, still is more affordable and carries slightly less price tags which fall between Rs. 5.99-9.25 lakhs.
Though, Honda Mobilio's prices are more than Ertiga's, still we can't declare the Ertiga a clear winner. Yes, but in this section, Ertiga definitely scores more. Also, we are pretty sure that Honda surely has played a clever yet safe game on the terms of price by offering something better in its MPV. Let's proceed further to know more.
Also See : Visit Our Maruti Suzuki Ertiga FAQ section containing all small-yet-useful info altogether for your convenience
Engine details:
Coming under the hood where ongoing Ertiga is running through 1.4 liter MPI petrol engine responsible to develop the max power and torque of 93.7bhp and 130Nm respectively while Mobilio on the other hand will share the ongoing Honda City's engine which is powerful 1.5 liter i-VTEC petrol mill deriving much better power and torque of 117bhp, 145Nm than rival.
Further, both the MPVs also carry diesel engines as option and here yet again Honda Mobilio seems more powerful than Ertiga. While the Mobilio is adorned with powerful mill of City which is 1.5 liter i-DTEC deriving max output of 98bhp, peak torque of 200Nm, the Ertiga has 1.3 liter of DDis diesel mill which now equipped with SHVS hybrid technology churns out comparatively less max power of 88.7bhp but similar peak torque of 200Nm.
Maruti Ertiga and Honda Mobilio both petrol and diesel models are mated to a 5-speed manual transmission gearbox. However, Ertiga is now available with a 4-speed automatic gearbox which we have seen on Ciaz sedan.
Now it comes the fuel efficiency and here Honda already has claimed that it's all new Mobilio will offer best-in-segment mileage in its segment. The Ertiga while offering ARAI certified mileage of 17.5 km/l in petrol and 24.52 km/l in diesel, dethroning Mobilio in both the departments as it delivers i.e. 17.3 km/l in petrol and 24.2 km/l in diesel.
So, by considering the above data in mechanical terms, Honda Mobilio undoubtedly seems better than its main rival Maruti Ertiga.
Performance:
Despite having of small engines, Ertiga offers better on-road performance along with admirable drivability and balanced road handling. The NVH levels are low and hence engines makes very less noise, especially the diesel. Contrary, it's Honda Mobilio which is sharing City's engines. Honda City is most popular and applauded car in its segment on the grounds of drivability and same will be seen in its new MPV Mobilio. If we talk about engine refinement and smoothness, then Mobilio is offering very much refined and less-NVH leveled engines which has become even better than the City. And needless to say that no one can beat Honda's car as far as their NVH level is concerned. However, we like Ertiga as well but if it's about to choose one among them then surely we would pick Honda Mobilio in this section.
Space & Dimension:
Mobilio is a stretched version of Honda's hatch Brio but offers a plenty of space inside the cabin. Ertiga on the other side doesn't let down the company as well and offers very spacious cabin along with enough legroom and headroom. In Mobilio, headroom is sufficient enough for even a six feet tall person but when it comes to legroom then same six feet tall person can face a little much difficulty but it's tolerable. But still, we can't put Mobilio as taken for granted, as due to Honda's "Man maximum, machine minimum" philosophy, it still offers very spacious cabin at inside.
Also See : Visit Our Honda Mobilio FAQ section containing all small-yet-useful info altogether for your convenience
Both the MPVs are seven seaters. While front and middle rows are spacious enough for adults to fit easily, it's the third row which due to its cramped legroom will be suitable for children only.
As far as their dimension is concerned, Mobilio is longer than Ertiga but at the same time less wider and less tall as well. The Ertiga is 4265mm long, 1695mm wide and 1685mm tall while Mobilio, on the other hand carries length of 4386mm, width of 1683mm and height of 1603mm. Despite having of longer length, Mobilio still offers less wheelbase length which is of 2652mm in front of Ertiga's wheelbase of 2740mm. Further, Mobilio is said to have best-in-segment ground clearance of 189mm over the Ertiga's 185mm which provides the Honda's MPV a bonus attitude.
Interior:
It would be not wrong to say that despite of having Mobilio freshness, Ertiga still amazes with its more attractive interior. While Mobilio carries plane yet decent inside cabin with lots of similarity with Amaze and Brio, it's Ertiga which gets plush seat covers at inside making the cabin a bit luxurious than rival. After sitting at driver's seat or at front passenger's in Honda's new MPV, one will get the feeling as she/he is driving Honda's other ongoing car Amaze and similarly Ertiga will give a feel of Swift hatch which surely will be a disappointing point for some people as they will want to experience something new.
The equipments at inside the Mobilio though have been modified and refined in comparison to Brio and Amaze which gives a refreshing feel for sure. The dashboard of Mobilio looks very classy with its wooden trim and better too than Ertiga's simple Swift famed dashboard.
Exterior:
The outside glimpse of Ertiga always impresses us, its sleek and curved design, down-to-earth profile looks cute and attractive. But Honda again has done a smart creativity here by introducing the sporty RS variant with its Mobilio. The RS variant will be launched with Mobilio's regular variants. It's very classy and cool; of course will come at more price tag as well, but its sharp and stunning outside design gives the car a best-among-segment look for sure. This RS sports variant will be different only in its outside while the inside and under hood will be same as Mobilio's regular variants.
However, if compare Ertiga and Mobilio's regular model then definitely our vote goes to Ertiga due to its more attractive exterior profile.
Verdict:
By considering the above fact, must say Honda has worked hard in its Mobilio to take over its only main rival Maruti Ertiga but still Ertiga is already being admired by a large group of people in India and hence Honda Mobilio will receive a rub-shoulder fight undoubtedly. The other thing which makes it difficult to choose one among two is their brands value which is 10 on 10 in both cases. Still, here are some factors which make both Ertiga and Mobilio better in their own way. Have a look.
Honda Mobilio Pros:
Powerful engines
Eye catching exterior glimpse of its RS sport variant
Appealing on-road performance
Being Honda's very first model in this segment, hard efforts are expected
Excellent after-sale services
Honda Mobilio Cons:
Could be more unique at inside and outside
Last row seats best for kids not for adults
Way expensive than its chief competitor Ertiga
Maruti Suzuki Ertiga Pros:
Pleading on-road performance
Best in class mileage
Smarter exterior profile
Wonderful after sale services
Maruti Suzuki Ertiga Cons:
Impractical boot space of 135 liters
Last row offers cramped space for adults, can be used for luggage not for seating
Despite of an update, rear profile still looks simple as compared to Mobilio's