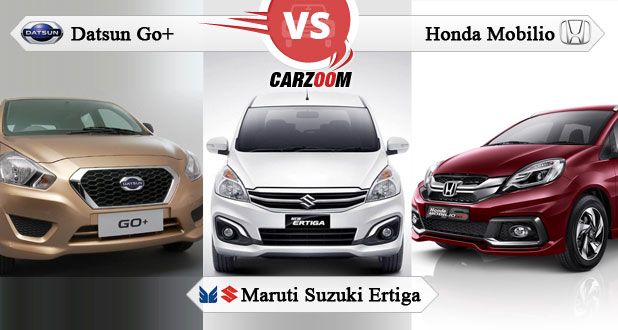 The MPV (Multi Purpose Vehicle) segment is very productive segment at present in India which yielding out good sales numbers to the car manufactures. Earlier people used to think of Innova when it comes to MPV but everyone cannot afford it due to its steep price range. In 2013 when Maruti Suzuki launched Ertiga it was an undisputed champion and enjoyed absolute monopoly for longer period of time due to its overall affordable package until Honda launched Mobilio to challenge Ertiga. Ertiga still enjoys good amount of numbers but somehow overshadowed by Innova by quite a huge margin. In a bid to boost the sales of its MPV, Maruti now launched the facelift version with host of cosmetic changes along with diesel hybrid technology.
To cash in one of the fastest growing segment Datsun, the cost effective brand of Nissan has come up with Datsun Go plus MPV this year with the mouth watering price range. In this article we will try to figure out how these cars stand against each other.
Price:
Datsun Go plus MPV comes at the starting price of Rs. 3.80 lakh and goes up to Rs. 4.86 lakh for the top variant while Maruti Suzuki Ertiga range between Rs. 5.99-9.25 lakh and Honda Mobilio will cost between Rs. 6.79-11.78 lakh.
Go plus base and top variant is way affordable than Ertiga and Mobilio, Ertiga's base petrol variant starts around 6 lakh while Mobilio's base petrol variant Starts at Rs. 6.8 lakh
Clearly Datsun Go plus is the most affordable and economical option among the three while second position is grabbed by Ertiga and Honda Mobilio comes at the last spot.  
Engine and Performance:
Datsun Go plus is available with 1.2L petrol unit of its hatchback sibling that produces 67bhp power and 104Nm torque while Ertiga is available with two engines 1.4L K series petrol producing 94bhp power and 130Nm torque and 1.3L diesel hybrid engine giving 89bhp power and 200Nm torque.  
Honda Mobilio have the most powerful engines among the three with 1.5L petrol engine giving 118bhp power and 145Nm torque and 1.5L diesel engine emits 99bhp power and 200Nm torque.
Datsun Go plus looks weak on paper but not in drivability thanks to its light weight; Go plus MPV is pretty decent for city driving. Gearbox is responsive and slick but not as slick as Mobilio.
Maruti Suzuki Ertiga is smooth, composed and refined than most C segment sedans, offers good ride and handling dynamics despite of its stretched body.
Honda Mobilio on the other hand is most powerful on paper with the two 1.5L engines with excellent in city drivability and power delivery is far more linear than Ertiga and Datsun Go plus.
Innova ride and handling is always a benchmark but Mobilio is not far behind by MPV standards followed by Ertiga and Go plus.
In terms of fuel efficiency Datsun Go plus delivers 20.62 KPL mileage as compared to Mobilio's 17.3 and Ertiga's 16.02 KPL. In diesel variants Mobilio offers 24.5 KPL against Ertiga's 24.52 KPL whereas Datsun Go plus is not available in diesel option.
Overall this section clearly belongs to Ertiga due to the bump up in fuel efficiency by 18 percent.
Space and Dimensions:
This is probably the most important criterion for the three cars as all are 7 seater MPV, Mobilio certainly looks spacious of the lot with the measurement 4386 x 1683 x 1603mm, 1st and 2nd row seats have an ample legroom and headroom space to fit five adults easily.
Datsun Go plus is first sub 4 meter MPV with the dimensions of 3995 x 1635 x 1490mm, 1st row seats are comfortable provides good front view to driver and 2nd row seats are wide with good legroom but limited headroom space if you are above 5'10". Last row seat can be used for luggage rather than for seating purposes because there is hardly any space left at the third row seats. It's better to use go plus as 5 seater with last row as cargo space.  
Maruti Ertiga is another spacious MPV with 4265 x 1695 x 1685mm is the widest and the tallest among the three which provides more than decent amount of space for 1st, 2nd row seats but with slightly cramped width for the 2nd row seats. 3rd row seats are best suited for kids or short adults due to limited legroom and headroom space.
Folding down the third row seats gives you better luggage space but somehow cramps legroom space for 2nd row passengers. 3rd access is slightly difficult as compared to Mobilio. 
In boot space department Datsun Go plus offers awful 48 liters space whereas Ertiga has 135 liters boot space and Mobilio with 223 liters boot space outshines both of them. Overall Mobilio offers more in terms of comfort, space etc.
| | | | |
| --- | --- | --- | --- |
| Basis | Datsun Go Plus | Honda Mobilio | Maruti Ertiga |
| Length | 3995mm | 4386mm | 4265mm |
| Width | 1635mm | 1683mm | 1695mm |
| Height | 1490mm | 1603mm | 1685mm |
| Wheelbase | 2450mm | 2652mm | 2740mm |
| Ground clearance | 170mm | 189mm | 185mm |
| Cargo volume | 48 liters | 223 liters | 135 liters |
Exterior:
Let's start from Datsun Go plus which is a stretched version of its hatchback sibling except the length everything is almost similar between the two from front side which has honeycomb grille, clean bonnet etc. Datsun Go plus is certainly simple of the lot.
Maruti Suzuki Ertiga is blend of Maruti's hatchbacks like Swift and Ritz from front and rear overhangs. Maruti Ertiga still impress with curvy bonnet, dual slate grille with chrome accents, large swept back headlamps. On the other hand, despite after an updated the rear side still looks simple and boring as compared to Mobilio.
Honda Mobilio on the other hand looks most stylish and beautiful among the three with sharp and stunning design. Side profile looks edgy in a good way with subtle creases but it's the rear side which impresses the most with Mitsubishi outlander resemblance and sharp tail lights reminds of BMW taillights.
Overall Mobilio still looks better except from the front side which is a bit quirky and resembles its hatchback siblings which is certainly a drawback but it will attract enthusiast, on the other hand Maruti Ertiga has a clean design with no nonsense appearance, and Ertiga gets an enhancement in its road presence after the facelift. And, Last but not the least Datsun Go plus which can please many considering its price Datsun Go plus is simple yet good but as compared to Ertiga and Mobilio it lags behind a bit.
Interior and Safety:
In interior segment despite of being the oldest among the three Maruti Ertiga still with plush seat covers etc looks better in terms of ambience. Ertiga now comes equipped with a 7 inch Smartplay infotainment system with voice command and navigation and reverse parking display.  
 Datsun Go+ and Mobilio on the other hand shares similar interior styling and dashboard with their hatchback versions.
Datsun Go+ gets grey beige hard plastics basic layout dashboard like hatchback version, for entertainment you get a mobile docking system with USB charging as standard though you can have a Datsun music system but after spending some extra bucks. Quality and features are just fine when we look at what price it is available.  
Honda Mobilio which shares similar dashboard layout of Brio and Amaze still looks better than the two with high quality steering wheel with mounted controls, faux wood dashboard, touchscreen infotainment system with audio video navigation, park assist, a/c with chrome accents etc.
In terms of feature richness Mobilio certainly beats Ertiga and Go plus but in overall cabin ambience Ertiga still amazes us.
Datsun Go plus is based on Go hatchback that means safety features are less in Go Plus MPV and Go hatchback failure in NCAP tests makes the matter worse. Only top variant of Go plus gets driver side airbag, no ABS even in top variant or even as option. Other safety features in Go plus are engine immobilizer, manual central lock, 3 pointer seat belts etc.
Honda Mobilio on the other hand gets ABS, EBD and driver side airbag as standard and apart from that Honda cars have always been reliable when it comes to safety.
Maruti has given driver side airbag, ABS and seat belt pretensioners as standard across all variants of Ertiga. Furthermore, it comes with safety features like brake assist, EBD, airbags, keyless entry, reversing parking camera along with reverse parking sensors etc.
Verdict:    
By considering the fact that Datsun has worked very hard in bringing an India's first compact MPV under sub-4m section with an affordable price of Rs. 3.80 lakh (ex-showroom Delhi) is without a doubt the cheapest of all in terms of price and offers great value for money preposition for buyers. But if you want more space, features, and premium cabin ambience then go for Ertiga and Mobilio.
Honda Mobilio drives better thanks to powerful engines and looks better than Ertiga. However, Ertiga comes at lesser price than Mobilio plus better interior ambience with more comfort ability makes Ertiga a better choice. New Ertiga features with a four speed AT gearbox which will further strengthen the well established position of Ertiga and will certainly help Ertiga to have a firmer edge over both these cars.