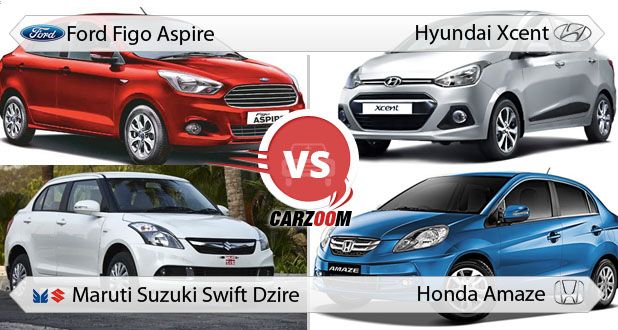 Last year, Ford Figo Aspire Joined the bandwagon of the most highly challenging segments in the Indian market, 'the compact sedan'. It fights out against the likes of Maruti Suzuki Swift Dzire, Hyundai Xcent and Honda Amaze. The compact sedan segment has been growing at an impressive rate in the country which is currently dominated by Maruti Suzuki Swift Dzire while the Hyundai Xcent stands at second followed by Honda Amaze. In the verge to up the competition, Honda Amaze gets a mild update restricted to exterior and interior while mechanically it remains same. Ford is entering the segment with Figo Aspire which is loaded with powerful engines, brilliant design and 6-speed DCT automatic gearbox. Let's find out where exactly it stands vs the competition.
Price:
Ford has hit the right spot with Aspire's pricing which is now the most affordable compact sedan in the country. Its entry level variant is more affordable than Xcent and Amaze. Petrol variant of Aspire starts at Rs. 5.21 lakh while except Maruti other competitors start around Rs.5.3 lakh mark. While for diesel variants, Xcent has the lowest price at Rs. 6.1 lakhs followed by Aspire's 6.2 lakh. Honda Amaze's base diesel variant is available for Rs. 6.4 lakh. With this price range Aspire will surely snatch some of the buyers of all the other cars in the comparison.
| | |
| --- | --- |
| Model | Ex-showroom Delhi Prices |
| Ford Figo Aspire | Rs. 5.21-8.13 lakh |
| Hyundai Xcent | Rs. 5.36-8.03 lakh |
| Maruti Suzuki Swift Dzire | Rs. 5.19-8.40 lakh |
| Honda Amaze | Rs. 5.30-8.20 lakh |
Engine:
Petrol-
| | | | | |
| --- | --- | --- | --- | --- |
| Comparison basis | Ford Figo Aspire | Hyundai Xcent | Maruti Suzuki Dzire  | Honda Amaze |
| Engine | 1.2l/1.5l Ti-VCT engine | 1.2L VTVT | 1.2L VTVT | 1.2L i-VTEC |
| Max power (Bhp) | 87/110 | 83 | 83.1 | 86.8 |
| Peak torque (Nm) | 112/136 | 114 | 114 | 109 |
| Transmission | 5MT/6 DCT (AT) | 5-speed MT/4-speed AT | 5 speed MT/4 AT | 5 speed MT/ 5 CVT |
| Fuel efficiency (KMPL) | 18.16/17.2 | 19.1/16.1 | 20.85/18.5 | 18/15.5 |
All the cars in the comparison are available with a 1.2l petrol unit while Figo is also available with bigger and powerful 1.5l T-VCT engine which is mated to a 6-speed DCT (segment first feature). All the cars are mated to a 5-speed manual gearbox as standard while Dzire and Xcent are being offered with a 4-speed automatic. The refresh Honda Amaze is available Brio's 1.2l engine which is paired with manual as well as new 5-speed CVT transmission. Though 1.2l equipped Aspire make the most power in the segment but while comparing it with segment benchmarks like Xcent and Dzire, we felt it was slowest of the lot in terms of acceleration. At higher speeds, Aspire is more fun to drive and absorbs bumps rather well as compared to other cars especially Hyundai Xcent. Overall, Figo Aspire is the car to bank on as it offers better overall package.
Diesel:
| | | | | |
| --- | --- | --- | --- | --- |
| Comparison basis | Ford Figo Aspire | Hyundai Xcent | Maruti Suzuki Dzire  | Honda Amaze |
| Engine | 1.5l Ti-VCT engine | 1.1L VTVT | 1.3L CRDi | 1.5L i-DTEC |
| Max power (Bhp) | 99 | 71 | 74 | 99 |
| Peak torque (Nm) | 215 | 180 | 190 | 200 |
| Transmission | 5MT | 5-speed MT | 5 speed MT | 5 speed MT |
| Fuel efficiency (KMPL) ARAI | 25.83 | 24.4 | 26.59 | 25.8 |
Ford is offered with tried 1.5L diesel engine which we have seen in EcoSport and Fiesta but the engine has been upgraded to produce 99bhp [email protected] and 215Nm of torque (segment best). The Hyundai Xcent on the other hand, is powered by a smallest engine in the comparo; get the power from a three cylinder engine that makes 71bhp and 190Nm of torque. The Maruti Dzire is equipped with a tried and tested 1.3L unit which is good enough for 74bhp power and 190Nm torque while the Honda Amaze which is current ruler in terms of power till now gets the 1.5l engine which develops 98bhp power and 200Nm of torque.
All the vehicles comes mated to a five speed manual transmission, none of them get an AMT or AT. Tata Zest is the only vehicle in the segment to get an automatic transmission. In terms of fuel efficiency Maruti Dzire still rules the segment with 26.59 KMPL of mileage while Aspire replaces Amaze with 25.83 KMPL of mileage.
Ford Aspire offers a good drivability along with good performance, the car has enough grunt to deliver strong acceleration. Though it is not quite inside the cabin as its petrol sibling, it gets noisy after 3500rpm which can become irritating for the driver. Ride and handling has always been Ford' strongest point and Aspire isn't a different one.
Space and Dimensions:
All the cars are strictly falls under government sub4 meter norm which means the length of the cars are almost identical. Ford Aspire is widest its segment with Dzire and has the longest wheelbase of 2491mm which make it one the comfortable car to seat in. Seats are very comfortable especially the front seats which offers excellent thigh support with good visibility position.
Rear seats are spacious in every aspect like knee room, headroom or shoulder space well complimented by various storage option though the rear bench is not spacious as Honda Amaze. The Aspire also offers best ground clearance among all; Dzire comes in second followed by Xcent and Amaze.
| | | | | |
| --- | --- | --- | --- | --- |
| Criteria | Ford Figo Aspire | Maruti Suzuki Swift Dzire | Hyundai Xcent   | Honda Amaze |
| Length | 3995mm | 3995mm | 3995mm | 3990mm |
| Width | 1695mm | 1695 mm | 1660mm | 1680mm |
| Height | 1525mm | 1555 mm | 1520mm | 1505mm |
| Boot Space | 359 liters | 320 liters | 407liters | 400 liters |
| Ground Clearance | 174mm | 170 mm | 165mm | 165mm |
| Wheelbase | 2491mm | 2430 mm | 2425mm | 2405mm |
Exterior:
In terms of exterior appearance, Ford Figo Aspire is certainly one of the best looking compact sedans present in the country thanks to its front fascia which get the multi slate Aston Martin-ish grille with chrome touch and elongated sweptback headlamps. Side profile looks clean but we felt that 14 inch wheels are small for such well built car and rear too doesn't have the wow factor. The tail lights look simple but the thick chrome strip does up the flavor of rear.
Honda Amaze on the other hand looks well portioned especially the side with creases and rear with good tail lights and the most important thing is that the Brio based front fascia has been finally replaced with twin slat grille that looks more pleasing. Side profile remains same while rear gets new tail lights cluster.
Maruti Suzuki Swift Dzire, in the last update got a thick chrome/matte black finish front grille, smoked headlamps makes the car better than its previous gen model. The Hyundai Xcent is good product with no non sense design cues.
Interior and Features:
Figo Aspire:
The cabin of Aspire is based on EcoSport and Fiesta and the quality of it is excellent, the company made sure that it doesn't compromise on quality. The dual tone dashboard with piano black finish will surely please many buyers. The Figo Aspire gets automatic climate control, Ford My Ford dock with SYNC, electric adjustable ORVMs, three spoke steering wheel with mounted controls etc adding the feel good factor.
Maruti Suzuki Swift Dzire:
The Dzire shares its cabin with the hatchback sibling Swift so it get Start/stop button, audio system with bluetooth, USB support, rear parking sensor, steering mounted controls. The dual beige dashboard looks good and quality of materials are also satisfactory. In the recent update the Dzire almost got all the important features it was missing earlier.
Hyundai Xcent:
Hyundai Xcent is one the feature rich car in the comparison as it sports a 2DIN audio system with 1GB storage, push start button, cooled glove box, automatic climate control, steering mounted control and rear AC vents.
Honda Amaze:
The Brio based unconventional dashboard has been dropped which is good thing and it is replaced with well proportionate dual beige colored dashboard which will be seen on upcoming BR-V. Honda Amaze was the only vehicle in the comparison to get AVN touchscreen but unfortunately it has been removed for Monochrome ICE display. However it comes with automatic climate control, fresh dashboard with chrome detailing, new seat upholstery, heat absorbing windscreen, new MID and Piano black finish central console for refreshing things.
Safety:
Safety is becoming a really important factor for both buyers and manufactures nowadays. Ford has taken care of it by providing Dual airbags as standard across all variants and offering six in total (segment best and first in segment feature). While Honda, Maruti and Hyundai offering dual airbags on top variants only. All variants of Amaze are equipped with ABS as standard much while from the next month it will get dual front airbags as standard across the variants. Ford Figo Aspire misses out on reverse parking sensors and reverse camera which is really shocking.
Verdict:
Ford Figo Aspire is not only a good looking compact sedan in its segment but it also has the punch in terms of engine and performance. In addition, Ford has hit the sweet spot with its pricing. The only negative point is the drivability of 1.2l petrol engine along with the absence of reverse parking aid. The Ford surely has a winner in its hand which can also prove to be a new benchmark in the segment. On the other hand, Honda Amaze offers good performance and drivability and this update will surely boost its sale. Despite being an able product and ticking all the right boxes it not able to stop the sale onslaught of Hyundai Xcent and Maruti Dzire, now Amaze with new updates might make things even more difficult for Aspire.