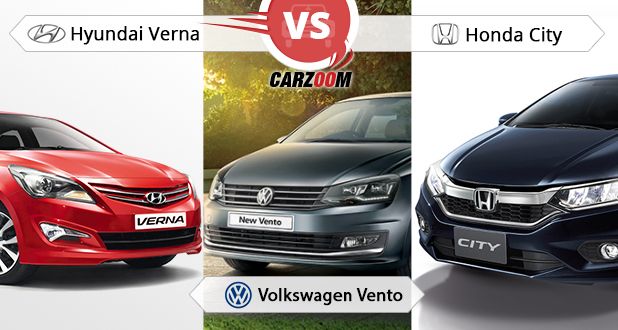 When we talk about tough competition and a most fierce segment in automobile industry then sedans probably will top that list. The reason behind is their increasing popularity, charm and most importantly the affordability of sedan models. Other factors like quality, power-packed performance and last but not the least it's sleek attractive outside profile which undoubtedly creates a trendy-luxuriant image of its owner in society. And when we get more than one deserving same segment models then comparison surely rises.
We picked three leading cars of the segment to see which one is the ultimate boss. On one side there is Honda City, India's most popular sedans of a time, second is Hyundai's Verna which recently received an update and it is struggling to deliver good sales numbers to Hyundai but will new update help Verna? Let's wait for some time. The third car of the lot is Volkswagen new Vento which despite having comparatively new brand doing well in the country. As Honda has equipped diesel variant in its City, Verna has been updated and Vento is getting the second facelift in a year's time and struggling to bring expected profit to its company, let's see which one is capable of attracting the sedan lovers actually.
Price:
Base price
Top-end price
Honda City
Petrol
8.5 lakhs
13.53 lakhs
Diesel
10.76 lakhs
13.57 lakhs
Hyundai Verna
Petrol
7.9 lakhs
10.94 lakhs
Diesel
9.2 lakhs
13.1 lakhs
Volkswagen Vento
Petrol
8.2 lakhs
12.2 lakhs
Diesel
9.5 lakhs
13.6 lakhs
Also See: Visit Our Volkswagen Vento FAQ section containing all small-yet-useful info altogether for your convenience
To begin with, trendy Honda's Sedan City which is now available in diesel trim as well along with the petrol one. While its diesel model carries price tags between 10.75-13.1 lakhs, petrol is as usual cheaper and comes with the price bracket of 8.53-13.53 lakhs.
The second trendy model is by Hyundai which offers its sedan Verna at cost of 9.2-13.1 lakhs in diesel and 7.9-10.9 lakhs in petrol. While Verna's diesel is costlier than City and comparatively dearer in its petrol trim.
And at last its trendy Vento which carries less margin between their price tags and its petrol model seems quite affordable than other rivals. While the Vento diesel is available at 9.5-13.6 lakhs, the petrol comes at the price range of 8.2-12.2 lakhs.
Price Scores:
| | |
| --- | --- |
| Honda City | 0/1 |
| Hyundai Verna | 0.75/1 |
| VW Vento | 1/1 |
 Engine details:
Coming to the mechanical powers of these three, all are equipped with two fuel units i.e. petrol and diesel. The Hyundai Verna is equipped with four types of engines, out of which two are petrol and two are diesel. Its 1.4 liters and 1.6 litre sized engines are marking their presence in both petrol and diesel trims. While diesel mills are responsible for developing 88.7bhp, 220Nm (in 1.4 litre) and 126.3bhp, 260Nm (in 1.6 litre), the petrol ones are good to churn out 105.5bhp, 135Nm (in 1.4 litre) and 121.3bhp, 155Nm (in 1.6 litres) of max power and peak torque respectively. What's impressive about Verna is the availability of both manual and auto gearboxes in both petrol and diesel trims. It gets a 6-speed manual in diesel and 5-speed manual in petrol while a 4-speed automatic transmission is available in both.
And then it's Honda's powerful Sedan City which is not confusing in the no. of engines and available in straight forward two engines, one is petrol and other is diesel. While this City has borrowed the 1.5 litre 4-cyl petrol engine from its predecessor developing the max output n torque of 117.3bhp, 145Nm, the diesel engine is also of same sized 1.5 litres and churns out the max power and peak torque of 98.6bhp and 200Nm. But, the diesel engine of this trendy sedan only gets 6-speed manual gearbox while the auto is missing, the petrol gets both 5-speed Manual and 7-speed Auto with paddle shifters though.
Contrary, the German car Vento gets the tiniest 1.2-litre petrol mill in it which produces 103.5bhp and 175Nm on paper, but the interesting fact here is that this tiny mini engine is geared up with an impressive 7-speed DSG automatic transmission. The other petrol engine of Vento is of 1.6 litres deriving the similar power of 103.5bhp and least torque of153Nm and mated only to a 5-speed manual. The last but not the least engine, VW Vento is equipped with 1.5-liter diesel which now develops more power of 108.5bhp like its other engines while the torque is impressive of 250Nm and the engine is geared up with a 5-speed manual and 7-speed DSG gearbox.
Available Engines
Hyundai Verna
Diesel
1.4 liter (88.7bhp, 220Nm)
1.6 liter (126.3bhp, 260Nm)
Petrol
1.4 liter (105.5bhp, 135Nm)
1.6 liter (121.3bhp, 155Nm)
Honda City
Diesel
1.5 liter (98.6bhp, 200Nm)
—–
Petrol
1.5 liter (117.3bhp, 145Nm)
—–
Volkswagen Vento
Diesel
1.5 liter (108.5bhp, 250Nm)
—–
Petrol
1.2 liter (103.5bhp, 175Nm)
1.6 liter (103.5bhp, 153Nm)
Also See: Visit Our Hyundai Verna FAQ section containing all small-yet-useful info altogether for your convenience
So, by considering above figures, new Verna's still offers bigger diesel engine with its impressive figures and availability of auto gearbox resulting as a powerful one, the Vento and Verna both are having a rub shoulder fight here in petrol trims. Must be thinking, City is like out of the race from here, Right? But it's not correct as there is a reason behind City's least torque in diesel. Honda has designed its newly equipped diesel mill in such a way so that it can provide a better driveability and better fuel efficiency on road, and that's why torque figures have been compromised here.
Honda City diesel offers a best in segment claimed fuel efficiency of 25.6 km/l over the 23.5-24.8km/l of Verna diesel and 22.27 km/l of Vento diesel. As far as their petrol mileage is concerned, the story is repeating itself as Honda City here again offers better figures of 17.4-18.0 km/l over Verna's 15.7-17.4 km/l and Vento's 16.09-18.19 km/l.
But this is about the paper figures; let's see how practical these cars are on roads. Honda City getting .25 extra marks over Vento just because of its diesel mill efficiency.
Engine Scores:
| | |
| --- | --- |
| Honda City | 1.25/2 |
| Hyundai Verna | 2/2 |
| VW Vento | 1/2 |
Performance:
On road, the German car new Vento really does very well. The car remains stable at higher speeds and provides more than decent handling. Vento diesel is quick when driving and also one will feel bumps-less riding and confidence turning at the corners.
Though, if we see on paper, then Verna takes less time to reach 0-100 km/h but this figure surely doesn't imply on the road and we found it a bit slow and seem to do hard effort when accelerating in city roads and this definitely is due to its throttle lag. Hyundai engineers have stiffened up the suspension a bit but still, it is far away from segment benchmarks like Vento, Rapid and Fiesta.
Again, on paper, Vento diesel is the slowest among three in acceleration but in the real world, it can surprise you with its ability. Further, the another point to be noted here is the refinement of Verna's diesel engine with this facelift version, the diesel trim is comparatively noiseless, vibration-less and probably one of the most refined engines in the segment. The steering of both City and Verna is much lighter as compared to the third one Vento.
If compared all three together then City feels a little shorter on power, but if we drive it alone then this feeling doesn't hit to our mind. The City diesel is free from turbo lag and which provides it with a hustle free driving even on the city roads. Though, like the new Verna, City doesn't get a refined engine which can be seen as a major drawback of it. The City's engine makes noise but still, we would say if ignore the fact of refinement then City definitely is the one which provides a better driveability and balanced handling on city roads as well as on highways. But it's New Vento that takes away the cherry with its best in class handling and driveability even at higher speeds.
Performance Scores:
| | |
| --- | --- |
| Honda City | 1.5/2 |
| Hyundai Verna | 1/2 |
| VW Vento | 2/2 |
Space & dimension:
Dimension wise, while City is the longest and tallest among three, the Verna is the widest one, on paper. Honda's classy sedan is 4440mm long, 1695mm wide and 1495mm tall which gets tight competition by rival Verna which carries a length of 4370mm, a width of 1700mm and height of 1475mm. Contrary, Vento by VW also has a nice proportioned dimension and gets the length, width and height of 4390mm, 1699mm and 1467mm respectively.
The all-new City again scores more by having comparatively more wheelbase of 2600mmover the 2570mm of Verna and 2553mm of Vento. This longer wheelbase of City provides it more and sufficient legroom at rear seats, the Verna and Vento also gets nice legroom and headroom though but City is still the best here and the most comfortable one. But when it comes to best in class cabin space especially the rear space, Maruti Suzuki Ciaz beats them all single-handedly.
Apart from the dimension, one more thing which makes the Honda's City better in this section is its wonderful large boot of 510 litres over the 494 litres of Vento (up by 8 litres) and 465 litres of Verna. Honda has really done a great job by updating its City as it now has a way better space at inside cabin than before. And due to City's large dimension and better space availability, we give it half point more here.
Space & dimension Scores:
| | |
| --- | --- |
| Honda City | 2/2 |
| Hyundai Verna | 1.5/2 |
| VW Vento | 1.75/2 |
Also See: Visit Our Honda City FAQ section containing all small-yet-useful info altogether for your convenience
Interior:
At inside cabin, both Honda and Hyundai has made the story worth watching by providing a trendier and impressive interior cabin in their respective sedans. While Verna is carrying a dual toned dashboard along with wood and silver inlays, City gets a glossy black dash in it. The finishing of material quality is good in both but definitely better in Hyundai's Verna. Contrary, the third sedan Vento gets a simple interior which somehow looks dull in front of Hyundai's and Honda's sedan.
On the name of interior equipment, Honda City gets 7 inch Digipad touchscreen system with voice recognition and Mirror link connectivity, one-push engine start/stop button along with smart entry key system, auto AC with touchscreen control panel and heater, rear AC vent, rear parking camera, cruise control, electrically foldable & adjustable ORVM, keyless entry, steering mounted controls, eight-speaker audio system with 1.5GB internal memory, bluetooth, USB, Aux-in, rear reading light, rear defogger, coat hanger and clock etc.
Further, Hyundai's classy sedan is designed with features like keyless entry, auto AC, electrically adjustable & foldable outside rear view mirror, cooled glove box, front seat armrest – sliding with box, rear parking sensors, rear center armrest with box, tilt and telescopic steering wheel with mounted controls, 2DIN audio system with bluetooth, USB, Aux-in etc.
while Volkswagen's Vento gets 3 grab handles above doors, folding with coat hooks, rear centre armrest, 'climatronic' auto air-conditioning, rear parking sensors, steering mounted controls, bluetooth, USB, Aux-in, rear defogger, central locking system, speed sensing auto door locks etc.
Still, comparatively, Vento lacks in features somehow, new Verna does get many new and modern types of equipment inside but Honda City is offering more features than both Verna and Vento.
These more features of City include three view modes in rear parking camera (wide, normal, top-down view), rear AC vents, touch-screened climate control etc while Verna on the other side has single view rear camera and rear AC vent etc is missing from it. And hence, for the extra and advanced features equipment in City, we give more score to it.
Interior Scores:
| | |
| --- | --- |
| Honda City | 2/2 |
| Hyundai Verna | 1/2 |
| VW Vento | 0.75/2 |
Exterior:
In this section of looks of a car where Honda's City carries eye-catching glimpse and Verna is not far behind in any terms here as well. Contrary, Vento yet again disappoints here with its plain not-so-classy outside profile. In the latest update, new Vento gets revamped front fascia in the form of three slat chrome grille, revised bonnet with deeper and downward crease, new front bumper with redesigned air dams and horizontal slats, new double barrel halogen headlamps with smoked effect and fog lamp units with cornering light function. The new Vento is by far the best looking Vento till date but still misses the charm of City and Verna.
The sharply designed curves, well-finished lines of City along with features like chromed front grille, classy alloy wheels, shark fin antenna, turn indicator on ORVM and stylish electric sunroof makes the Honda's sedan smarter and glossier than ever.
But wait, we didn't say that Verna doesn't have anything. New Verna gets, even more, in-style features like newly designed alloy wheels in top segment, projector headlamps, L-shaped LED lights around the fog lamps, illuminated switches inside the cabin which surely are good enough to take over the Honda's City and make the Verna best-in-segment.
The built quality and quality of material used is just superb in City, Verna and Vento as well, but as discussed above it's the charmless and simple design of Vento the least good looking car here comparatively.
Exterior Scores:
| | |
| --- | --- |
| Honda City | 1/1 |
| Hyundai Verna | 0.75/1 |
| VW Vento | 0.5/1 |
Final Verdict:
The VW Vento is a sedan with many plus points like its powerful engines, decent handling, and solid built quality but where it lacks is the exterior profile and comparatively fewer equipment. Contrary, Verna is a superb looking car with lots of equipment and also engine refinement but yet again if compares then it seems to lack in driving with ease in traffics, less comfortable at inside etc while our third competitor Honda City gets only one major issue and that is engine refinement otherwise it's appealing in almost every other section including driving pleasure, features, equipment, comfort, practical and last but not the least, it's cheap maintenance cost post buying.
Final Scores:
| | |
| --- | --- |
| Honda City | 8.75/10 |
| Hyundai Verna | 7.25/10 |
| VW Vento | 7/10 |