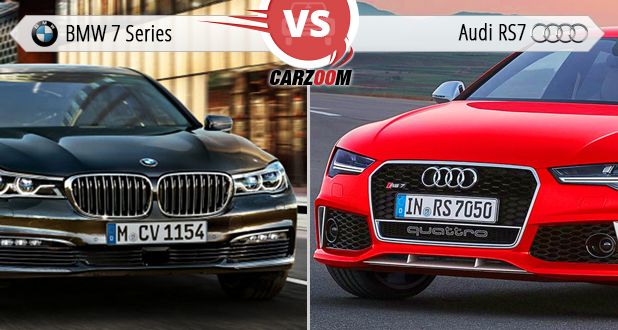 In the automotive market there are two German luxury automobile brands well known for their stunning and eye-catching models and famous for their arch rivalry…Yes, you guessed it right! We are here talking about Audi and BMW and their two gorgeous, dashing and sporty models are Audi RS7 and BMW-7 series. When the car like 7 series and RS7 arrives to the Indian shores, excitement level just goes to the different levels. Both these cars are performance-oriented vehicles and they are not different from each other in terms of brand value, performance and lavishness.  It's like committing a crime to compare both these cars but just for our beloved readers we'll do this and will let you know on the possible differences between the two to conclude which one is better among the two and why.
Price
These both cars are very steeply priced and hence it is basically meant for rich brats such as businessmen, celebrities and few rich common people. Also, both these are the sporty cars in which you just want to fly on the road. You would be in very small minority if you choose to buy either of these luxurious cars as Prices of both these cars are rather steep. The Audi RS7 is placed at the very competitive price range of 1.14 and Rs. 1.6 crore while the BMW's luxury sits at same high-scale prices between Rs. 1.47 crore and 1.6 crore.
Engine details
While the Audi's luxury offers just two variants with petrol unit, the BMW-7 has overall five variants, out of which three have diesel fuels and two has diesel.
The 2015 RS7's petrol variant runs with same 4.0 liter TFSI twin-turbocharged V8 engine and develop the excellent max power of 552bhp and peak torque of 700Nm, while the BMW-7 has comparatively bigger petrol engines which are 4395cc and 5972cc Twin Power Turbo MPFI engines developing the max output of 450bhp, 650Nm and 544bhp, 750Nm, respectively. Though, Audi's luxury has smaller engine but still match with the output of BMW's luxury which is quite a plus point of the Audi RS7.
On the contrary, the BMW-7 also offers a diesel variant which is missing in Audi RS7. This diesel fuel is 2993cc, Twin Power Turbo Diesel E churning out the max power of 258bhp and 560Nm.BMW has recently added a new 740Li Design pure excellence trim which houses the same 3.0 litre turbocharged engine that makes max power of 326bhp and 450Nm of torque.
However, the comparatively more offered variants by BMW-7 with both fuel options somehow take over the Audi RS7 but still there are many bonus qualities in Audi too, let's go further. Other than this, both luxury models are mated with the 8-speed automatic transmission gearbox which provides them a better handling and comfort.
While the Audi RS7 provides the impressive combined mileage of 10.52 km/l, the BMW's variants offer combined mileage of 16.46km/l (in diesel), 11.62km/l (in 4395cc petrol) and 12.5km/l (in 2993cc petrol). Being a sportier model, these fuel economy figures are quite satisfactory.
Performance & Safety
Both the models share the badge of high-profile brands which are known for its luxury and high-level of safety materials and thus same can be seen here. Audi RS7 and BMW-7 are equipped with those safety features which ensure the proper security and comfort of these models.
Meanwhile, the Audi RS7 attracts with it's one of the amazing cylinder deactivation feature which shuts the four cylinders out of eight when they are not in use, the BMW-7 has the night vision with dynamic light spot which detects pedestrians in the dark even from a long distance and selectively illuminates them. Handling and braking wise, both the luxury models assure to give proper satisfaction.
2015 Audi RS7 could achieve 100km/h in just 3.9 seconds with the top speed of 250km/h one can take the top speed to 280 or 305 km/hr by opting for Dynamic package while the BMW-7 takes 6.2 seconds (in diesel), 4.8 (in 4395cc petrol) and 4.6 seconds (in5972cc petrol) which is comparatively slow as compared to Audi RS7 Sportback. The new 2993 cc engine can make 0-100 sprint in just 5.6 seconds with the top speed of 250km/hr.
Interior & Exterior
The outside glimpse of both the models is just stunning and people couldn't resist themselves from looking at them without closing the eyes once. The slim n sharp double headlights, body colored bumpers, clear lens fog lamps and attractive tail lamps increase the beauty of royal BMW-7.
Similarly, Audi RS7's black honeycomb grille with single toned, revised bumper with Quattro calligraphy, oval shaped double silver shaded tailpipes, door mirrors with aluminum look, new T shaped LED headlights with optional LED matrix technology, slim n down-to-earth front bottom, new LED tail lights, 21/20" alloy wheels are some of its features which compliments this luxury model and justify the badge of Audi properly. The available luxury features in bulk, use of premium quality materials make these models more and more luxuriant than any other same segment models. Audi is also offering three optional packages with 2015 RS7- Gloss black, Carbon and Matt Aluminum.
Verdict BMW-7 Pros
Offers both petrol and diesel fuels
Comparatively more engine options and tech loaded
Audi RS7 Pros
Stunning exterior adds extra glimpse
Slightly faster than BMW-7 series
One of fastest and thrilling machines around