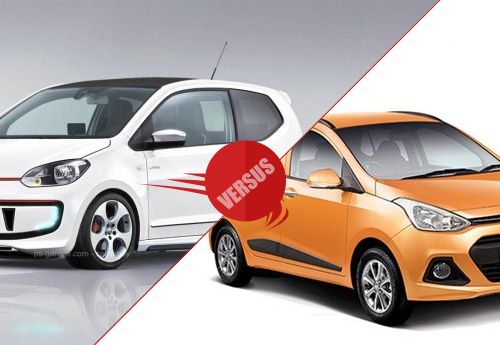 This year, you wouldn't want to be waken up after the September ends for sure! Because, its the superhot September with two of the most consistently epitomic car manufacturers are suggested to launch their mini-missiles in the market to make a boom. We are talking about the B-segment hatchback cars here, and the plans to pull the bow are on total hype from Volkswagen and Hyundai. Hyundai with its upcoming car, the Grand i10 and Volkswagen with its Up!
Both vehicles will be based on precisely the same category of cars but they will differ from one another way too seriously. The Up will be the cheapest Vw to be offered in india and hence expect less drama and sparkles with simple design and body structure and and futuristic-cheap-polo look. The car will be longer on wheelbase though and space will be adequate and expected to be more than what currently provides the Polo. While on the other hand, Hyundai is on some higher level of trimming by baking its highest selling model under the Fluidic design heat with seasoned flare and appeal to the 7 year old hatch. Also, Vw's cost cutting scheme might take away those standard bling factors like ORVMs, body color handles, alloys and power mirrors. While the Grand might make you go kudos with its freshness and prismatic look appeal.
Internally, the Up seems to work way too crazily on save-money scheme with scaled down Polo interiors but Vw really would get admiration if adds those proposed 2 screens for info-tainment purposes. Apart from that and expected huge space, its all subdued inside and no fancy stuff around, you may expect a bit of German flare like a smart audio system, optional leather upholstery and climate control though as things are still in the box from Vw, not leaking much about the car. While the Hyundai reveals clearly and proudly about its superb and premium car filled with riches as plush two tone beige-black combination inside, i20 derived cabin and space and a number of luring goodies inside like smart key, rear AC, Engine start/stop button, 2DIN Mp3 audio, steering mounted controls, park assist etc. Grand really claiming its name here, gets our vote!
On engineering, both the cars are sweet! Volkswagen on one hand is planning to plant the car with a Polo sharing 1.0 litres, 4 pot petrol engine and 0.8 litre, 2cyl, turbo diesel engine. While a 1.2 litre TDI, Polo aspirated diesel is on cards too. On the other hand, Hyundai relies on the conventional 1.2 litre KAPPA petrol engine along with a fresh in-line and state of the art 1.1 litre U2 CRDi diesel engine, making its debut. While the petrol unit in Up is borrowed from polo and trusted, we don't doubt about its performance and specs, so as for the KAPPA from Hyundai. But both the diesel mills will have to make their role count right after their respective launches, and then only can be commented upon the performances and rideability stuff!
So lastly, both the cars are new and bringing something as their own in the market. But different as they are, we expect the Up to be somewhere around 3.5-5.5 lacs and even cheaper. But the Grand, with its Grand presence to be made, it should cost somewhere around the range of an i20, 4-7 lacs. And still, if there has to be a winner, it should be the i10, but that doesn't really makes the Up a sinner, it still has to show itself up!
P.S. Read this space for complete pre and post launch news and reviews.