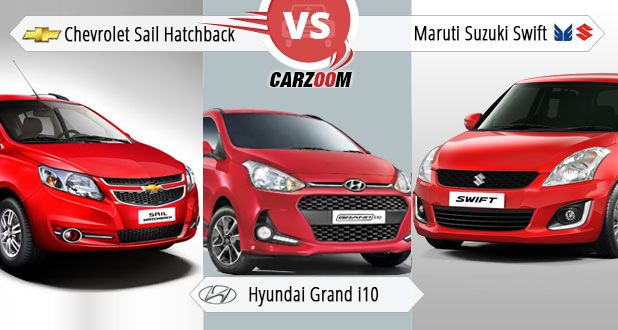 In the most competitive yet alluring segment, we are here to make your decision easier in choosing the best car for you. In order to achieve that today we are comparing three most promising hatchback in today's era Simple-neat Sail hatchback, King of hatchbacks 'Swift' and European onslaught new Grand i10. These three hatchbacks are good in their own way if one has space other has designed but one thing that ties them in a knot is their even price range. When three cars are available in similar price that makes a prospect buyer more confuse so to eliminate that confusion we are going to tell you the ifs and buts of these three cars by comparing them.
Price:
Chevrolet's hatchback has been criticised for higher price whereas the other two tick the right boxes in terms of price. The base variant of Sail hatchback starts at 4.81 lakhs which is more than what its chief competitors Maruti Swift, Grand i10 are offering.
Top variant of all the cars are also on the same platform they almost finished under 8 lakh bracket which is close to an entry level sedan.
Engine and Performance:
Chevrolet hatchback only name has been changed but it carries the same engines as before 1.2L smartec petrol and 1.3L multi-jet smartec Diesel boxes. The diesel engine will leave in a surprise with its refined and linear power delivery, for city ride, it is just perfect. Initial turbo lag is going affect the drivability of Sail hatchback, mid range is very impressive with a light clutch, short gear throws etc.
Chevrolet hatchback is well suited for city driving with decent highway drive capability, NVH levels are well controlled in a diesel though on bad roads tyre noise is fairly evident inside the cabin. Tuned suspension and 174mm ground clearance will easily soak the bumpiness of Indian roads probably among the best when it comes to riding and handling. GM claims hatchback will return a fuel efficiency of 22 KPL for diesel, 18 KPL for petrol and you will get around that mark.
Maruti Suzuki swift gets a recent update which is not only restricted to its look but in the engine also. Maruti reduced the power delivery in order to get better fuel efficiency; 1.2L VTVT petrol engine now returns 83.1bhp power instead of 85bhp whereas fuel efficiency shows a massive improvement of 9.7% which now stands at 20.4KPL for petrol and 25.2KPL for Diesel.
As soon as you start the engine with start/stop button you will feel better-refined level, initial turbo lag is there but it quite reduced as compare to old Gen Swift. New Swift performs in a more mature manner now overtaking the aggressive nature of Old swift which will be missed by fun enthusiasts but its mature ride will increase the comfort level especially for long drives.
Cruising at triple digit speed is not a problem in new Swift it will be stable at even 120 km/hr without affecting the handling. Swift engine probably among the best after Hyundai's Kappa k2 engine followed by Brio. Only negative thing Swift has is mediocre brakes.
Hyundai Grand i10 1.2L diesel engine is a better engine than older model with improved performance, good fuel efficiency and excellent NVH levels. Previous Gen i10 weakest point was its shaky handling but in Grand i10 it is the foremost attractive point.
In ride and handling department it can even beat much costlier i20 (old gen), overtaking at higher speeds will require some downshift. In ride and handling department almost all the three cars are quite similar but if one have to choose who is best then its grand i10. Maruti Swift had ordinary brakes whereas Grand i10 are sharp and capable.
Space and Dimensions:
Sail hatchback is fairly a big car as compared to Swift and grand i10 with 3946mm length, 1690mm width and 1503mm height. Sail hatchback provides more than decent rear space which can even shame some sedans, whereas 2nd best in rear space department would be grand i10 which fits in 3 adults easily unless they are not healthy and last, is Swift in which rear space has improved but still needs improvement.
Exterior:
Chevrolet Sail Hatchback is probably the simple looking car amongst the trio despite after getting an update. The front side of is now more sporty with powerful illuminating headlights, chrome embedded fog lamps and front grille will give you resemblance of baby Cruze. Side remains same with dated styling, flap-type door handles, large doors and subtle crease at the rear roof top. The rear side is the most dated one with decade old styling tail lights, lost in place keyhole etc. It is a neatly designed and sober car which is not at all a bad design car but it will not excite the enthusiast.
Hyundai grand i10 is perhaps the most attractive looking hatch among the three, Grand i10 is the facelift and improved version of the older model in terms of outer appearance.  Grand i10 looks sportier in terms of new cascading front grille carrying Hyundai logo, Swept back headlamps, circular fog lamps with LED DRLs, the side gets crisp swag line, chrome pull type door handles, big ORVM"s with turn indicators, black mouldings, roof rail and roof antenna. Apart from that rear side gets small swept tail lights, defoggers and four parking sensors which also add to the safety elements of grand i10.
Maruti recently tweaked Swift with countable changes but it will take an eagle eye to spot the differences like new chrome headlights, toothy grille, fog lamps now gets chrome surrounding, ORVM's are now electrically foldable and rear parking sensors. Main changes have been done inside the cabin. Swift looks muscular them of all with the big bumper but recently it failed in NCAP crash tests so what's the benefit of such big structure which cannot save the life of its occupants.
So in this section grand i10 seems to take away the cherry with its modernistic design.
Interiors and Safety:
Sail hatchback has always been under scrutiny for dated interiors and quality used in it, but new model gets beige upholstery, A/C vents and Power windows buttons with chrome elements, 2 DIN audio system with 5 phone pairing facility etc. Seats are the bit hard yet supportive with front seat height adjustability missing and also features like climate control, steering mounted controls and electrically foldable ORVMs are still not there which other cars of this segment possess.
Fit and finish are satisfactory but again material used is not of good quality and voice quality of speakers is a bit like a singer is singing with a sore throat. Overall cabin is improved but it lacks some equipment which competitor cars do have.
As far as safety is concerned top variants of Sail hatchback is equipped with features like dual front air bags, speed sensing auto door lock, keyless entry, engine immobiliser, dual horn etc.
Hyundai Grand i10 wears the grand interiors as the name suggest, Feel and finish of the interiors are supreme, black beige upholstery compliments the cabin very well. The ambience of the cabin is best in this comparo and it has a universal feel which Sail hatchback and Swift doesn't have.
Seats are premium with good under thigh support apart from seats Grand i10 is a feature rich car with attributes like Keyless entry, steering mounted controls, chilled glove box and first in segment rear A/C vent. Drive side seat gets height adjustability with reasonable range and front seats also get fixed headrests but adjustable headrests would be a better option. There is sufficient amount of space available for taller passengers whether it's legroom, headroom space etc. From the entertainment point of view, there is a 7-inch touchscreen AVN system with Apple car play, Mirror link and Android auto.
In terms of safety, Grand i10 is well equipped with a long list of safety features driver side airbag is standard across the range while passenger side airbags are available on Sportz (O) and Asta grade.
Maruti Suzuki refresh Swift cabin layout is moreover same but after updating, it gets some add-ons like the audio system is now equipped with Bluetooth telephony, Swift now gets start/stop button, new fabric upholstery, automatic climate control (Top variant). Apart from the equipment seats are firm and have a bucket feel which suits you for long drives, the gear box is light and easy to use. Overall cabin is same as the Old Gen Swift but it's the equipment which have been added to refresh Swift but honestly, Grand i10 is still ahead of Swift in terms of almost everything in this department.
European Spec Swift gets 5 stars NCAP rating but as we all know in the recent Test Indian Spec Swift failed in the Crash test and get 3 stars when two airbags were added to it which is an average score. Refresh Swift gets reverse parking sensors for the first time, dual airbags, ABS, 3 point seat belts etc.
Verdict:
In terms of drivability there is a very stiff competition among all three cars, Design and cabin department clearly belongs to Grand i10 followed by Swift and Sail hatchback. Hyundai has better service than Maruti but it's the reach that makes Maruti Superior to Hyundai and Chevrolet. If you want a simple looking car with fine performance and spacious cabin than Sail hatchback is good for you but if you want new Gen design based car then going for Grand i10 without hesitation and if you want a blend of Sail and Grand i10 with quirky design (in a good way) with utmost reliability than Swift is just a steal.