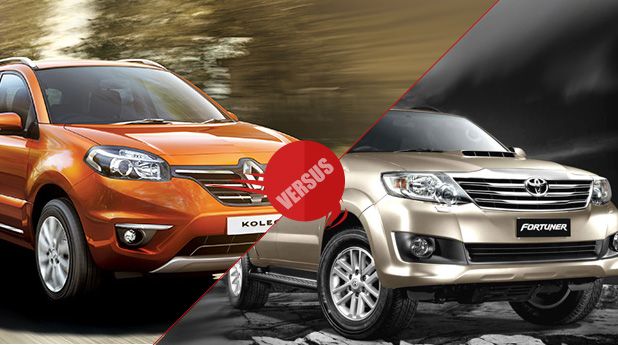 Needless, to say, Sport Utility Vehicles (SUVs) have become the most demanding category now-a-days. The reason is the offering of more space, more seating capacity, more storage, more powerful engine and better performance on road. There is a bulk of SUVs in Indian car market and people just love to ride it. Whether it's any family/friends long trip, or any official tour with a group of people, it can help you very easily in the same manners. Probably its increasing demand is one of those reasons which are influencing the carmakers to do more n more innovations in this category.
Well, a facelift model in SUV has been launched and we were wondered how it is different with other same segment models. To reach to the appropriate conclusion, we are here to compare this trendy car with its rivals. This all-new SUV is Renault's facelift Koleos and today we are comparing it with its one of the strongest competitors Toyota Fortuner which already has make a unique place among Indian hearts and also India's most selling car of same segment.
Price:
While Renault's SUV costs at whooping price of 21.29-24.97 lakhs, the other car maker Toyota placed its trendy car within the price range of 21.81-23.41 lakhs which clearly seems slightly affordable than Koleos (top end variant).
Engine & Performance:
Coming to under the hood, there is a similarity between these two models that both offers only diesel fuel units with not only 4×2 wheel-drive system but 4×4 wheel-drive as well, petrol unit is missing though. The Renault Koleos gets a 2.0 liter, 1995cc M9R diesel engine which is good to develop the max power and torque of 148bhp, 320Nm (in 4×2) while 170.6bhp, 360Nm (in 4×4).
Contrary, Fortuner's engine seems more powerful than Koleos. It gets 3.0 liter, 2982cc D-4D diesel engine developing the max power of 168.7bhp (in both 4×2 and 4×4) while peak torque varies from 343Nm to 360Nm (depends upon 4×2 and 4×4 variants).
However, Koleos 4×2 is just mated to a 6-speed manual transmission but its 4×4 variant also paired up with 6-speed automatic transmission as well along with 6-speed manual. On the other side, Fortuner gets 5-speed manual and automatic both option in its 4×2 mode while only a 5-speed manual in 4×4.
While Toyota Fortuner is already known for its better drivability, comfort handling on road, Koleos is not much different too. It's true that Koleos is not as much popular as Fortuner but after this facelift model of Koleos, we can definitely consider it as a big rival of Fortuner. Though, Toyota's brand image in India will help a lot Fortuner to raise its glass higher than Renault.
As per its fuel efficiency is concerned, Koleos again takes the cake away by offering ARAI certified mileage figures of 17.15 km/l (in 4×2 MT), 16.26 km/l (in 4×4 MT) and 14.56 km/l (in 4×4 AT). While on the other hand, Fortuner produces the mileage of around 12.55 km/l which definitely could be better if compared to Koleos. So in average, all-new Koleos somehow beats the Fortuner with slightly ups and downs here.
Space & Dimension:
By having seating capacity for seven passengers, both the SUVs offer a very useful family based model. Measurement wise, Fortuner is slightly longer and taller than Koleos. The Toyota's model is 4705mm long, 1840mm wide and 1850mm tall while Renault's car carries length of 4520mm, width of 2120mm and height of 1695mm. Additionally, Fortuner carries comparatively longer wheelbase of 2750mm over the 2690mm of Koleos. Both the models share the spacious cabin at inside with appropriate luggage storage etc.
Interior, Exterior & Safety:
Look wise, both the models are extremely sportier and just suitable for a long family or friends drive. Though, Renault has modified its SUV with this facelift model but still it can't just completely beat the Toyota's muscular and aggressive SUV. Their aggressively designed front with heavy bonnet and stylish grille, classy tail lamps, modified headlamps are some of those features which just make these both models unique in the crowd. We give equal points to both SUVs for their massive look.
The interior of Koleos is full of requisite equipments as per the need of people now-a-days, these features availability somehow lacks in Fortuner. But Fortuner is build with premium quality material and a tough muscular which are the specialty of Toyota's models. However, with this renovated model, Koleos has done a great job in its interior as well as exterior which definitely leads to a step ahead of Fortuner.
Safety wise, both the trendy SUVs are equipped with necessary features like airbags, ABS with EBD etc. which ensures of the safe driving and handling on road.
Verdict:
Renault Koleos Pros:
Presence of both 4WD as well as 2WD wheel-drive system
Better mileage
Slightly rich in interior as well as exterior features
Renault Koleos Cons:
Comparatively expensive
Brand image is not as much reliable as Toyota
Comparatively not-so good after sale services
Toyota Fortuner Pros:
Presence of both 4WD as well as 2WD wheel-drive system
More affordable – Toyota's trustworthy image in India
Excellent after sale services
Toyota Fortuner Cons: