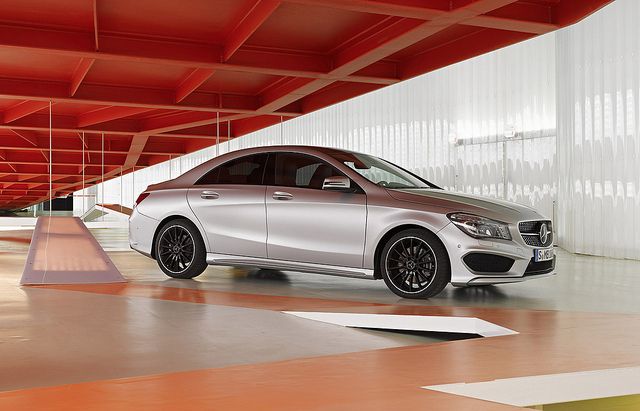 Once a Mercedes, always a Mercedes! One of the most desired cars now goes economical to woo the new genre of car buyers with low budget and high aspirations. Though, currently the tug of war is between Audi and BMW, Mercedes is also bent to craft its own slot in the mid range of 20-40 lakhs. It was termed as a quite deliberate decision when this German car maker made its foray into luxury compact sedan with A- class and B- class. To continue with the success of these sedans, the company is now in the mood to launch CLA class which is based on the same MFA (Modular Front-wheel Architecture) platform as used in earlier versions. In this Concept style coupe sedan, the company has reinvented its rather conventional styling with a more subtle and radical design. We tried to delve quite deeply to introspect it pre launch on some basic parameters here.
Pricing:
It will be expectedly priced in the range of Rs. 25 to 30 lakhs. It is specifically targeted to give a tough competition to Audi and BMW in this all German dominated segment.
Brand value:
This luxury car maker has always enjoyed a soft corner in every Indian heart. With sleek looks and German engineering, they entered Indian market in a very indomitable manner with Front wheel drives made on MFA platform, called B class. In the span of 17 years, this company has been catering to the demands of Indian car market with its defining luxury and technology.
Engine:
Mercedes is planning to launch CLA class in four engine options with one diesel and three petrol variants. The petrol engines named CLA 180, CLA 200, and CLA 250 will emit the power of 122 BHP, 156 BHP, and 211 BHP respectively. However, the diesel engine, CLA 220 CDI will produce 170 BHP. With a peak torque of 350 Nm emanated by CLA 250 and CLA 220 CDI, these engines have the capacity to propel a high speed up to 230 km/h. All these engines are mated to 7-speed twin clutch gearbox. It is likely to give an overall mileage at 17 kmpl.
Space:
The top most versions CLA 250 will be presented in the dimensions of 182.3x 70x 56.6 inches which is somewhat greater than the current generation C- class. There is ample boot space inside this sedan for a comfortable rear seat experience. It has a convenient head space to facilitate even a 6ft tall get in and out easily.
Interiors:
The interiors of CLA class have that elegant Mercedes Benz touch to the core. The fusion of traditional German style with modern equipments is very mesmerizing. Sporty and spacious seats, advanced air conditioning vents, 3 spoke steering wheels with mounted controls and shift paddles, central locking, sunroof, iPod/ MP3 interface, Bluetooth, satellite radio, 5.8 inch color touch screen packed with Mercedes' COMAND system that gives complete infotainment, cloud based applications, navigation, and climate control.
Exteriors:
With sharp exterior, it is surely a head turner. The front radiator grille with 3-spoked star symbol of Mercedes gives its front facade a jazzy look with daytime running LED lights, aerodynamic shape inspired with outer view mirrors, muffler tip, and an excellent rear styling. Tail lights are quite appealing along with 17" alloy wheels, a sloping contour of rear windows, side skirts, bi-Xenon headlamps, and trunk mounted spoiler.
Road handling:
With excellent ground clearance and suspension, this car ensures you a pleasurable drive with a sprinting speed of 230 km/h reached in 8.2 seconds. It has airbags, Blind spot assist, Lane keeping assist, Parktronic and Distronic Plus to ensure safer ride in this luxury sedan.
Verdict:
There is certainly no doubt that Mercedes CLA class will catch the fantasy of many Indian buyers. It has the style, the power and the ultimate luxury ingrained with an exceptional brand value. It is expected to be launched by 2015.