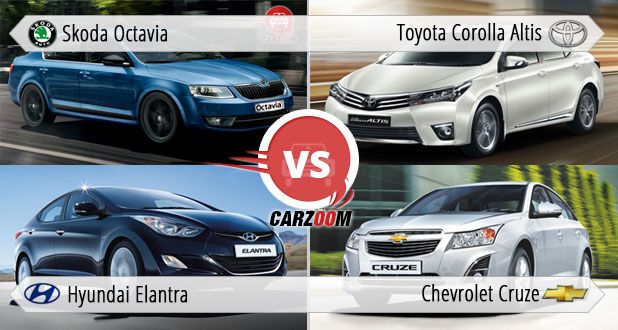 Hyundai updated Elantra sedan last year which came as a surprise launch as everyone was waiting for the new Elantra. Now, after countless leaks and speculations, next Gen Elantra has finally been launched in India with new design, extended dimensions, new range of features and lucrative pricing. Hyundai Elantra competes in the D-segment in which elite cars like Toyota Corolla Altis makes its presence and it is needless to say that Corolla Altis is a globally renowned classy sedan. It is running quite successfully in India especially after company has given a refreshed 2014 look to this cool model. Chevrolet has also launched updated version of its executive sedan Cruze though the all new Cruze is due for 2017. Since there are sparkles all around the Indian car market which obviously make comparison market hot too. We are here with the comparison of newly launched Hyundai Elantra with its main rivals in the segment which are Skoda Octavia, Toyota Corolla Altis and Chevrolet Cruze. Let's have a summarized look.
Usually, every car manufacturer at the time of launch and every buyer at the time of buying a new car concentrate on few important criteria such as:
Price affordability
Look of the car
Powerful engine & fuel efficiency
Brand image & After-sale services
And hence, this comparison is based on these important points. However, every car maker tries to make its car on above mentioned benchmarks but still there can be only one boss in each, let's see who steals the show here:
Also See: Visit Our Hyundai Elantra FAQ section containing all small-yet-useful info altogether for your convenience
New Hyundai Elantra vs Skoda Octavia
Price Affordability
Despite of sharing same segment, there is much difference in their price tags.
While Hyundai offers the 2016 Elantra with the base price of 12.99 lakhs in petrol and 14.79 lakhs in diesel, the rival seems very expensive here as Octavia's base price starts from 15.6 lakhs in petrol and 17.2 lakhs in diesel.
As far as their end price tags are concerned, same story is there as well. Elantra's price goes up to 17.99 lakhs in petrol and 19.19 lakhs in diesel while on the other side; Octavia again is heavy with the price and goes up to Rs. 21.0 lakhs in petrol and 22.6 lakhs in diesel.
And without a doubt, Hyundai takes the crown here in this section.
Look of the car
However, both cars carry trendy n attractive outside glimpse but there is freshness can be felt in Hyundai's updated sedan.
New Hyundai Elantra is designed with new refined features at outside like classy Hexagonal front bumper and tapered projector headlamps with LED guide lights and boomerang LED fog lamps while ongoing Octavia has its conventional front grille along with Bi-Xenon head lamps and new monochrome logo.
Dimensions: Skoda Octavia is a segment leader here by carrying more length, width and height which naturally resulted in more legroom and headroom at front as well as rear. But yes, we can't ignore that Hyundai has also improved the dimension, legroom and headroom of Elantra series and also improved wheelbase giving its occupants more knee room and shoulder space underpinned by premium comfy seats.
Interior and safety
Also, what good is in Skoda's sedan is its enriching interior. Skoda has filled a bucket full of requisite, comfort and small yet useful interior equipments in its Octavia like touchscreen system, 12 way adjustable driver's seat, dual zone automatic climate control etc.
The new Elantra now sports dashboard inspired by global models flanked by features which will no way leave you wanting more and more. It is now equipped with features like an 8 inch touchscreen infotainment system supporting Android Auto, Apple car play, voice recognition and satellite navigation.
Though, Skoda Octavia has solid build quality which is not an easy job to match by any other car maker. Octavia also offers 8 airbags to keep its passengers safe while Elantra gets as many as six.
Overall, we give equal scores here to both the smartly designed sedan but Elantra Scores more on catchy rear side design over simple and rapid resemblance design of Octavia.
Also See: Visit Our Skoda Octavia FAQ section containing all small-yet-useful info altogether for your convenience
Powerful engine & fuel efficiency
Skoda provides Octavia with three engine options which are 1.4 l petrol, 1.8 l petrol and2.0 l diesel while Hyundai Elantra on the other hand is powered by 2.0 l petrol and 1.6 l diesel mills.
Octavia's more powerful diesel engine also develops much more output and torque than its rival here. Also, both sedans have powerful petrol unit but still Octavia again is a leader here by producing more power of 177bhp over the 150bhp of new Elantra.
As far as Mileage figures are concerned, Skoda Octavia makes the statement in its petrol trim with segment best mileage of 16.8 Kmpl and 14.7 Kmpl while Elantra takes away the cherry with best in class mileage of 22.4 Kmpl.
In terms of road performance Skoda Octavia is more appreciable here. Both the sedans offer automatic transmission with the diesel and petrol engines but Skoda's DSG gearbox is one of best to drive.
Brand image & After-sale services
While Hyundai is known for its reliability and excellent after sale services, Skoda somewhere seems behind in this segment. Though, it will not wrong to say that Octavia is a successfully running model in India and has its own group of target audience.
But, being a pure Indian model, Hyundai provides a low after maintenance cost to its customers which on the contrary is much high in Skoda's model.
Final Conclusion
If you are not bound with your budget and not a brand-freak and also can ignore the maintenance issues post buying and want a car with ultimate drivability then Skoda is definitely the one for you because it has that tendency to take over the Hyundai Elantra. But if you want a car from reliable brand and for a long life but can compromise with fun driving as compared to Octavia then close your eyes and opt for Hyundai's new Elantra with full confidence.
Also See: Visit Our Toyota Corolla Altis FAQ section containing all small-yet-useful info altogether for your convenience
2016 Hyundai Elantra vs New Toyota Corolla Altis
Price Affordability
Both the cars share almost equal price ranges and justify being in a same segment.
While Toyota offers the new Altis with the base price of 14.1 lakhs in petrol and 14.96 lakhs in diesel, the rival seems to give a rub shoulder fight here as Elantra's base price starts from 12.99 lakhs in petrol and 14.79 lakhs in diesel.
As far as their top end price tags are concerned, same story is there as well. Altis's price goes up to 18.80 lakhs in petrol and 17.87 lakhs in diesel while on the other side; Elantra again is not sitting behind with the price and stops the end-price race on 17.99 lakhs in petrol and 19.19 lakhs in diesel.
Must say, Toyota has priced its car very smartly but Elantra is still slightly more affordable here.
Look of the cars
Must say that Hyundai's Elantra was a boss after the discontinuation of Honda's very popular Civic and till the Skoda's offered its legend car Octavia. Till now, Elantra had Octavia as its only top-most competitor but now Toyota Corolla Altis has jumped in the race too.
Now question is what makes the new Elantra better than Altis? And the answer is its new refined and refreshed form. Yes, the Corolla Altis is also undoubtedly a good looking car but as Hyundai has brought newly designed Elantra; it might possible to fade the shine of Toyota's Altis.
So not going into any further detail, we give half point extra here to Hyundai's refinement though Corolla Altis is due for an update which is expected to hit the shores by the end of 2016 or early next year. The new model will not be a complete transformation of the current model, it will flaunt new front fascia with new grille, bonnet and refreshed pair of headlights and new rear.
Powerful engine & fuel efficiency
Toyota and Hyundai both provides a 1.8 liter and 2.0l petrol engine in its respective models but by having comparatively more power and torque in new Elantra.
On the contrary, Elantra is powered by the more powerful diesel engine of 1.6 liter over the1.4 liter of new Altis and also develops better power and torque.
Elantra here gets more point by providing both manual and automatic transmission in its both petrol and diesel mills while in new Altis, automatic gearbox is only available in petrol trim.
On road, Elantra performs very well and same reports are from Corolla Altis's predecessor version. Specially, Hyundai-Elantra-petrol-model performance decently and provides civilized handling on road. In the diesel Segment there is no doubt that Elantra outshines Corolla Altis by huge margin but there is stiff competition in petrol section.
Brand image & After-sale services
Toyota and Hyundai both are said to be one of the good and reliable brands in India and also both brands offer top-notch after sale services to its customers.
But when it comes to maintenance-cost-post-buying then Toyota is far better than Hyundai by a big leap and offers maintenance at a much lower cost.
Final Conclusion
Toyota Corolla Altis has been a segment leader since long but now it is facing a tough fight from its rivals, first from Chevrolet Cruze and now from Hyundai's all-new Hyundai Elantra. As New Elantra is a newbie in market and hence carrying advanced technology and refined equipments, so it will not be regretted to avoid Corolla Altis for a once.
New Hyundai Elantra vs Chevrolet Cruze
Price Affordability
Chevy Cruze gets only diesel mill which carries slightly lesser price tags in comparison to its rivals.
While Hyundai offers the refreshed new diesel with the base price of 14.79 lakhs, the rival seems to give quite a rub shoulder fight here as Cruze base price starts from 14.27 lakhs.
As far as their end-price tags are concerned, Elantra-diesel model price goes up to 19.19 lakhs while on the other side, Cruze again is way affordable here and stops the end-price race on 17.7 lakhs almost 1.5 lakh cheaper than Hyundai Elantra's top end variant.
Look of the cars
As far as their looks are concerned, Chevrolet Cruze has never got a standout-from-crowd-glimpse, not even after its last updation while Hyundai Elantra recently with this new renovation gets an appealing glance at outside and can be a head turner.
We really are waiting for Chevrolet to refine its trendy sedan Cruze which is slowly losing its charm. There was a time when Cruze had heavy market demand and popularity among Indian customers but now time has changed and so have people likes. That popularity has gone to other same segment models including Toyota Corolla Altis and not-to-forget our recently launched Next Gen Hyundai Elantra.
So here again, just because of Hyundai Elantra's freshness, it has managed to get more points than Chevy's Cruze but it doesn't mean Chevy is a bad looking car.  
Powerful engine & fuel efficiency
Let's start with availability of fuel options. While Hyundai has equipped both petrol and diesel fuels in its sedan, Chevrolet just provides diesel mill to Cruze.
Though, available 2.0 liter diesel engine of Chevy's car is more powerful than Elantra's 1.6 liter diesel and also derives much better torque and power. The Cruze diesel develops [email protected] and 360Nm [email protected] while the new bee gets the same 1.6l CRDi diesel trim which is good for [email protected] and 259Nm of peak torque between 1950-2700rpm.
But as far as their fuel economy is concerned, despite having bigger size engine, Cruze fails to achieve as much mileage as Hyundai Elantra's.
The Chevy's sedan offers claimed mileage of around 17.3 km/l while Elantra gets much better which goes up to 22.54 km/l approx.
Brand image & After-sale services
However, both brands are senior brands of India but still differ on the grounds of their post buying servicing and maintenance.
While Hyundai is well known for its wonderful after sale services and top-notch of customer's satisfaction, Chevrolet/ GM fails to set that benchmark and gives below-satisfactory level of services post buying.
Final Conclusion
If to say in very short and precise then new Hyundai Elantra is the one to choose due to its refreshing nature, modifying glimpse, fuel efficiency and last but not the least Hyundai's trust. But you want a car with excellent drivability with very strong mid-range performance and ready to shed more bucks then just go for Octavia. But if you wanna save your hard earned money than Hyundai's new sensation is just the right choice.