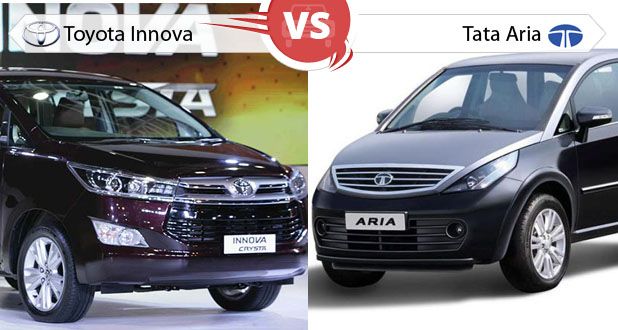 Toyota has recently launched the updated version of its MPV Innova in India which was unveiled at 2016 Auto Expo. This updated version of Innova is loaded with few more equipments at inside while refined aesthetics at outside. Recently we tried our hand on this utility vehicle and distinguish the main differences between Tata's not so well selling Aria and its one of the top most rival in Indian automobile industry Toyota Innova. Let's have a deep look.
Price:
On the grounds of their costs, both the SUVs seems similar, coz these both diesel trims are carrying almost equal price tags. While the Aria comes with the price brackets of 11.1-16.3 lakhs, the Innova Crysta can be availed between Rs. 13.83-20.77 lakhs.
Engine details:
As mentioned above, Toyota and Tata equipped only diesel mills in their SUVs Innova and Aria respectively, though diesel engines are even being demanded more these days.
Tata Aria is powered by a 2.2 liter, 2179cc VARICOR diesel engine developing the max power and peak torque of 147.95bhp and 320Nm respectively.
However, Innova seems to be powered by a comparatively bigger and powerful 2.4 liter turbocharged diesel mill which displaces 2393cc and responsible to churn out the max power of 147.6bhp and peak torque of 343Nm. New Innova also comes with bigger 2.8l engine that belt out 171bhp power and 360Nm of torque
Both the engines of these cars are mated only to a 5-speed manual transmission gearbox while automatic version is missing. Though these are commercial/ family based models where auto transmission is not demanded more.
One more notable thing here is the availability of two-wheel-drive (2WD) and four-wheel-drive (4WD) in Tata Aria which is missing in Innova. There is a small button in Aria which is responsible to switch the mode from 4WD to 2WD and vice-versa. This also improves fuel efficiency of this trendy Tata SUV.
As far as there fuel economy is concerned, again Toyota's MPV scores a bit more here by having claimed mileage of 15.10 km/l over the 15.05 km/l of Toyota Innova.
Performance:
Though, both SUVs are easy to drive on road, but comparatively Innova performs well especially in city roads. The steering wheel of Innova is light and much easy to handle, even at high speeds this big car remains stable and well balanced. But yes, here is a lack point too which is car's noise and less power which one can feel at the time of driving at high speed.
Contrary, Aria's engine is noise less and refined but its steering is li'l bit heavy to use. Still, the better power and torque of Aria provides it a quicker speed than Innova despite having its smaller sized engine.
Space & Dimension:
Dimension wise, Aria is longer than Innova which also sometimes create problem when it comes to park it in any congested city road but on the contrary also makes it more spacious than Innova.
The Innova is 4735mm in length, 1830mm in width and 1795mm in height while the Aria is 4780mm long, 1895mm wide and 1780mm tall. The Tata's SUV carries comparatively longer wheelbase of 2850mm over the 2750mm of Toyota's which translates into more legroom space for 2nd and 3rd row passengers.
While the Tata Aria has seating capacity for seven passengers, Innova Crysta offers both seven-seater and eight-seater options. The luggage capacity of both models looks like of a hatchback which can be extended though by folding down the seats. The Aria carries boot of 342 liters over the 330 liters of Innova.
Interior:
Toyota is a brand which is known for its high-end material quality and solid designing which can be clearly seen in this new Innova as well. One can take a premium feel just after sitting in this trendy comfy MPV which is slightly missing in Tata Aria's. Toyota Innova is leap ahead in terms of cabin feel and features as it is equipped with a 8 inch touchscreen infotainment system with navigation, leather seats, 3D Multi information display, automatic climate control, rear AC blower, cruise control, keyless start etc.
Though, Tata has equipped its model with plenty of features and material quality is good too but not better as Innova.
Meanwhile, there is a section at interior where Aria scores more than Innova which is the comfort space of this car. As mentioned above, the Aria is longer than Innova which provides it a clear spacious middle and rear rows which seem comparatively cramped in Innova. In Innova's rear seat, children as well as adults can sit easily due to availability of headroom and legroom, while in Aria none as such problem is available.
Exterior:
At outside, both the SUVs get a huge size which suits a family based vehicle. Both the companies have tried their best to make a muscular looking SUV and must say that they have succeeded in it. The Aria gets a refreshed outside features in the form of stylized decals, black bezel headlamps, follow-me headlamps etc and so does the Innova Crysta which is designed with renovated bumpers, new front grille design and many more. Overall, Innova is leap ahead in terms of design though Aria's replacement Hexa is coming in few months.
Safety:
Safety wise, again both scores equally by having more features like traction control, ABS with EBD, ESP, six airbags, engine immobilizer etc
Verdict:
New Tata Aria:-Pros:
Smaller yet powerful engine
Spacious than Innova
Rich in safety features
New Tata Aria – Cons: 
Longer size creates trouble in city roads
Not as much stable as Innova in handling and riding
Toyota Innova: – Pros:
Awesome on-road performance
Stable handling even on high speed
Solid built body with high material quality
Elegant design
Premium interiors
Toyota Innova – Cons:
Engine is still bit noisy
Heavy steering at low speeds