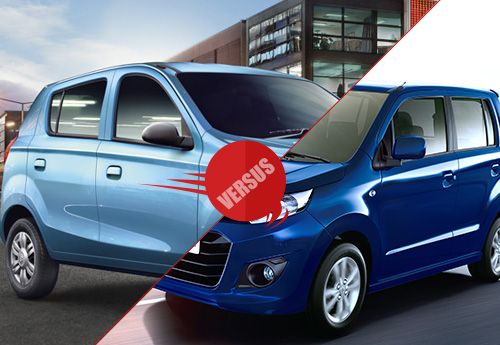 Maruti Suzuki presently enjoys hefty share of total car sales in the Indian market. It has not ceased on improvising. This year company has put considerable efforts on new product designs and face lifting some of its popular products. The company has at last found answers to its best ever car Maruti alto series by working on its Alto models which are budget friendly and at the same come with substantial performance. The Alto models are losing popularity among the car buyers and Maruti Suzuki has witnessed a drop in Alto car sales in recent times. So in order to regain the lost track of Alto, Maruti has arrived with new version of Alto k10. We will be comparing new Alto K10 with Wagon R Stingray. The Stingray is Maruti Suzuki's improvised version of the Wagon R. Both the cars are placed under different segments; the stingray is placed under the Compact MVP segment while new Alto k10 is placed under the small car segment.
PRICE:
Comparing Price of both these cars is just a formality because Wagon R Stingray here is way too highly priced than New Alto K10 because K10 is placed between Rs. 3.06-3.81 lakh. On the contrary Wagon R Stingray starts at Rs. 4 lakh for base variant which goes up to 4.56 lakhs, so clearly this section belongs to new Alto K10 by a big leap.
ENGINE:
The Stingray is powered by a 998 cc petrol engine having a peak power of [email protected] and a max torque of 90 nm @ 3500 rpm while new Alto K10 comes in two variants; petrol and CNG. The petrol variant has an engine displacement of 998 cc with a max power of 67.1bhp @6200 rpm and a max torque of [email protected]. The car according to the ARAI test cycles gives an impressive mileage of 24.07 kmpl while the Stingray outputs an ARAI mileage of 20.51 kmpl. New Alto k10 is coupled with five speed automatic transmission and 5 speed manual transmission engine. The Stingray comes with a similar 5 gear manual transmission.
INTERIOR:
The New Alto K10 has redesigned generous interior for its price and seat fabric is made up of good quality. The car being small feels cramped and leg space is not very comfortable .The A.C has got new trendy controls which look stylish. Dashboard is now a dual tone one now with black beige color and updated audio system with Piano black finish surrounding and quality is decent as well. The gear knob is also rightly placed with smooth gear shift and this time there is availability of automatic gearbox as well.
The Maruti Wagon R stingray has a premium feel to it and the interior design resembles the existing version of Wagon R. It incorporates a stylish dashboard which has the A.C controls and the music system. The interior have got silver layouts at the Steering wheel and the plastic feels decent. The door trims are elegantly designed and have got dual toned look which combines matte black and a gloss rich finish. The car has got a sufficient boot space and doesn't feel cramped.
EXTERIOR:
The exteriors of the New Alto K10 look refreshing and young. The car comes in vibrant body colors like blue, yellow, white and tango orange. The new Alto has neat design and finishing with chrome grille and Suzuki logo on the front grille. The Bumper is elongated and looks stylish. Overall the car has got appealing and futuristic looks. Overall design of new alto k10 gets change this time with improved front and rear side.
The Wagon R Stingray looks very identical to Wagon R in exterior design with few modifications. The bumpers at the front and the fog lamp housings have bold designs. The alloy-wheels give the car a stylish look. But somehow cannot match the eye catching and futuristic design of new Alto K10.
Final verdict:
The new Alto is here to stay for a longer time; priced below 4L, the car attracts the middle class Indian buyers and has decent looks and performance. The Stingray is a MVP and has a decent price as well but the design of the car is not inspiring.