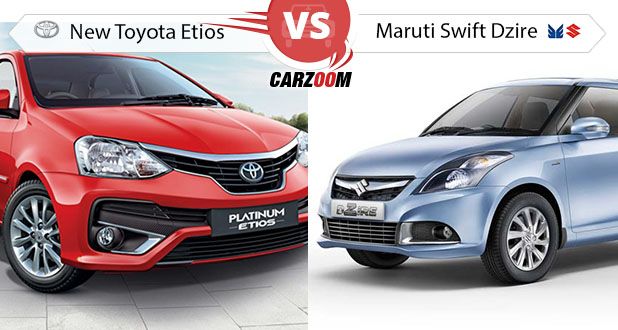 The battle of Sedan segment has just got hotter. Both Toyota and Maruti Suzuki are pioneers and respected for their products and after sales services in India. Maruti Dzire is well established car in the market that's achieving high sales growth whereas Toyota Etios is known for its unmatched reliability and quirky dashboard but ride quality of the sedan is excellent. Both the cars are good in their own perspective and has good brand value and excellent after sales service. Both being entry level sedans have got the looks and pricing to survive in the Indian Market.
Price:
Toyota Platinum Etios petrol trim starts at the price of Rs. 6.94 lakh to Rs. 7.85 lakh whereas diesel Etios will cost you between Rs. 8.07-8.85 lakh. On the contrary Maruti Suzuki Dzire Petrol ranges between Rs. 5.27-7.06 lakh and Diesel Swift Dzire comes at the Price between Rs. 6.12– 8.58 lakh. Comparatively Swift Dzire is much more affordable and competitively priced than Toyota platinum Etios.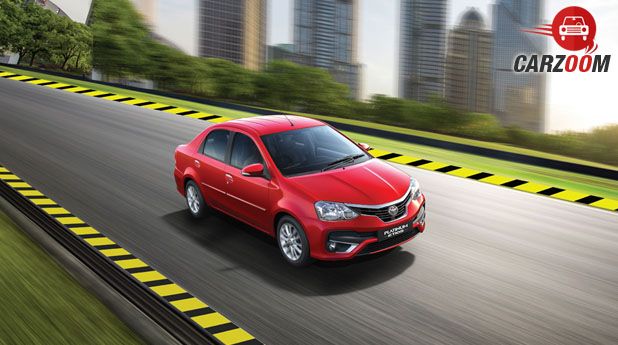 Engine:
The Etios petrol engine is a 1496cc hunk which churns out [email protected] and is capable of producing a maximum torque of [email protected]. Dzire falls behind Etios and has an engine displacement of 1197cc and maximum power capability of 85.8bhp @6200rpm and generates a torque up to [email protected].
Contrary, Etios diesel trim has bigger size than Dzire but still lacks in developed power as well as torque. While the Etios gets 1364cc, 4-cylinder diesel unit developing the max power and peak torque of 67.07bhp and 170Nm respectively, the Dzire is powered by 1248cc, 4-cylinder diesel churns out comparatively better power of 73.9bhp and 190Nm of torque.
Performance & Fuel efficiency:
There is not much difference when it comes to the cars performance's but Dzire notches up with a slightly better performance when driven through the Indian roads where as Etios wins the battle on the highways . The Dzire engine has turbo lags and could be easily noticed when driving through clear roads.  The Dzire performs better when driving through the heavy traffic and bends. The Dzire boasts of the only entry level Sedan to sport automatic transmission. It brings in extra brownie points to the Dzire which otherwise is on par with Etios in other aspects.
Toyota claims the Etios diesel to have a fuel economy of 23.59 km/l while Dzire diesel has a fuel economy of 23.4 km/l according to the ARAI test cycles.
On the other side, Dzire offers 19.1 km/l of claimed mileage in its petrol trim while Etios petrol offers 16.7 km/l. The safety features in both the cars are almost similar and substantial for entry level sedans.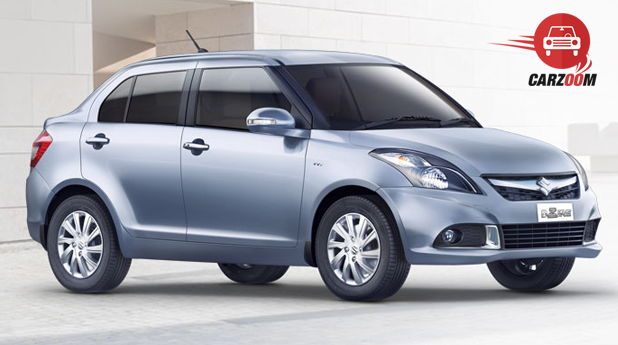 Interiors & Exteriors:
Taking the interiors into account, Toyota Etios scores high and has classy and splendid interiors. Coming from the Toyota family it is meant to be one of the best and delivers the promise. It has beige colored lay outs and the headrest of seats can be adjusted. Overall the interiors feel good and have a premium look. Etios comes with a large boot space and this is one of the best features of the Etios making it one of the best cars for families. The Din music system which comes with the car is stylish and has a rich feel to it. Swift Dzire borrows the same old interiors from its predecessor with slight improvement and comes in black and beige colored layouts. One of the biggest fall backs in the Dzire is the clumsy boot space which is comparably smaller taking the car's size into the consideration. The controls have smart illumination which looks decent.
When it comes to exterior glance, Toyota Etios has improved a bit especially from front thanks to elements like new V shaped chrome plated front grille, new bumper with secondary air dam and jewel fog lamps making things sportier for new Etios. Whereas Maruti Suzuki Dzire continues its conventional styling flanked by single slat grille, large smoky headlamps, chrome embellished fog lamps, 10 spoke alloy wheels and flat rear profile. While comparing both of them against each other, Etios seems to outshine Dzire owing to latest update.
Safety:
The New Etios has excellent suspensions and steering wheel it around the tricky turns is decent if not great. Dzire has better performance driving through the Indian roads and the steering wheel is designed light for better and easy maneuverability. Both the cars are equipped with safety features like Anti lock braking system, central locking, drive and side airbags, seat belt warning, door ajar warning, adjustable seats, engine immobilizer, EBD and crash sensor.
The turning radius of Dzire is 4.8 meters which is slightly better than Etios's 4.9 meters. Etios comes with a fuel tank capacity of 45 liters which is higher than Swift's 42 liters. Both the cars have a similar ground clearance of 170mm.
Final Verdict: Both the cars differ barely when it comes to the performance. The Dzire is for the people who would want to own a sports Sedan with a decent styling to it while Etios has a no nonsense vibrant and pep look to it making it a perfect business and family car.
Pros and Cons-
Toyota Etios
Pros:
Complete family sedan
Excellent ride and handling
Better diesel mileage
After sales service
Cons:
Price needs to be more competitive
Absence of Automatic Transmission
Feature list should be increased
Performance could have been improved
Maruti Suzuki Swift Dzire
Pros:
Competitive price range
Reliability of Maruti as a brand
Handling is brilliant at higher speeds
Automatic variant is an advantage
Cons:
Unconventional boot design
Lack of features in base variants like air bags and Music system
390 liters of boot space is much less than that of Toyota Etios
Cramped rear bench space as compared to Spacious Etios