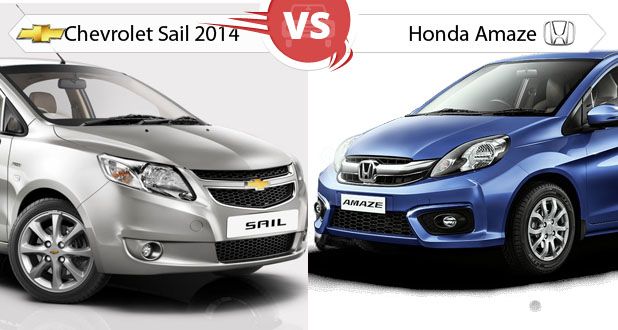 Sedans have always been perceived as an epitome of sophistication, luxury and status in India. They have appealed all age groups and are hard to ignore on the road. The Segment is ruled and dominated by Maruti Swift Dzire followed by cars like Hyundai Xcent and Honda Amaze. Despite of Dzire's dominance, Amaze able to shine through and making the statement with strong sales numbers and this update which not only includes just cosmetic upgrades but a CVT gearbox as well which will further brace up the volume. Though Chevrolet Sail is larger car than amaze but available in almost similar price range. So let's compare them.
Price:
The 'badle apki dunia or 'ordinary is out amazing is in' Honda refresh Amaze is one of the sensations of Honda placed at an affordable range staring from *5.29 lakhs for E-petrol variant to *Rs.8.19 lakhs for top end CVT variant. Whereas the entry level diesel version is available at *Rs. 6.41 lakh and goes up to *Rs. 8.19 lakh Vx trim.
However the 'life gives you more' Chevrolet Sail is placed slight on the higher side at Rs. *5.76 for the entry level petrol version while the top end variant cost at *Rs. 8.44 lakh which is again more than what refresh Amaze is offering.
*All the prices are ex-showroom Delhi.
Also See: Visit Our Honda Amaze FAQ section containing all small-yet-useful info altogether for your convenience
Brand:
For the brand oriented buyers Amaze takes the lead as to an Indian audience, Honda being founded in 1995 compared to Chevrolet (2003) is seen as more trustworthy. It must also be noted that even though Chevrolet is a comparatively new setup yet its sales performance is steadily increasing.
 Exteriors:
Refresh Honda Amaze takes your breath away with its new single slat chrome front grille, revised bumper, new elegant looking rear- combi lamps. What gives this car a personality of its own is the character lines explicit throughout the length of the car. In totality Honda Amaze comes off and remains as a true 21st century icon.
Chevrolet on the other hand underlines simplicity and portrays a very man like built to its car with its hawk-wing style chromic headlights and circular fog lamps. Sporty 12 spoke alloy wheels and bold front styling and its manly colors. So it comes down to elegance v/s masculinity.
Space and Dimensions:
Both the cars seem to hold the correct dimensions required in an Indian road, neither of the cars seem too big or too small. Both cars are hard to miss and leave you in awe. But Honda Amaze looks better in most of the perspective than sail sedan.
Interiors:
Both Amaze and Sail are comfortable 5 seaters with feature like bottle holders, rear armrest, ample leg space and boot space, Bluetooth enabled inbuilt sound system with AUX and USB ports tilt steering, electrically controlled mirrors and air bags. The thing that sets them apart is the heat absorbing windshield in Amaze and the extra storage space under the rear seat of Sail. The all new dashboard in Amaze is elegant one which is a mixture of beige, black and piano black finish which seems to suit the luxury however the plastic quality seems fairly decent due to its pointy edges whereas that of Sail boasts a cockpit kind of look. Amaze offers comfortable cushioning of the rear seats that scream comfort and its features making amaze the winner in interiors.
Chevrolet Sail sedan gets dual tone dashboard, updated 2 DIN audio system with 5 phone pairing facility with ambient blue lighting, instrumental panel with multi function display like digital clock, tachometer etc. gear knob and door handles gets chrome finishing, big glove compartment, front door map pockets etc. With some new features and updated dashboard new Amaze is certainly leap ahead of sail sedan in this section which now showing immense improvement from its previous GEN model.
Engine:
Engine wise new Amaze remains same and takes the complete lead as the 1.5L i-DTECH which throws out 99bhp and 200Nm giving it a controlled turbo lag even at 1500rpm. Also the optical aluminum engine provides an extra boost due to the exceptional thermal management. It must also be noted that the engine happens to be very light hence reducing the weight of the car and the strain on the engine.
Even the 1.2L i-DTECH pulls off an 88ps at 6000rpm giving amaze an unparallel mileage of 25.8Kmpl. Sail in comparison proves to be a disappointment with its 1.2-litre petrol which gathers only 85bhp and 113Nm of torque that too at only at 5000rpm giving you a mileage of 18.2Kmpl. The 1.3-litre diesel manages only 77bhp of power and 205Nm giving you a mileage of 22.1 Kmpl.
Also See: Visit Our Chevrolet Sail FAQ section containing all small-yet-useful info altogether for your convenience
On The Road:
On the road however even though Amaze also gives you one of the lowest turning radius of 4.5 m and takes the cake away as the car seems to be very comfortable with bumps in comparison to Sail and provides a less jerky journey. Amaze offers a light steering but the low-resistance tyres which make acceleration easy but it's far away from Maruti Swift Dzire's. Chevrolet Sail, on the other hand has rigid ride quality as compared to Amaze and even at lower speeds you can feel on the type of road you're driving though it somewhat vanishes as the car speeds up but still fails to provide a jerk free ride.
Conclusion:
If you always wanted to own a sedan but however are mileage oriented and wants decent drivability with potent riding quality than Amaze is your dream car. On the other hand if all you yearn is comfort but okay to turn a blind eye toward the moderate engine performance and simple interiors, Sail is just the car for you. Chevrolet Sail offers more space but does comprise on interior quality and features. Refresh Amaze is good looking from outside and inside and offers powerful engine and fuel efficiency. To sum up, Amaze still remains our pick in the comparison as well in the compact sedan category which is further toughened by this update.