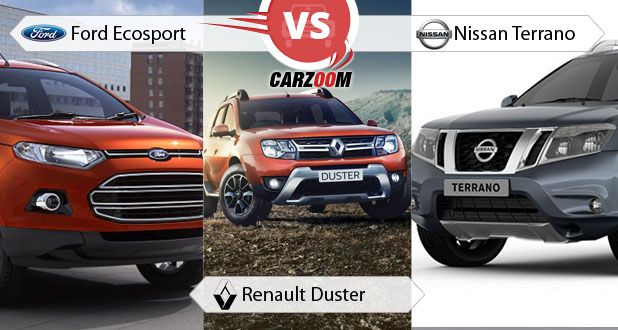 The American Motor Giant Ford launched its cheapest SUV Ford EcoSport in India in the end of June 2013 and it received a mild facelift with a starting price as low as Rs.7 lakhs. Though the higher variants go up to Rs. 10.65 lakhs but the starting range definitely stirs the compact SUV market in India, then enters the Renault's Duster, again a compact SUV with seating capacity of 5 with the starting price of Rs. 8.46 lakhs for the petrol version and Rs. 9.26 for the diesel. And the Nissan Terrano in view is esque-Duster, all because of the sisterly relation between Renault and Nissan and at a starting cost of Rs. 10 lakhs.
But there is something about Duster that it became an instant hit, maybe because it had the 'best SUV of the year 2012' accolade in its kitty. But EcoSport is unique in its own way with its affordable price tag and EcoBoost engine. Well for the Terrano  market seems to welcome it with both hands considering it as a fluffy Duster and imagining it has features better than Duster. But one thing is for sure, these 3 brands are surely fighting for name, love and success in Indian market. Like everywhere else the 'survival of fittest' rule applies here too.
Also See: Visit Our Ford EcoSport FAQ section containing all small-yet-useful info altogether for your convenience
Engine details:
With the 1.6 16V petrol version Duster displaces 1598cc and produces max power of [email protected] rpm coupled with the 6-speed manual gearbox. The diesel version of Duster with 1.5 dCi85 PS produces max power of [email protected] again coupled with 6-speed Easy R automatic gearbox. Ford EcoSport 1.0l EcoBoost petrol version produces peak power of 123bhp/6000 rpm and the diesel version 1.5l TDCi now generates max power of 99bhp/3750 rpm. Let's know the figures of Terrano now.
The engine can displace up to 1598 cc and produce max power of 84bhp /3750 rpm in diesel version and [email protected] rpm in case of petrol version. The torque figures for Terrano are 200 Nm/1900 rpm and 145 Nm/3750 rpm respectively. There is a 6 speed manual transmission gearbox for the diesel version and a 5 speed manual transmission gearbox for the petrol version respectively. EcoSport take the lead here with 22.7kmpl and then comes the diesel version Duster which gives 20.45 Kmpl and 13.24 for 1.6l MPFI petrol engine. Terrano offers same mileage figures as of Duster.
Space and Dimensions:
The small SUV from Ford is actually too small i.e. exactly 316mm less than Duster, which can be seen in the form of poor legroom at rear seat. Also the boot space is less in EcoSport by 129 liters. The same point can cause it maneuver easy in city than Duster. Duster has another advantage over EcoSport with 5mm of ground clearance factor extra than EcoSport. The fuel tank capacity of Duster is 50 and turning radius of 5.2m while in ford EcoSport it is 52 and 5.3m.
USPs of three SUVs-
EcoSport has SYNC infotainment system with My ford Dock which follows your instructions and carries out the errands. There is also the voice control mechanism which allows making and receiving calls and getting your text messages read out aloud by it while you are busy driving. The SUV is equipped with rear parking sensor and camera and keyless entry system.
Also See: Visit Our Renault Duster FAQ section containing all small-yet-useful info altogether for your convenience
Renault Duster has unique hydraulically controlled brakes mechanism. Same goes for the steering too. It also like EcoSport has the keyless entry system. The interiors have its own aura with its comfy seats and Crimson black upholstery, updated MediaNAV infotainment system with navigation, anti-pinch windows, front seat with lumbar support, illuminated glove box etc.
Terrano has a dominating looks better than Duster and EcoSport. Also the alloy wheels are tall and handsome with 12 spokes ornamenting it. Another important feature is introduction of rear A/C vents. The SUV has highly aerodynamic looks with many curves and bends. The highest achievable speed for the diesel version shall be 170-175 km/hr and time taken to reach from 0-100kmhr will most probably be in range of 12-14 sec; for petrol version it is 155-165 km/hr and 11-13 sec. The headlamps look bold and same goes for the roof railings, giving a sporty look to the vehicle.
Interiors: Nissan has also done the insides of the car nicely with comfortable upholstery, interesting dashboard and instrument panel with distance-to-empty and Eco mode readings.
Also See: Visit Our Nissan Terrano FAQ section containing all small-yet-useful info altogether for your convenience
Verdict:
Counting on the exteriors Ford EcoSport and Duster are little more stylish and seductive than Terrano . Though Duster stands a little low than EcoSport in height but Terrano competes with EcoSport well in that case. EcoSport lacks in boot space and rear seat comfort. But has an edge over its peers with low cost and high mileage, the 2 main factors which Indians strongly keep into consideration. Nissan Terrano looks a promising package but duster offers the same with more goodies in less price range. But Ford EcoSport is a certainly a bang for your buck due to affordable price range, potent drivability and decent interiors, hence wins this battle.