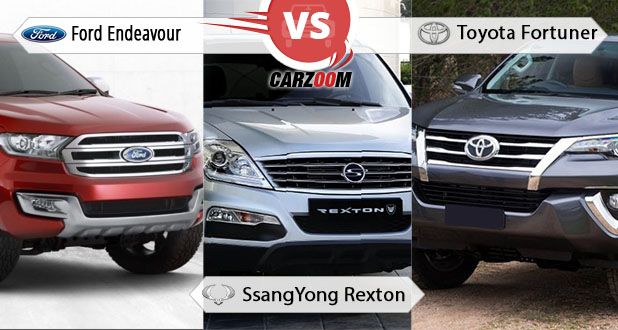 So, the New Toyota Fortuner is here and it has finally made its way into the Indian market carrying some new and groovy features. But as it does so, it has already set up a whole lot full of rivals trying to smoke it out of the league and competition at the same time with the market being smoking hot up here in the premium SUV market. And to add more competitiveness to that, we here have brought you an all in one comparison between new Toyota Fortuner versus all its market rivals like SsangYong Rexton and Ford Endeavour. And hence, comparing these cars against the Toyota's mighty SUV based on these market-trending benchmarks like-
Price affordability
Look of the car
Powerful engine & fuel efficiency
Brand image & After-sale services
We will try to feed you with the best of this segment.
Also See: Visit Our Ford Endeavour FAQ section containing all small-yet-useful info altogether for your convenience
New Toyota Fortuner vs SsangYong Rexton
Price Affordability:
Both the cars are almost competitive in affordability count according to the segment they belong to, however Fortuner has been a undisputed king in its segment despite stiff competition from Pajero Sport and Ford Endeavour.
Where the New Toyota Fortuner packed with its new amenities and cost around 25.92-31.12 lakhs, which seems overpriced.
The SsangYong Rexton comes at an even mouthwatering price tag with decent feature list at around 21.7-24.88 lakhs.
And hence, SsangYong Rexton here, with better value for money quotient over new Fortuner and seems more affordable for the dough in this section.
Looks of the car:
In the looks department, Fortuner had already made fans for its new design theme. It looks even more muscular and charming with those sleek dual projector LED headlamps, massive chrome filled grille, chunky stance, LED tail lamps etc.
But Fortuner with its more muscular and savage design with new tri-slat grille and wide air dam, wraparound headlights etc. is such a masculine looking new car.
Inside as well, Fortuner looks spaciously and futuristically with new cabin and rich features new where the SsangYong with its poisonous charm along with decent features literally try to kill the new Fortuner here
Space wise, new Gen Fortuner remains the hailed-king for sure with that enormous size thanks to improved dimensions. The new model is 90mm longer, 15mm wider than its previous model though height and wheelbase has been decreased by 15mm and 5mm respectively.
Powerful engine & fuel efficiency:
Under the bonnet, you'll find a whole new experience with new Fortuner which now comes with Innova Crysta powered engines i.e. a 2.7 litre petrol and a 2.8 litre diesel engine with decent power figures, more refinement and typical Ford appeal.
But SsangYong on the other hand has blasted the case with its 2.7 litre diesel engine for all the three models it comes in with more power in each of them as compared with Toyota's engines. They perform awesomely, pull with every throttle click.
The AMG designed AT system also manages the distribution of the power well to all the four wheels in Rexton. Still, the engine has unpleasant noises and crankiness about it. While the new AT system of Fortuner works more operationally and smoothly over SsangYong's dated and cranky one.
And on mileage figures, where Rexton delivers a disappointing sum of 9KPL, the Fortuner being more efficient returns a decent 14.24 KPL in compliance with ARAI.
So, choosing power over refinement would be a tough job and hence new Fortuner looks more promising over here.
Brand image and after-sales service:
If we go according to the brand image and service pattern, than Ford might offer you a bit costly deal over after-sales accessories and spares here.
But SsangYong being new in India and that too through Mahindra would be a doubtful case.
So better not choosing the odds, Ford Endeavour would offer better service, resale value and brand value on a whole.
Final Conclusion:
Ford Endeavour is new and fresh, but SsangYong Rexton had been here since quite a time. And so, coming to a more practical approach, we choose Ford Endeavour to be more brutal amongst both with stable and trustworthy Ford's brand value, refinement in the engines, newness and decent performance from engines over SsangYong's Rexton which seems more charming but that rugged feel is missing with not so refined engines.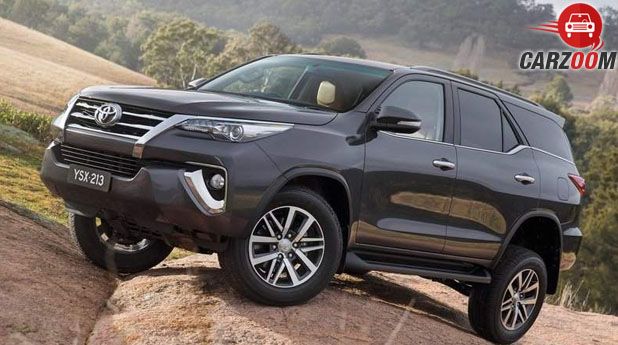 New Ford Endeavour vs Toyota Fortuner
Price affordability:
On affordability quotient, both the vehicles have very distinctiveness in their respective price ranges.
When Ford offers the two trims of its new SUV, Endeavour at a price range of 23.6-28.15 lakhs in the market, which seems an affordable deal.
Toyota very proudly and prominently prices its market owning SUV, Fortuner at a much high side of affordability at around 24.35-27.2 lakhs.
So, Toyota here tries to achieve more affordability with more practical pricings in this segment for sure. Trying hard against Toyota.
Looks of the car:
Look wise, if you thought until now that the New Ford Endeavour looks rugged, then Fortuner is going to change that thought for you completely. By the end of this year, Toyota will launch the new Fortuner in India.
Fortuner looks more mean, beastly, huge and brutal and also has those abilities when taken off the road as well over Endeavour's soft-roading bus-like looks.
Even the inside looks of the Fortuner feel dominating with overall space and comforts over Endeavour's, just that they now look and feel old and need update.
Otherwise, on an overall count, the Fortuner looks heart rending.
Powerful engine and fuel efficiency:
Under the hood, Ford and Toyota offer way too different deal for the bucks you spend on them both.
Ford offers set of two, new and refined engines i.e. 2.2 litre and 3.0 litre diesel ones.
But the Fortuner offers a single 3.0 litre engine with Toyota's Quality, refinement, which overpowers Ford's any day with more power and low end grunt for true city, highway and off-road fun together in a single car.
Both the SUVs come with optional AT system for more oriented performance but Toyota lets it top end 4×4 model to be manually operated for more enthusiastic off-road fun while the Endeavour focused more for refined road cruises, uses an AT in the top 4×4 variant.
On efficiency counts as well, Toyota with its much refined and performance oriented engine seems to rejoice its customers with a decent 13KPL mileage on an overall while the Ford does the drill a km more with 11.5KPL of overall mileage.
So anyways, without a doubt Toyota Fortuner remains the uncrowned king still, with more practical and smooth engine outputs and more capabilities.
Brand image and After-sales service:
If there is a company whose brand image has been constantly reclaimed, then that is Toyota. And hence, offering better after-sales service, strong brand presence and resale value, Toyota is a remarkable name in the market.
While Ford is legendary as well, with good hold in market with its much famed legacy, but compared with Toyota's, that too in Indian market, seems a bit dull with more costly service and spares and a considerably low resale value.
Final conclusion:
With better engine, performance looks (in and out) and on an overall package value, Toyota Fortuner seems much better a deal over SsangYong Rexton any day. However, New Endeavour is better bang for your buck and fun at the same time as compared to new Fortuner.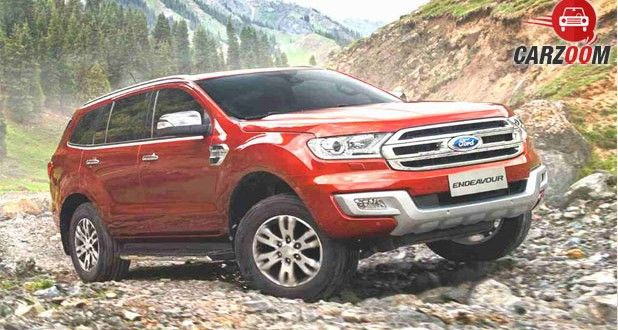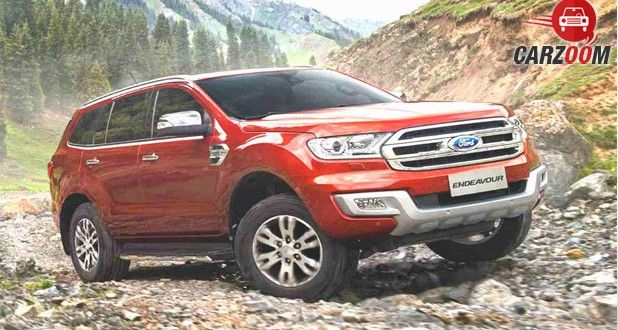 Pros and Cons:
2016 Toyota Fortuner:
Pros:
One of the best looking SUVs around
Rich interiors
Sufficient space for all three rows
Excellent diesel engine
Toyota's unmatched after sales
Cons:
Seems a bit overpriced
Engines get quite vocal post mid range
Automatic gearbox is slow to respond
Endeavour has better features
Mahindra SsangYong Rexton:
Pros:
Delivers good performance
Decent range of features
Legroom and shoulder space is quite impressive
Cons:
Interior theme looks outdated
Better and modern alternatives available
Mileage is on the lower side
Scratchy after sales service
New Ford Endeavour:
Pros:
Better equipped of the two
Great off road capability thanks to Ford's terrain management system and 800mm of wading depth
Epitome of rich features like 8 inch touchscreen, panoramic sunroof, 7 airbags, triple zone climate control
Priced aggressively considering the overall package
Cons:
No keyless go even Ford EcoSport has got that feature
No manual gearbox for the brawny 3.2 l engine
2.2 l engine seems to lose its breath after 120km/hr